Stop Food Waste Day is April 29. In the Simple Bites kitchen, I'm always looking to increase my zero waste efforts and get others on board too.
If you can't eat it immediately, tossing produce in the freezer is the quickest way to save it for later. I'd much rather make and freeze a quick pesto with wilting herbs, then lose them to the compost bin.
Many fresh ingredients, such as berries and spinach, can quite simply be bagged and frozen. But what if you want to do something more – and set yourself up with a stash of staples?
I've put together a list of recipes and methods for "putting up" produce by freezing foods. From pesto to pizza sauce, these are my favourite ways to stock the freezer – and stop food waste.
Freezing Produce
At summer's peak, my freezer is a rainbow of colours.
Fruits and berries are frozen on a tray, then transferred to bags and sealed. There are also jars of roasted tomatoes packed in oil and pesto of all kinds.
Small jars hold raspberry butter, fruit butter and barbecue sauce. The larger plastic containers are filled with roasted strawberries, pumpkin purée, berry coulis and pizza sauce.
It's so fantastic to have these homemade pantry staples for building my family meal plans. I make my freezer work for me year round, in every season.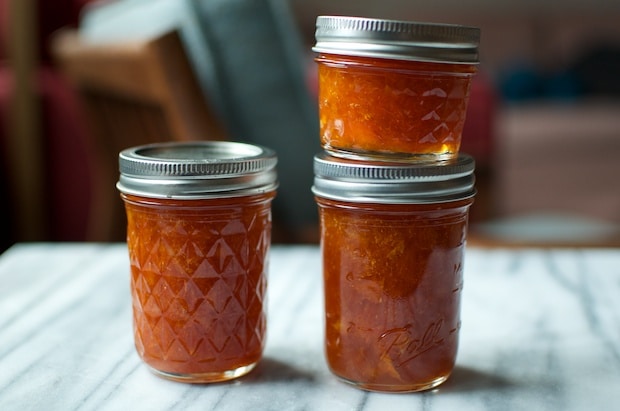 How to Freeze Foods in Jars
Here's how I successfully freeze liquids in jars. This can come in handy if you're making and freezing tomato sauce, fruit syrups or other saucy foods.
Cool your broth/soup completely
Use widemouth jars (no 'shoulders')
Don't use old jars
Leave a 1-2 inches of headspace
Cool the jars overnight in the fridge
Transfer to the freezer and leave the lids off
Try to avoid ANY knocking about during this process
Freeze solid, then check for cracks
Add lids and freeze for up to 12 months.
Tips for Freezing Produce to Avoid Food Waste
Let's get down to the recipes! Here are my favourite ways to stock the freezer and stop food waste.
Be sure to Pin or bookmark this post for when you have a bowl of overripe pears or a bundle of wilting herbs. Absolutely everything on this list can be jarred or bagged up and frozen.
Freezing Berries
Freezing Fruits
Freezing Herbs
Vegetables
Freeze spinach raw or blanched
Freezing corn
Winter Squash & Sweet Potato
Tomatoes
Freezer Functions
Now, if you are packing away some of this goodness into a chest freezer, you'll want to be sure that handy appliance is running in top condition.
Engineer-in-residence Danny has expert advice on How to Keep Your Freezer Cold. Be sure to read it before starting to fill up your appliance to the brim.