Summer entertaining lends itself so well to simplicity: fresh produce abounds, needing little to no adornment, and the most a host should need to do is wash the produce well and serve. Since everything is so fresh and tasty so why complicate things?
One of my favorite summer snacking foods are cherry tomatoes. Fresh from the vine, bursting with warm juices, and available in an assortment of bright colors, they are nature's Jujubes, in my opinion.
Sure you can put out a bowl of cherry tomatoes for all-day snacking, but here's a suggestion for something slightly more sophisticated, yet still very simple: a slow-roasted cherry tomato.
Also known as oven-roasted tomatoes, these are dynamic, flavor-packed little morsels. For a easy appetizer, I like to serve a bowl of them alongside a wedge of soft cheese and a plate of crackers. Guests can create their own canapés that are easy, delicious and, best of all, seasonal!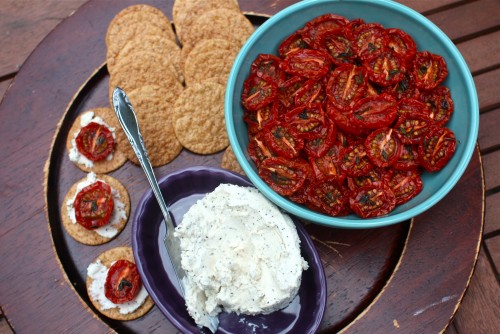 How to make slow-roasted tomatoes in a nutshell?
Slice cherry tomatoes in half, drizzle with olive oil, season with coarse salt and fresh ground pepper, and top with a fresh herb. Then leave them in a slow oven for many hours, during which time they partially dry out, but not nearly so much as a sun-dried tomato.
Yes, this method is easy to do, and as with most other drying techniques, the tomato flavors are concentrated into a tiny parcel that can be added to many other dishes for a punch of flavor.
Looking for more options on how to serve the slow-roasted tomato?
You can use them in place of their far more potent cousin, the sun-dried tomato, in almost any recipe, and here are a few of my favorites uses.
Mound onto a wedge of crusty bread, top with mozzarella and broil to melted sandwich perfection.
Toss them with crumbled feta and serve over fresh greens for a light lunch.
Add to pizzas toppings; feel free to skip the tomato sauce and drizzle pizza with olive oil instead.
Toss with hot pasta and chopped fresh herbs for a simple, yet elegant meal.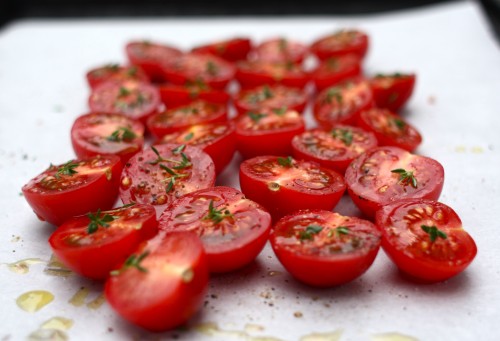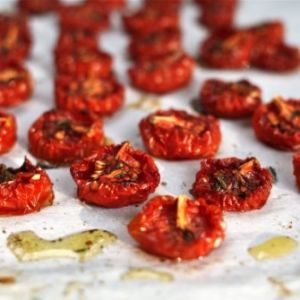 Ingredients
1

pint

cherry tomatoes

5-6

sprigs

Thyme

Sea salt

Black pepper

1/4

cup

Extra-virgin olive oil

4-5

cloves

garlic

optional
Instructions
Cut the tomatoes in half end-to-end, and place cut side up on a pan.

Optional: Slice 4-5 cloves of garlic, and sprinkle over the tomatoes.

Strip several sprigs of fresh thyme, and sprinkle the leaves over the tomatoes.

Season with sea salt and fresh ground black pepper and drizzle extra-virgin olive oil liberally over all of the tomatoes.

Place in the oven at 200°F for 6-8 hours; the tomatoes will collapse, but not completely dry out. (since they'll be in there a while, preheating is not necessary)

Cool and serve with crackers and soft cheese or package to preserve.
Nutrition
Calories:
585
kcal
|
Carbohydrates:
24
g
|
Protein:
6
g
|
Fat:
55
g
|
Saturated Fat:
8
g
|
Sodium:
56
mg
|
Potassium:
1080
mg
|
Fiber:
4
g
|
Sugar:
12
g
|
Vitamin A:
2551
IU
|
Vitamin C:
120
mg
|
Calcium:
94
mg
|
Iron:
5
mg
Preserving Slow-Roasted Tomatoes
Freezing: Pack tomatoes into a freezeable container, and pour the oil from the pan over the top. Cover with more olive oil if needed, label and freeze for up to 6 months.
Fridge: Transfer tomatoes to a jar and cover with olive oil. Cover jar with lid and store in the refrigerator for up to two weeks.
What do you serve that could be spiced up with a few slow-roasted cherry tomatoes?