I invite you to join me for a year of seasonal eating on my urban homestead — with family at the centre of it all.
Brown Eggs and Jam Jars is my deeply personal cookbook inspired by my urban homesteading through the seasons and the joyous events they bring. There are stories of maple taffy in the snow, summer harvest dinners on the lawn, neighborhood jam swaps,  apple orchard outings, and my favorite Sunday dinners. Basically, more of your favorite reads on Simple Bites, but expanded and rounded out, with practical application for your home and family.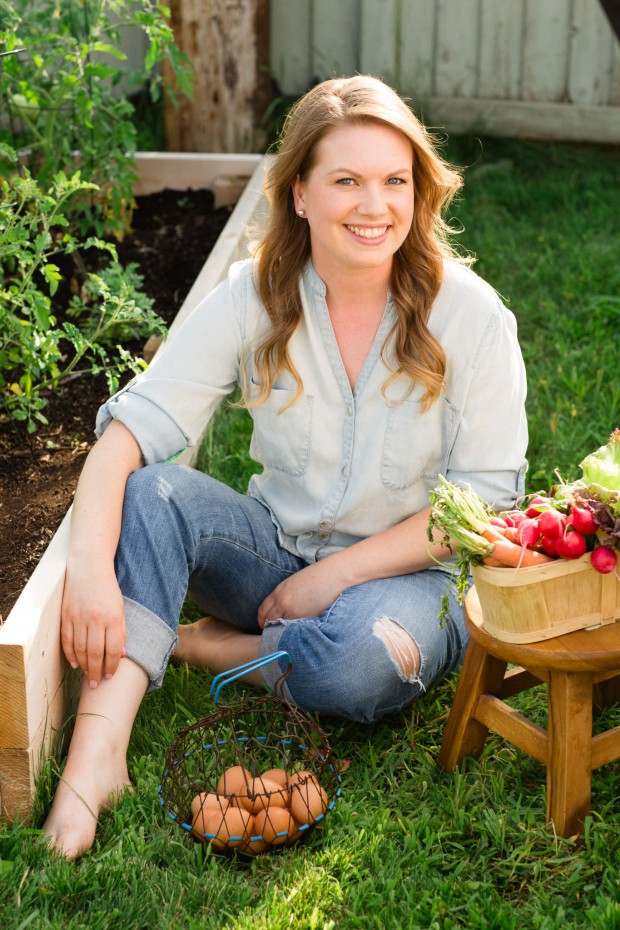 Brown Eggs and Jam Jars will inspire you to connect your family and food right where you are in life — from growing your own tomatoes to making a batch of homemade pickles. It's packed with practical tips and tutorials and features a collection of all-new personal food essays.
And of course there are the recipes…
I share more than one hundred recipes that have a touch of nostalgia, feature natural ingredients, and boast plenty of love.
Get ready to COOK! And bake. And preserve.
What people are saying (so far)
"Aimée knows the importance and joy of keeping her family connected to the seasons and flavors around them, and with this beautifully delicious book in your kitchen you will too!" – Michael Smith, bestselling author of several cookbooks including Family Meals and Back to Basics
"Aimée invites you into the warmth of her family home, with recipes that are both beautiful and simple. It makes homesteading and seasonal cooking not only enticing, but easy for real families." – Faith Durand, executive editor of the The Kitchn blog, co-author of The Kitchn Cookbook and author of several cookbooks, including Bakeless Sweets
"The ultimate guide to urban homesteading with seasonal recipes … Aimée creates fun for the family while getting them involved in daily activities. Brown Eggs and Jam Jars defines a new movement to modern homesteading. Inspiring all around." – Aran Goyoaga, author of Small Plates & Sweet Treats and creator of the award-wining blog Cannelle et Vanille
"Aimée shows you how simple it can be to avoid processed foods making twists on many of your favorite family-friendly comfort foods at home with the purest of seasonal ingredients." – Catherine McCord, author of Weelicious and Weelicious Lunches and creator of the blog Weelicious
"Brown Eggs and Jam Jars is a gem of a book. Aimée's warmth and generous storytelling will nourish and inspire you, and her accessible and nurturing recipes will feed you along the way. Most of all, Aimée shows us that any home can be a homestead if we choose to see a space's potential and possibility." – Alana Chernila, author of The Homemade Pantry
"The moment you open this book, you'll instinctively take a deep, relaxing breath and just want to snuggle in with Aimée, her family, the happy hens and lush garden. It's a home-grown, family feast of a book with comfort recipes and stories of simple, pleasurable living." – Jaden Hair, author of Steamy Kitchen's Healthy Asian Favorites and creator of the blog Steamy Kitchen
"Aimée's whimsical way of weaving words will leave you with a sacred respect for real food, and will empower you to roll up your sleeves and revive the lost art of wholesome, seasonal, simple cooking in the kitchen. That, pure and simple, is magic done right." – Tsh Oxenreider, co-founder and editor-in-chief of the blog The Art of Simple and author of Notes from a Blue Bike.

Book Tour!
UPDATE: A book tour of sorts: the (very long) recap.
I'm coming to meet you and I can't wait:
TORONTO: All the Best Fine Foods. 1101 Yonge Street. Thursday, February 12, 5-7PM.
VANCOUVER: Barbara-Jo's Books for Cooks, Saturday, February 14, 2-4PM
SMITHERS, BC (my hometown): Two Sisters Cafe, Sunday, February 15, 2-4PM
AUSTIN, TX: Métier Cook's Supply, Saturday, February 21, 1-3 PM.
MONTREAL, QC: Appetite for Books, Saturday, February 28, 1-3 PM
BROOKLYN, NY: BookCourt, Tuesday, March 3, 7-9 PM.
That's it for now, folks. Big thanks to everyone who came out!
~ From the homestead,
Aimée