I've been feeling like we're in a bit of a post-holiday baking slump here. I know, that didn't take long.
But you can hardly blame me. For most of December, Saturdays were for swirl buns and Sundays for scones. The kids and I rolled, cut and frosted dozens of shortbread cookies and gingerbread men. It was a delicious few weeks, but hardly a balanced diet.
And so, to pass the time on a bad weather snow day, Clara and I met up in the kitchen this week to make power bites. This productive activity nicely filled our holiday baking void – and topped up the freezer with a healthy snack, perfect for my teatime and her lunchbox.
In case you're also looking for a similar kitchen project with delicious results, today's post contains a round-up of all my nutritious and portable snacks that are easy to make with kids.
Power Bites, Granola Bars and other healthy snacks
Most of these recipes are of the dump and stir variety, with little to no baking time required. Definitely let the kids help with this sort of simple kitchen fun, right down to mixing with their hands and rolling out the balls.
As always, I recommend using the best quality ingredients you can afford. Since most of the nuts and seeds are going in the recipe raw, it's always easier to notice if something has gone slightly rancid and that can ruin an entire batch.
Sticky Almond, Oat 'n Honey Power Bites
This is a relatively new variation of power bite that we've been enjoying. During my last week of packing up in Montreal, my sister dropped off a large jar of sticky oat-y balls and I existed solely on those delicious power bites and coffee for days. I asked her about the recipe's origin and she pointed me to Ali's recipe – it's a good one!
Clara and I put our own spin on them this week, cleaning out the pantry and using up all sorts of ingredients left over from our holiday baking blitz. The recipe is very versatile, so go ahead and customize it to suit your cravings.
Sticky Almond, Oat 'n Honey Power Bites
Easy, no-bake power bites with customizable flavours and add-ins. Try with a variety of dried fruits, various seed and nut butters, toasted nuts and dark chocolate.
Print
Pin
Rate
Ingredients
1/3

cup

liquid honey

slightly warmed

1/2

cup

almond butter

creamed

1

cup

raw rolled oats

1/3

cup

unsweetened

shredded coconut, toasted

1/4

cup

sesame seeds

3

Tablespoons

wheat germ

1

Tablespoon

chia seeds

1/2

cup

dried currants or raisins

1/4

cup

chopped nuts
Instructions
In a medium bowl, stir together the honey and the almond butter with a sturdy wooden spoon until creamy.

In no particular order, dump in the oats, coconut, sesame seeds, wheat germ, chia seeds, currents and nuts.

Roll up your sleeves and get in there with your hands to mix everything together into a nice sticky ball.

Send the 'dough' to the refrigerator for 15 minutes to firm up.

Divide and roll the mixture into 1-inch power bites; try not to eat them all in the process.

Store in an airtight container, refrigerated, for up to seven days. Alternately, freeze the power bites for up to one month.
Notes
Toasting the coconut, sesame seeds and even the wheat germ adds a wonderful flavour to the power bites and is well worth the extra effort.
Nutrition
Puffed Cereal Treats
These are more along the lines of a dessert than 'healthy power snack'  but we can work them into this post solely because they are a fun and easy snack to make with kids. Bookmark this one for Valentine's Day.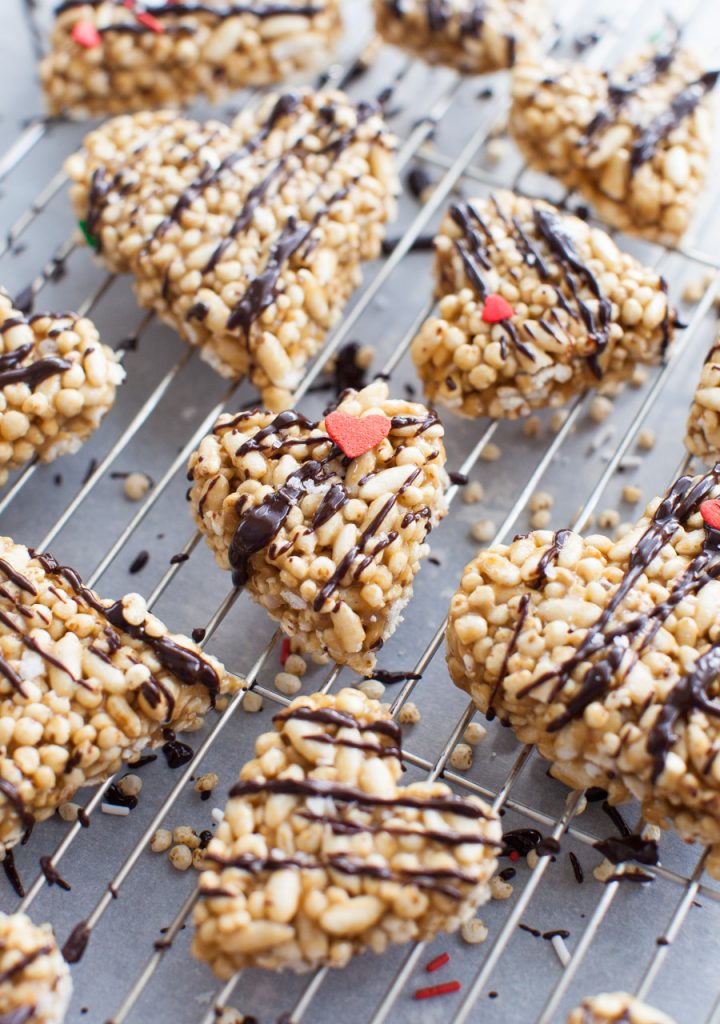 Tahini Maple Puffed Cereal  Treats
Double Chocolate Puffed Cereal Treats
What's your go-to power snack when you're craving something sweet? Any favourites?