If you make a habit of pencilling in a weekly menu plan, you may want to add this recipe to the top of the list.
It's simple enough for a weeknight dinner, but delicious (and pretty) enough for a special weekend feast. Either way, it only requires about fifteen minutes of active time, one large sheet pan and the broiler in your oven.
Lamb chops are ideal for quick, uncomplicated cooking and when the barbecue is buried in a snowdrift, the broiler does a decent job in its stead. Here I've paired the chops with wedges of cauliflower, which cook up in the same amount of time, making for an easy meal – and a fast clean-up.
This Sheet Pan Zesty Lamb Chops and Cauliflower hits all the buzz words: one-pan, low-carb, 15-minute meal, but you should make it because it's so tasty!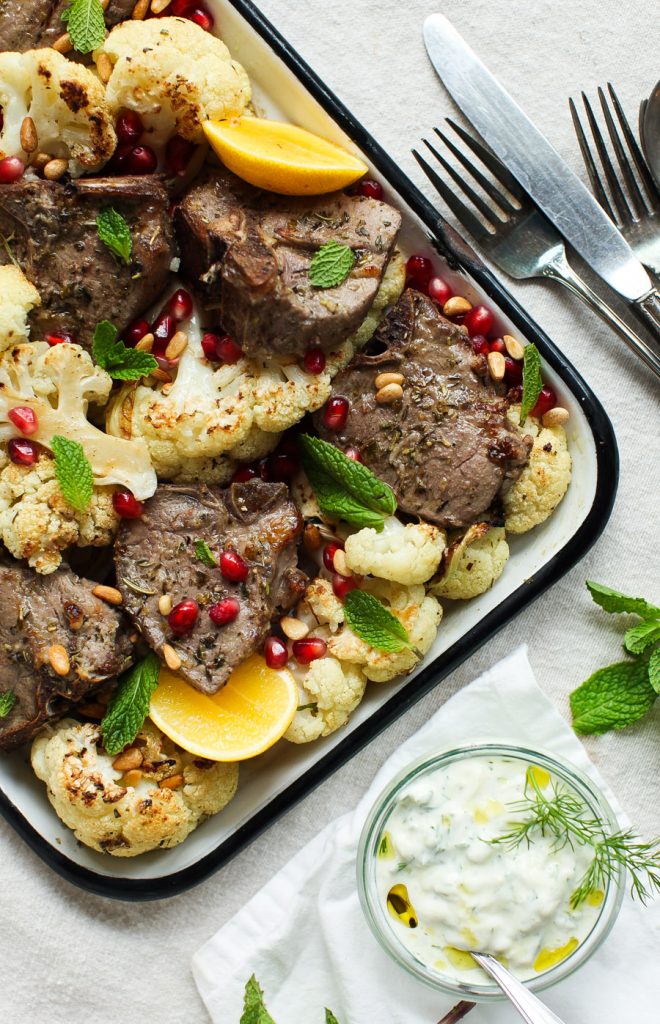 A zesty lemon-herb marinade elevates the chops from ho-hum to yum and a generous sprinkling of mint adds that Mediterranean touch. I've also used fresh dill, oregano or parsley in this recipe and all are super vibrant and tasty.
We love serving lamb with creamy homemade tzatziki (find the recipe in The Simple Bites Kitchen), but it's also delicious with a spicy chimichurri. I suppose I tend to make chimichurri more often in the summer, when fresh garden herbs are plentiful, but sometimes I crave the bold flavours in the middle of winter.
You can also pick up a tub of tzatziki from your favourite deli counter, or just grab Greek-style yogurt from the refrigerator. Whatever helps you to get a wholesome dinner on the table with minimal effort.
Butchery Notes:
Cauliflower
Leave the stem intact. Flip it upside down and cit it in half through the core. Cut each half in  half, and then half again, portioning the cauliflower into eighths. If you like your cauliflower cooked until quite soft, cut them in smaller pieces before tossing on the pan. I like mine with a bit of crunch to them, especially in this dish.
Lamb
Note that the recipe calls for lamb loin chops, which are like tiny t-bone steaks, as opposed to chops cut from the rack of lamb. They should be at least 1 inch thick and up to 2 inches will work for the recipe. Any thinner than 1 inch and they will be overcooked before the cauliflower is ready.
My kids love lamb, but I don't always have time to roast up a leg or a shoulder, nor the budget for rack of lamb (!). So we find that the lamb loin chops are ideal for feeding the family on a busy weeknight.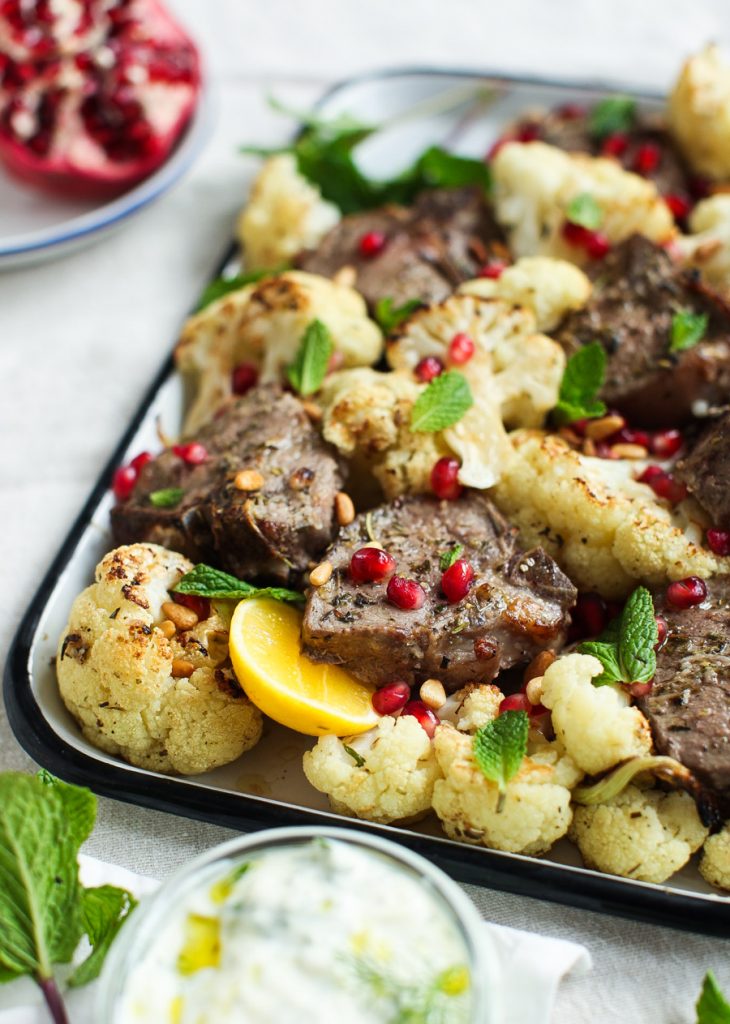 Ideally you prep this in the morning for a super quick weeknight dinner, but it can also be thrown together at the last minute.
This recipe makes a complete, lean meal, but should you want to round it out even further, serve it with a potato side, such as a creamy gratin or a heaping bowl of crispy oven fries.
Sheet-Pan Zesty Lamb Chops & Cauliflower
A quick and tasty one-pan supper that's perfect for any season.
Print
Pin
Rate
Ingredients
1

small head of cauliflower

8

lamb loin chops

1 1/2 inches thick

juice of 1 large lemon

about 3-4 Tablespoons

1

Tablespoon

red wine vinegar

4

cloves

garlic

peeled, minced or grated

2

teaspoons

dried Mediterranean herbs

1

teaspoon

fine sea salt

1/2

teaspoon

freshly ground pepper

1/4

cup

olive oil

1

cup

pomegranate seeds

about 1 small pomegranate

2

Tablespoons

chopped fresh mint

2

Tablespoons

toasted pine nuts

optional

1

cup

tzatziki

to serve
Instructions
Cut the cauliflower into 8 wedges and place in a resealable bag. Place the lamb chops in another resealable bag. Whisk together the marinade ingredients in a measuring cup: lemon juice, vinegar, garlic, dried herbs, salt, pepper and olive oil.

Pour about two thirds of the marinade into the bag with the lamb and the rest over the cauliflower. Seal both bags and then massage the marinade into the meat. (Note: this doesn't really marinate the cauliflower, but it does prep it for roasting later) Refrigerate both lamb and cauliflower for at least 4 hours and up to 8.

Shift the oven rack to the top level. Preheat the oven to broil for at least 10 minutes. (

read this first

if you seldom cook with the broiler). Lightly oil a rimmed sheet pan and arrange the lamb and the cauliflower evenly around it. Brush any remaining marinade over the cauliflower to get it good and coated (this will also help it to roast and not burn).

BROIL for 10 MINUTES. Remove the pan from the oven and lightly press on the lamb chop in the fattest part. It should still feel slightly springy. If you have a meat thermometer, test the lamb close to the bone and it should read between 135 and 145.

Transfer the lamb to a platter to rest for 5 minutes. Turn the wedges of cauliflower over and broil for 5 minutes more.

To serve, heap the lamb and the cauliflower together on a serving platter. Sprinkle pomegranate seeds, mint and pine nuts over the top. Serve with a generous side of tzatziki and wedges of lemon, if desired. Enjoy immediately.
Notes
Also delicious with homemade chimichurri sauce. For a summer version, use quartered cherry tomatoes in place of the pomegranate.
Nutrition