This feels like a quick little recipe that I should just tack onto a social media post or something, but I intentionally want to let it live here on the blog.
Why? Because this is a method you're going to want to reference all the time – especially when the family gets hooked on tofu. This is the gateway recipe that finally solidified my kid's acceptance of tofu – so it's a big deal!
For a good long while now we've been consciously trying to eat less meat and I've had to look elsewhere for our protein. No problem: we love lentils, embraced the year of the pulse, and eggs have always been a mainstay. Tofu was always an ingredient that I really enjoyed but no one else really got excited about – until now.
I developed this recipe for Sesame Stir-Fried Tofu while working on my last book, and I have to say, it was an instant hit. We toss it into fried rice, combine it with vegetables for a stir-fry, serve it up over noodles and add it to enormous Asian-style buddha bowls. It's very versatile and I suggest you simply incorporate it into your meals however suits your fancy.
No matter how I am serving it, my eldest leans over the dish to scoop himself just a little extra tofu each time. And there's never any leftovers.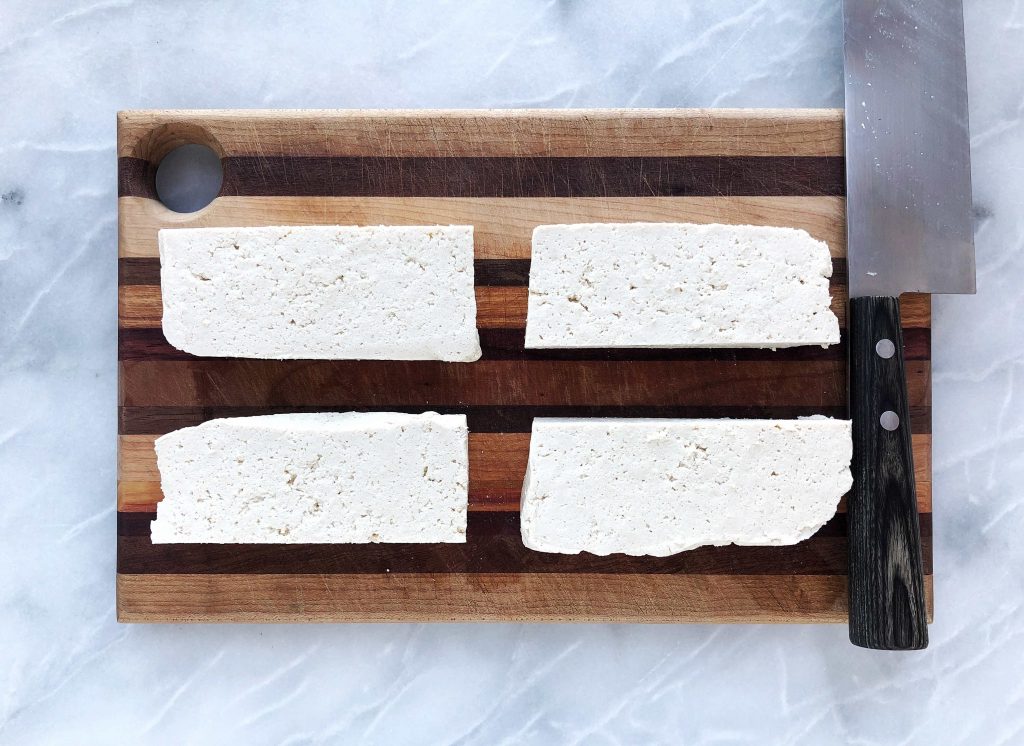 I start with a firm, organic tofu and cut the block into four, as pictured above. I then place these smaller blocks on half of a clean tea towel and fold the other half over, so that it is covering the tofu. On top I set a heavy cast iron pan or solid wood cutting board to press out a bit more of the juices….and make way for the marinade that is coming.
After the tofu has been pressed for about 15 minutes, I cut the four pieces into 1/2 inch strips, as pictured above. They don't have to be exact, we just want to have plenty of surface area for maximum crispy edges.
Now you could just salt the tofu and fry it up in a pan here and now, but I toss it with a simple marinade to give it an irresistible flavour. You can use what you have on hand – mirin, rice wine vinegar, soy sauce, fish sauce, chili oil – anything to give it a little punch.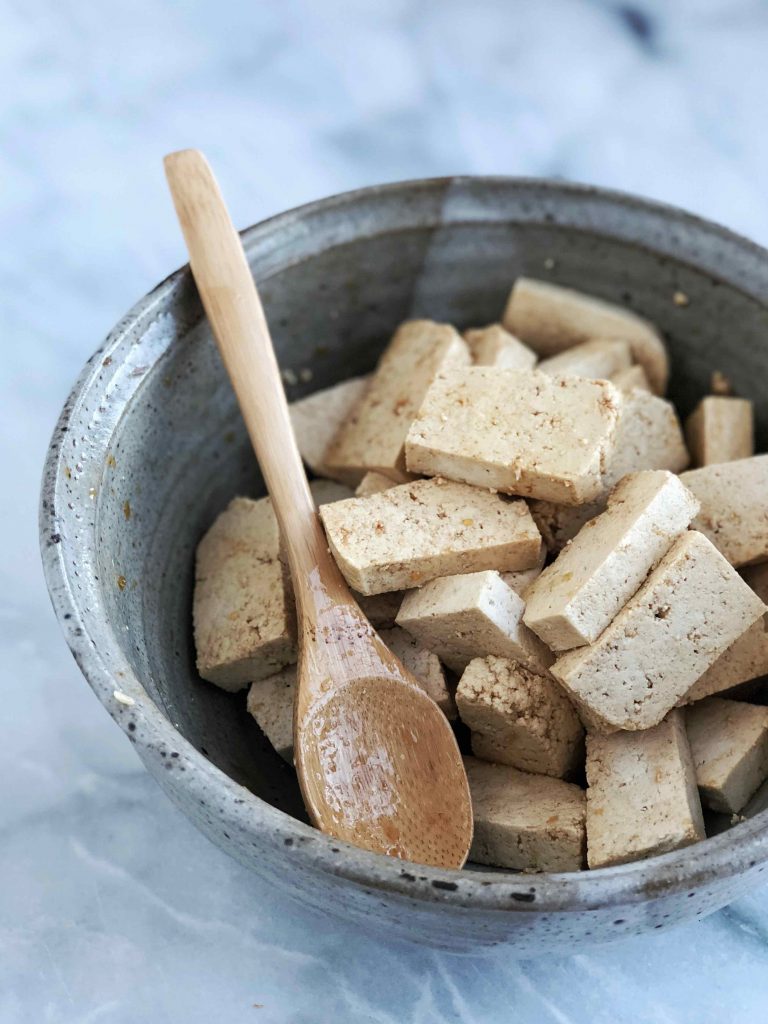 Once the tofu has marinated for about 10 minutes (more is fine too), I preheat a skillet and brush the bottom with oil. I find a preheated, well-oiled wok works well, as does a non-stick pan, or a seasoned cast iron skillet. Use what you have; the important part is to preheat the oil so that it sizzles when you add the tofu. This gives our little morsels crispy edges, a highly desirable trait in pressed bean curd!
Once the tofu is golden brown on both sides, it's ready to be enjoyed. Stay tuned, because I've got a recipe for a big, bountiful vegetable and vermicelli salad bowl coming soon to the blog and it's the perfect dish for showcasing a fresh batch of Sesame Stir-Fried Tofu.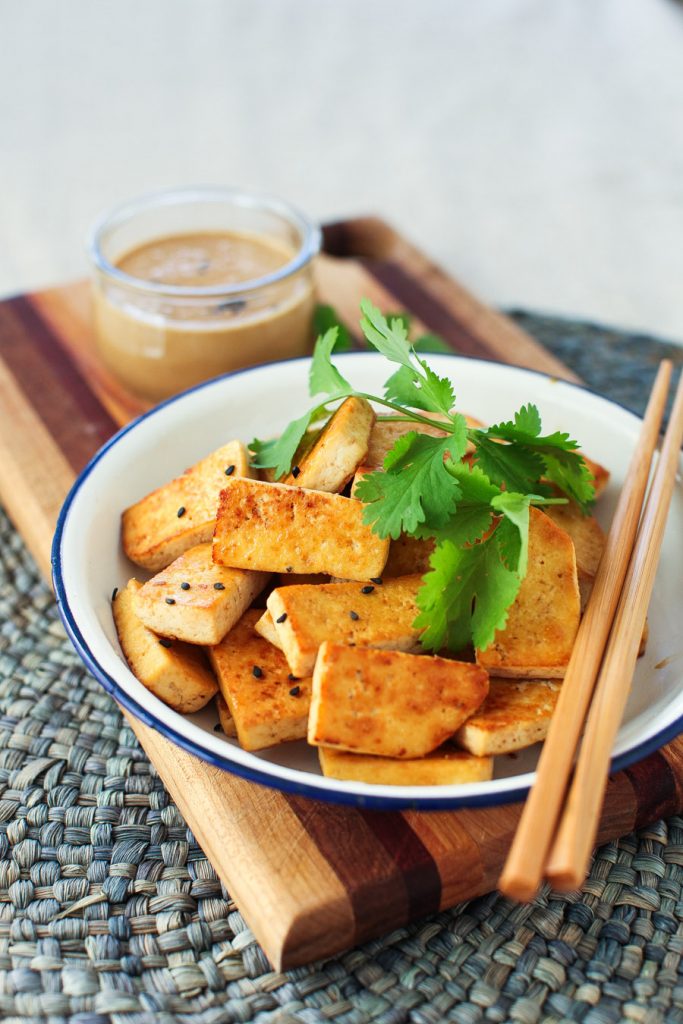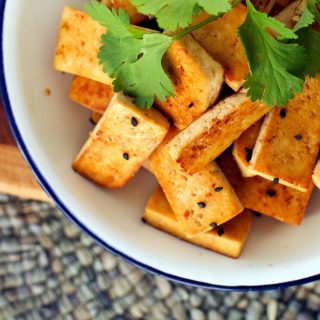 Sesame Stir-Fried Tofu
A simple and versatile way to prepare tofu. Serve as a side to rice, noodles or stir-fried vegetables.
Print
Pin
Rate
Ingredients
1

pound

firm organic tofu

1

large lime

juiced

2

Tablespoons

soy sauce

1

Tablespoon

sesame oil

1/2

teaspoon

fine sea salt

2

teaspoons

canola oil

Sesame seeds

to garnish
Instructions
Cut the tofu into four pieces and lay flat on half of a clean tea towel. Cover with the other half of the towel. Place a heavy cutting board or cast iron pan on top and press the tofu for about 10-15 minutes, whatever you have time for.

Cut the tofu into strips about 1/2 inch thick and 1 inch long. In a medium bowl, stir together the lime juice, soy sauce and sesame oil. Add the pieces of tofu and toss gently to coat them in the marinade. Let stand at room temperature for 10 minutes, then drain.

Preheat a large non-stick pan over medium heat. Brush with a teaspoon of canola oil. Add about half of the tofu to the pan (it should sizzle with it hits the oil) and cook for 2 minutes. Turn each piece of tofu over and fry for an additional 2 minutes. Tofu should be golden brown on both sides.

Transfer to a bowl. Top with sesame seeds if desired and serve at once as a side to rice or noodles.
Nutrition
Calories:
123
kcal
|
Carbohydrates:
4
g
|
Protein:
9
g
|
Fat:
8
g
|
Saturated Fat:
1
g
|
Polyunsaturated Fat:
4
g
|
Monounsaturated Fat:
3
g
|
Trans Fat:
1
g
|
Sodium:
639
mg
|
Potassium:
29
mg
|
Fiber:
1
g
|
Sugar:
1
g
|
Vitamin A:
7
IU
|
Vitamin C:
4
mg
|
Calcium:
119
mg
|
Iron:
1
mg