Sunburned, sleepy, and more-than-a-little sandy, we are home from our family camping trip. I'm pleased to report it was one of our better excursions as nothing major was left behind (save for our Bodum; but there are ways to get creative when making coffee), the bugs were few, and we had a lovely campsite near a small beach.
Fortunately, the rain stayed away, despite some violent thunder crashes that sent Noah scurrying back to camp from wherever he was exploring, and as I sit down to type these words I can hear the skies opening up. No matter now, as my boys are fast asleep in their own beds and there's a roof over us all. Let it rain.
I find the weather always directly effects how much food we consume during a 60+ hour camping trip. If the sun is shining and we are busy hiking trails or swimming, food takes a backseat until about six pm, when we regroup around the fire pit and devour a hearty dinner. If it's drizzling or cold, much time is spent stoking the fire and eating our way through provisions. Either way, food is always an important part of a camping trip, I think we can all agree on that!
Here's a recap of our menu, plus a recipe for our favorite dish of the trip.
Dinner Day #1: Shrimp Kebabs, salad, corn, Danny's birthday cake.
Breakfast Day #2: Scrambled eggs, hash browns, coffee.
Lunch Day #2: Wraps, fruit.
Dinner Day #2: Sausage & Vegetable Foil Packets (recipe below).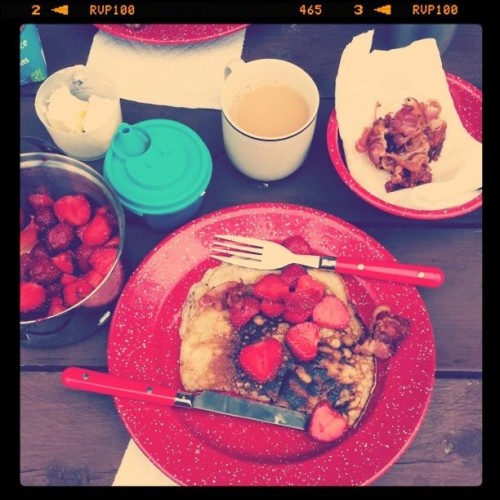 Breakfast Day #3: Buckwheat Pancakes (from my homemade mix), fresh local strawberries, bacon.
Lunch Day #3: Fried egg & cheese sandwiches, carrot & celery sticks. Eaten on the go.
Dinner Day #3: Bean & Cheese Campfire Burritos.
It may sound like a lot of cooking, but we were with family who: shared half of the cooking, did most of the dishes (thanks M & M!) and kept up a lovely fire. Teamwork is the best!

My Essential Camping Kitchen Tools
What do I get by with when I'm cooking off-grid? Here's a list:
Swiss Army Knife (with a corkscrew)
1 cheap chef's knife (I keep a battered one in our camping kitchen box)
a cutting board
stainless steel locking tongs, the longer the better
can opener
wooden spoon
stainless steel spatula
cast iron skillet
camping pots
tin foil
dishwashing basin
dish towels
biodegradable soap
When camping, almost any cooking task can be completed with the tools above. Do you have anything to add?

Recipe: Sausage & Vegetable Foil Dinner with Garlic
This is an ideal dinner if you don't want to spend much time cooking, yet want to serve a meal that's wholesome and satisfying. The best part? No dishes to wash up afterward.
Get the kids involved with collecting firewood and adding the ingredients to the foil packages, then play a game of Frisbee while dinner bakes on the coals.
Be sure to choose nitrate-free, organic sausages and get creative with the varieties (I used rabbit and chicken). Happy camping!
Serves 6
8 pre-cooked sausages, cut into thirds.
2 lbs new potatoes, halved and par-boiled
1 small red onion, cut into chunks
6 small sweet peppers, cubed
12 cloves of garlic, peeled
fresh herbs, torn, (I used basil and oregano)
salt & pepper
Prepare fire by allowing to to burn down to coals.
On the picnic table, lay out six squares of heavy-duty aluminum foil, about one foot square, and oil lightly.
In the center of each piece of foil, place four pieces of sausage, a handful of baby potatoes and a few cloves of garlic.
Divide up the onion, peppers, and herbs among the packages. Season with salt and pepper and dot with butter, if available.
Bring opposite corners of foil together and seal. Fold over the seam and seal tightly to make a secure package.
Place on coals (a little flame is fine) and roast, turning occasionally, for about ten minutes. Serve.
What do you like to eat when you're camping or day-picnicking?