Local flavors marry in this four-ingredient, sugar-free, Honey Strawberry Jam and I've finally scratched a summer itch – canning!
When July arrived and I hadn't canned or preserved a single thing, save for a few bottles of strawberry-infused vodka, I began to panic a little. Yes, even though I'm the one who coached you on how to get your act together for the canning season, I'm still trying to kick-start my efforts.
So partially as incentive to get canning and partially to get out of the post-camping cleanup, I purchased a large flat of fresh Québec strawberries with the intention of making them into jam. Goodness knows when I was going to get the opportunity, as my summer days are jammed packed full of picnics, bike riding, backyard baseball, finger painting and other important activities. However, when Danny called around lunchtime one day this week to let me know he'd be home from work early, I knew I had my chance. Jam would be made by evening or I'd be a monkey's uncle.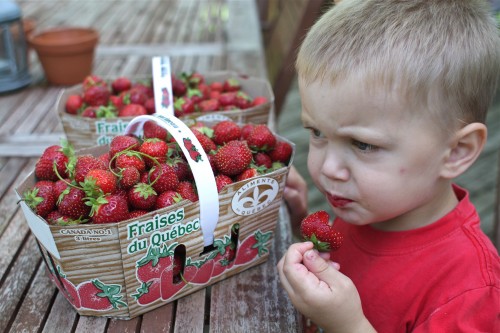 Out of my 9 good reasons to can your own food, personal satisfaction and passion are my main motivation to preserve the harvest.
Making jam and canning is most definitely therapeutic for me. It starts with the prepping of the fruit, a task I usually take to the back patio where I can watch the kids play and multitask in the most relaxed of ways. Then I put a large pot of water on to boil, and as it gurgles on the stove, I pad around the kitchen, gathering ingredients and tools, grateful for the time and space for the task at hand.
I feel a connection – to food culture, to the past, to the countless homemakers before me who 'put up' every summer. The fruit under my hands is ripe, luscious and deserving of respect. Plus I know that the experience of opening a jar of strawberry jam in March is more than just practical – it's transporting. So a-jammin' I go.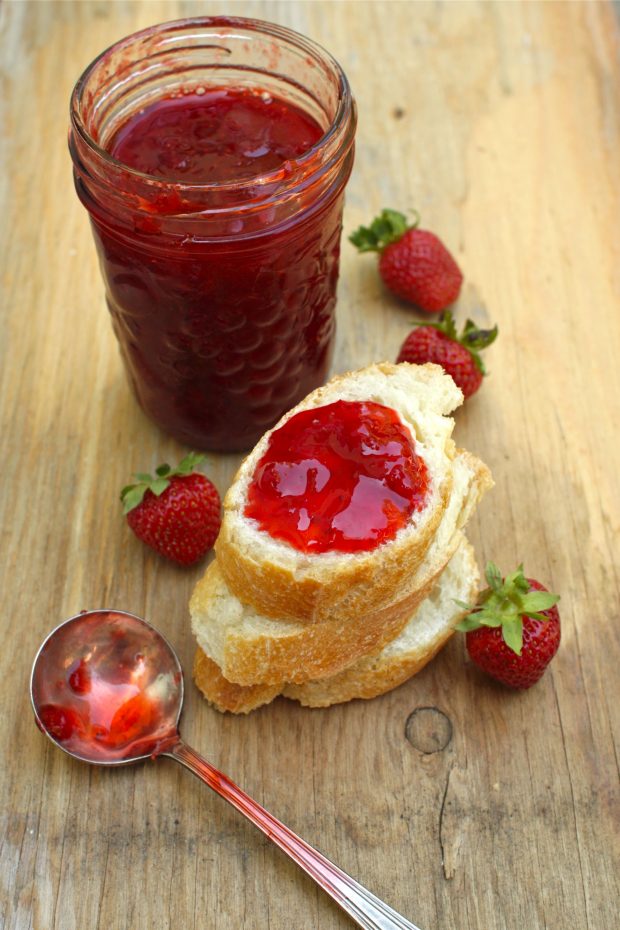 Honey + Strawberries = Jam
I've been captivated with strawberries and honey ever since Mother's Day and the Honey Whole-Wheat Strawberry Shortcakes with Honey-Sweetened Whipped Cream. While the honey does have a strong flavor contribution to this jam, it marries beautifully with the berries.
Believe it or not, this is my first attempt at a true strawberry jam. In the past I deemed it too common and went for more adventurous flavor combinations, but now, I'm craving the comfort of the classics. Does that mean I'm getting old? Perhaps.
At any rate, this jam is neither boring, common or inferior to other jazzier conserves. It's dead simple, with just four ingredients, and is made without the cups and cups of white sugar that round out most fruit jams. As with many sugar-free jams, it is a tad on the thin side.  I wouldn't call it runny (I've seen some runny jam in my days!) but it doesn't just sit on a knife, either.
Don't let the thin texture deter you from trying this jam. It's been less than 24 hours since I made it and we're nearly through a jar because I've been spooning it over vanilla ice cream, adding it to yogurt and slathering crusty baguettes with its sweetness. It's perfection!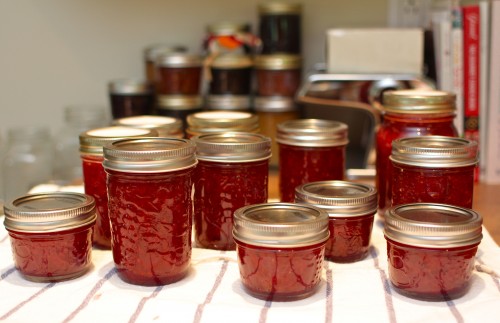 Honey Strawberry Jam
If this is your first time making jam, be sure to review our
Canning Basics
before you get started.
Print
Pin
Rate
Ingredients
6

cups

chopped strawberries

2

boxes

powdered pectin

1 1/2

cups

honey

2

Tablespoons

fresh lemon juice
Instructions
Wash and sterilize six 250ml jam jars. Boil the flat parts of the lids in a small pot and keep at a low simmer.

Mash the berries with a potato masher and place in a large heavy bottomed saucepan.

Add the pectin, stir with a wooden spoon, and place on a burner over high heat and bring to a rolling boil. Stir and boil for 1 min.

Remove from heat and add the honey and lemon juice and mix well. Return to heat and bring to a boil again, stirring occasionally. Boil for 5 min, stirring constantly.

Remove jam from heat and let sit for a couple of minutes, stirring occasionally. It will thicken slightly. Ladle jam into hot jars, then place a flat lid on jars, and add screw rings.

Immerse jars in hot water bath, and boil rapidly for 8 min. Remove from bath and place on a towel on the counter to cool.
Notes
adapted from the Green Market Baking Book
Nutrition
Calories:
359
kcal
|
Carbohydrates:
96
g
|
Protein:
1
g
|
Fat:
1
g
|
Saturated Fat:
1
g
|
Sodium:
38
mg
|
Potassium:
264
mg
|
Fiber:
4
g
|
Sugar:
77
g
|
Vitamin A:
15
IU
|
Vitamin C:
87
mg
|
Calcium:
28
mg
|
Iron:
1.4
mg
Related Posts
Have you 'put up' anything this season? What was the first project?