If you're not already up to your elbows in tomatoes or apples this month, then chances are you need a little nudge in the right direction, a little convincing that it just might be worth it to let the housework slide for a few days and jump onto the canning bandwagon that seems to be leaving you behind, enveloped by a cloud of steam.
Perhaps you see the pallets of canning jars at the hardware stores and supermarkets, but tell yourself canning isn't for you or you think, "it's just not worth the effort."  If that's the case, are you aware of all the benefits of home preservation?
Why do we can? There is no pat answer; everyone has their own motivations. The question is: What are yours?
Here are just a few reasons one might find us picking over late-harvest strawberries, peeling pears or sweating over the stove on any September afternoon:
Health
Concern for BPA in many commercial canned foods such as tomatoes is on the rise, and a huge incentive for home cooks and concerned parents to can their own. BPA-free foods as well as healthy, preservative-free foods that contain no harmful additives or pesticides? That's my first choice when cooking for my children.
Read more: Food News: The Latest on BPA
Eco-Friendly
"Preserving is an extension of the values that made you shop in the farmers' market in the first place." Eugenia Bone
The environmental impact is minimal when you can your own food. For starters, it reduces the waste associated with pre-packed foods; remember, those mason jars are reusable. Your tomato sauce is only traveling from the counter to the pantry instead of thousands of miles across the country on a truck belching out emissions. Those are just a few examples; Ms. Bone sums it all up very well.
Financial
Buying produce in season when it is cheap and plentiful for preserving can be an economical way to stock the pantry. And you may be surprised to know that those decadent jams that you drool over in the local upscale kitchen store can be reproduced for pocket change.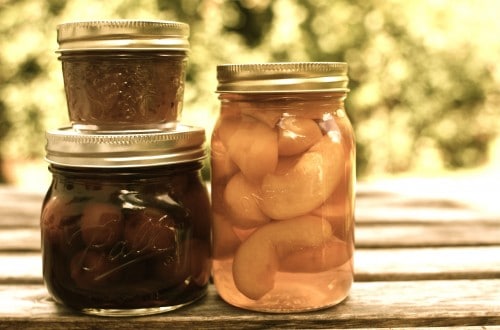 Sentimentality & Connection
I'll admit it, making my own jam is a huge boost to the 'Holly Homemaker' in me. I just love how much like a domestic goddess I feel when I hear those jars go POP as they seal. Some feel canning is a powerful connection to the past – to culture, family and heritage, and they are absolutely right.
Read more: Kevin West talks about Canning, Blogging and Saving the Season (Laist)
Preserve Personal Harvest
Are you overrun with cucumbers and tomatoes? Do your neighbors pretend they aren't home when you ring the doorbell with a arm full of zucchini? Pack the excess of the season into jars and avoid waste. If you've got a garden that is producing like mad, the most sensible step is to embrace home canning. You can start with the pear tree in the back yard.
Passion & Personal Satisfaction
You think knitters are passionate about their craft? People who are serious about putting food in jars are a more than worthy rival. We're fortunate to have a handful of ardent home canners who share their love of home canning on their blogs. They help us remember that the experience of opening a jar of cherry preserves in January is more than just practical – it's transporting.
Read more: The work I love (Cafe Mama)
Necessity
It is becoming a less and less common, but in remote areas some folks still can and preserve all summer long to provide for their family's basic needs year round. As a child, my family 'lived off the land' for some years, and stocking the cold room with peaches, sauerkraut and green beans was essential to make it through the winter.
Gifts
Nothing says 'I love you' quite like a jar of homemade plum preserves. Come Christmas time, home canners have the upper hand in the gift giving department, as a well-stocked pantry of jams, jellies & pickles ensures you have a solid back-up plan to cover everyone on the list.
Quality & Taste
It is not personal preference, it is not self-delusion: no commercially canned product tastes as good as locally grown, harvested in season, homemade preserves! It is deeply rewarding to select your own produce – ensuring top quality – and to can it at its peak of ripeness. You can bet your bottom dollar that the flavor of your home-canned product will mirror the quality and care that went into making it.
Looking ahead
Our Canning 101 series in July mainly featured peak summer fruit such as cherries, peaches, and nectarines. I am happy to report we will be bringing back the Canning 101 series this month with a focus on autumn produce. There is much bounty to be scooped up and packed into jars including apples, tomatoes, and pumpkin, so stay tuned for all the fun!
Care to share? How many of these reasons play into your desire to can?