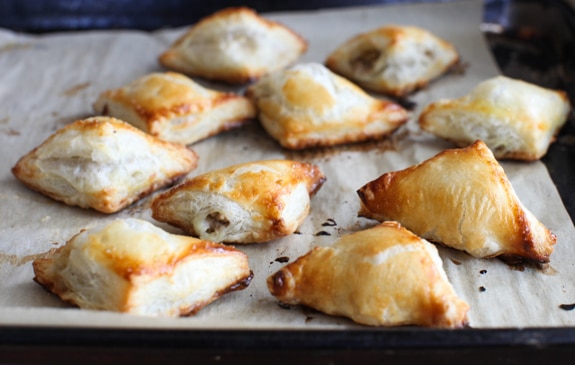 My homesteader upbringing instilled in me a lifelong love of cooking from scratch, and this passion I feel privileged to, in turn, share with you here on Simple Bites.
Making many of my own foods such as preserves, soups, and condiments, instead of relying on the options provided by companies to feed my family, is a conscious choice and one that I feel is the absolute best for my family's health. It's not always easy to choose homemade pantry staples over grocery store convenience, but I take small steps and pick up speed as I gain experience.
It's a journey away from processed foods and back to natural, simple ingredients. I know why I can my own food, I understand the importance of healthy food culture, and I'm happy to roll up my sleeves and put in some hours in the kitchen to benefit my family – and save some coin in the process.
We all know that no two kitchens, budgets, and dietary needs are alike, and so the fabulous food blogging mothers behind our Eat Well, Spend Less series have come together to share a handful of different perspectives on a series of questions related to EWSL.
Naturally, my question was on the subject of scratch cooking, and these girls gave some great answers. Hit the jump to read them all.

Question:
"Which homemade substitute of a grocery staple is saving you the most money in your kitchen right now? What is one pantry purchase you'd like to eliminate and make from scratch this year?"
Responses from our Eat Well, Spend Less bloggers:
Amy from Kingdom First Mom said:
We are a pasta-loving family, so making our own pasta sauce has been a HUGE money-saver. I love that I can make a big batch and freeze it, which is easier to me than buying a ton of jars at the grocery store. Plus, I know what goes into my sauce. There is no telling what is in the stuff at the store!
Carrie from Denver Bargains said:
I would probably say it's a toss-up between chicken broth and marinara sauce. I use chicken broth all the time (it's not just for soups!) and I made it for free using chicken bones and vegetable scraps. I use probably the equivalent of a carton a week if there's no soup on the menu (and lots more if there is). I make marinara sauce in big batches (usually about seven quarts at a time) and freeze it. I used to be able to get jars of sauce for pennies on the dollar, but then I made my own once, realized how much better it is, figured out that it was cheaper even though I was using red wine in it, and I haven't looked back!
Jessica from LifeasMOM said:
I just read an article about how much sugar is in jarred pasta sauce. I've been making my own since 1996 when I was preparing to be a stay at home mom. Between pasta sauce and salsa, I can't imagine spending money on those since they are so easy and cheap to make at home.
I'd like to learn how to make my own enchilada sauce. There's only one brand we like that is chile-based (no tomato sauce). We love enchiladas and I don't buy any other kind. But, the ingredients label makes me raise an eyebrow. I've seen lots of enchilada sauce recipes that call for tomato sauce. I don't want that. I want chile. I made it once when we lived in Kansas, far far away from a can of Las Palmas. It was good but seemed like a pain. I'd like to try again.
Katie from Kitchen Stewardship said:
Homemade yogurt continues to be the biggest money saver for us. I save over $1000 a year, for real, just by making my own. (I detailed the math in last year's Eat Well Spend Less prioritizing post) Chicken stock is second place, particularly now that I use my bones more than once.
The second question is much harder…I buy so little that has a label already, and with a few things, like peanut butter and pickles, I've already proven myself to be a pretty big failure. Two things I still buy and probably should make from scratch are tortilla chips and spaghetti sauce, but I just don't have the motivation. I do want to figure out more about gluten-free baking: how to balance the flours, trying out some more cookie and roll recipes, and ultimately nailing gluten-free sourdough if I can – I already have Amy's recipe printed. Now to find that 25th hour in the day…
Mandi from Easy Homemade said:
Making our own pasta sauce is definitely our biggest money saver! With an Italian heritage and a picky husband, we tend to go through a lot of pasta sauce — on pasta, pizza and as a dipping sauce for a variety of other foods — and making it at home not only allows me to control the sugar content but also lowers our grocery budget each month fairly significantly.
Although I make some bread at home, I don't yet do sandwich bread, and I'm not even consistent about making our buns and rolls, so my goal for this year is to figure out how to make varieties my family loves and how to make that a regular part of my weekly routine!
Shaina from Food for My Family said:
The largest money-saver in my kitchen is homemade stock. It can be made from all sorts of kitchen scraps that would otherwise go to waste. Not only does it save money because I don't have to buy stock, but I use it more often because I'm constantly making it. It ends up being like a nearly free meal a few times a month, and I can't complain about that.
One thing I'd like to get better at is a variety of homemade breads coming consistently out of my kitchen. There are several we make from scratch routinely – naan, pizza dough, quick breads, popovers, biscuits – but I tend to just fall back on the local bakery when it comes to a good sourdough, sandwich bread, or a crusty loaf of french bread. I could definitely save us a bit of money if I would be a bit more driven to make everyday breads from scratch.
Thanks, ladies!
Personally, our household savings are similar to those mentioned above. Making sauces -meat, pesto, tomato, etc – from scratch is a big money saver for us. How do I want to broaden my repertoire of homemade staples this year? So many ways! I'm not very creative with snacks, though I like to munch on them just as much as my children do… I'm hoping to add more items like granola bars, dried fruit, healthy spreads, and fun frozen treats to my 'must make' list.
What is one pantry purchase you'd like to eliminate and make from scratch this year?