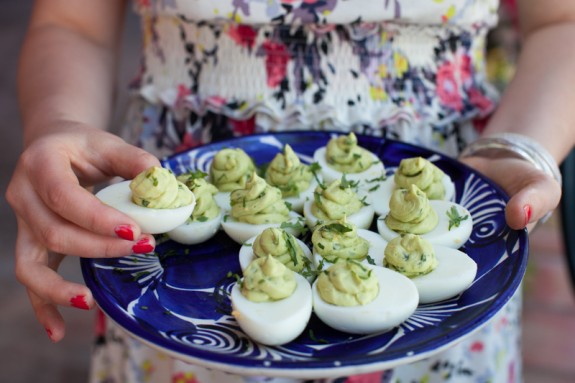 I feel like I got the more technical information off my chest in my last post on traveling with kids in Mexico; so now we can get down to the really good stuff: food! I'm dying to talk taco and tequila, as we ate and drank our fair share during our two week stay. It's kind of what our family does when we get together.
As I explained to Tsh in a recent Homefries podcast, my siblings and I bond best in the kitchen. We're a family who cooks together, then sits down around a table to continue the conversation.
Here's a look at how we ate, and a few recommendations for our favorite places in and around Lo de Marcos and Sayulita.
Home Cooking
Our first week was spent in the beautiful main house of Villa del Rey in the quiet town of Lo de Marcos. It was the perfect beach-side place to let loose nine cousins under age 9, with a large, functional kitchen equipped with bottled water and enough gorgeous Mexican pottery to make this food blogger's heart go pitter-pat.
The town center of Lo de Marcos was only a five-minute walk away, so we shopped daily for our produce – easily using a dozen bananas, 6 avocados and about 40 limes each day. My sister Haidi sourced fresh corn tortillas on the first day, while the menfolk took care of the tequila stash.
My brother in law, Mike, found the fishmonger and bought a load of fresh-caught Mahi-Mahi or Dorado, as it is called in Mexico. He and Miranda (the only couple sans kids) prepared the feast of shrimp and fish tacos in the image above. A meal to remember.
We went through an epic amount of food, as our kids were going from dawn until disk and were perpetually hungry. Fortunately, we're all adept at cranking out the meals and snacks and it hardly felt like any time was spent in the kitchen or sweating over the barbecue.
Our mid-afternoon tradition of "Guac-o-clock" kept us going until dinner, accompanied by a mixed drink that changed daily, but nearly always contained tequila.
Breakfast was simple, pancakes or oatmeal, with plenty of fresh fruit to accompany it. We wanted to get down to the beach as soon as possible, and eating was secondary to play.
Even on vacation, I can't help myself and must have an organized pantry. Coffee, vanilla, oats, granola, oil, beans and peanut butter are a few of the staples I used over two weeks. Nearly any tiny, hole-in-the-wall 'Mini Super' sold these items, along with many more basics. I brought a few airtight containers on the plane for Clara's food, and they came in handy later for salt and sugar.
In Lo de Marcos, a fellow passed by daily with fresh doughnuts for sale. Um, why can this not be an option here in Canada? Often it was just that little bit of carbs and sugar we needed to carry us through to, well, Guac-O-Clock.
You have to understand, we played hard, often from 6 am to midnight. Fuel is required to keep that up… but wait, I need not make excuses for doughnuts, do I?
Someone special had a birthday. I made my first boxed cake mix (yep, first ever), carved it up into a '5', and embraced the motto "The more sprinkles, the better".  IS that a motto? It must be somewhere.
Mateo was thrilled! The huge Lightning McQueen piñata we found in nearby town La Peñita was a hit (terrible pun) with all the little cousins, as was a treasure hunt and water balloon fight.
Noah thoroughly embraced the food in Mexico, trying guacamole (again, I've offered in the past) and discovering that he loved it. Also high on the list of likes: fresh hot churros, warm corn tortillas, mango, and quesadillas of all kinds.
My little baby-led solids girl had her ups and downs. She was teething like mad, plus had tummy trouble for a few days, so her appetite was not normal. When Clara did perk up, she chased soft beans around her tray, gummed through many a banana, and enjoyed more smashed avocado on toast than the rest of us combined.
Tacos, Take-Out, and Eats all Around
Tacos, whether we made them ourselves, stuffed with mango and shrimp, or bought them for 10 pesos at a stall, were the mainstay of our diet while in Mexico. These iPhone images don't do justice to the tacos we enjoyed. Pork, beef, goat or roasted vegetable, they seemed to get better and better as we ventured further afield.
Tip: if a Mexican lady is making and serving tacos from her pop-up restaurant in her home, your life is about to change for the better. Grab a stack of napkins, an ice-cold Mexican Coke, and order double. You can thank me later.
We drove to neighboring La Peñita for its bustling Thursday market, but it was a corner ice cream shop that became the highlight of the trip. 'Elim' is the name of the parlor, located at the corner of the Avenida and Bahai de Acapulco.
All ice cream is made on the premises and features seasonal fresh fruit. I swooned over a soft coconut ice cream in a homemade waffle cone, but I would go back for Danny's passionfruit.  You can read more about Elim and its owner, Pedro, on the local blog, Jaltemba Jalepeños.
Brunch at Clarita's Cafe in Lo de Marcos came recommended to us by our foodie taxi driver. Located a few doors east of the main plaza, it serves up fresh orange juice and THE best chorizo, potato and egg burritos I have ever tasted. Seriously. Game changer.
Open Friday, Saturday and Sunday, Clarita's is family friendly, with relatively speedy service, and a collection of tables in a totally charming shaded courtyard. My children happily inhaled stacks of pancakes and all the orange juice they could hold. My only quibble wold be that the coffee was a let-down. If you're going to boast to have the 'best coffee in Lo de Marcos', it better live up to its title.
Sayulita
Our second week was spent in Sayulita, where food was easily sourced, but had a slightly higher price tag than in Lo de Marcos.  On Fridays, don't miss the organic street market that sets up along the east end of Coral street.
Save your pesos for fresh tamales, cactus jam, jackfruit -fresh and dried-, and a beautiful assortment of locally-grown organic fruits and vegetables.
Margaritas are 2-for-1 at The Cactus Grill (Manuel Navarrete #7, Sayulita), which also features kids' menu, high chairs and fast, friendly service. Sometimes that is just the best way to go when everyone is hot, sandy and tired. Especially the margaritas.
Paletas can be found at the family-run Wa kika Heladería ice cream shop (Avenida Revolucion 40) and come in a mind-boggling assortment of colors and flavors.  I recommend coffee or mango.
If menu prices on the beachfront bars and eateries seem a little high, just head inland a few blocks, where taco stands, organic bakeries and dessert trucks abound.
We sure enjoyed the selection of tequila to be found, and I'm talking about the fine, sipping varieties that my siblings and I appreciate so well.
If you've lucky enough to have more than one bottle open, you can use orange slices sprinkled with cinnamon as palate cleansers between varieties. If you're looking for a bottle to take home for your liquor cabinet or as a gift, we'd recommend something from one of the tall, colorful Corralejo bottles.
I've tried to select my top 5 favorite bites from our Mexico culinary adventures, but I give up when I've used up all my fingers on both hands. This country has so much flavor to offer, it's impossible to experience even a fraction of it in such a short trip. I can't wait to go back.
Guacamole Deviled Eggs
You're welcome to prove me wrong, but these smooth and creamy deviled eggs taste like the promise of spring. Their pale green colour would look attractive on an Easter brunch buffet, just be sure to double the recipe. They disappear in about two minutes.
Print
Pin
Rate
Ingredients
8

eggs

1

avocado

1

Juice of 1 lime

about 1 Tbsp

Salt

Pepper

2

Tablespoons

Mexican crema

creme fraiche, or sour cream

1

Tablespoon

chopped cilantro

to garnish
Instructions
Place eggs in a shallow pot and cover with 2 inches of water. Bring to a boil and boil hard for 1 minute. Cover, remove from heat and let stand for 10 minutes.

Transfer eggs to ice-water bath and allow to cool completely.

Peel eggs and slice in half lengthwise.

Remove yolks with a spoon and place in a small bowl. Arrange egg-white halves on a serving platter.

Using a fork, partially mash the cooked yolks, then add the flesh of 1 avocado, lime juice, salt and pepper and crema.

Mash thoroughly with a fork until filling is smooth and creamy. Taste for seasoning and adjust if necessary.

Spoon filling into a piping bag (or small ziplock bag with corner snipped) and squeeze devilled egg filling onto the egg whites where the yolks used to be.

Sprinkle with chopped cilantro and serve at once.
Notes
These devilled eggs are best enjoyed within 2 hours of making them. Keep them well-chilled and covered with plastic wrap until served.
Nutrition
Calories:
110
kcal
|
Carbohydrates:
3
g
|
Protein:
6
g
|
Fat:
8
g
|
Saturated Fat:
1
g
|
Cholesterol:
165
mg
|
Sodium:
79
mg
|
Potassium:
182
mg
|
Fiber:
1
g
|
Vitamin A:
290
IU
|
Vitamin C:
3.6
mg
|
Calcium:
34
mg
|
Iron:
0.9
mg
Have you traveled to Mexico? Do you have a favorite food memory?