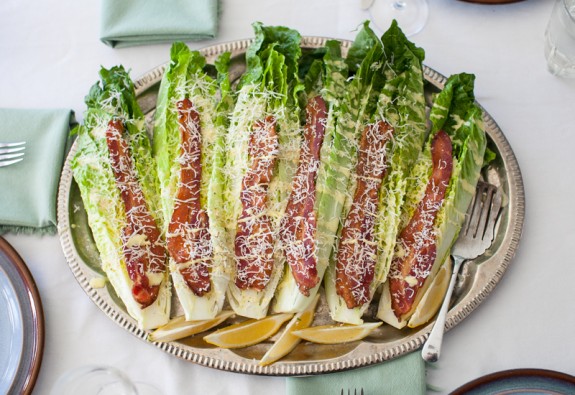 Before kale was cool, before it was made into cheesy chips or added to smoothies, it grew in my mother's garden when I was a child. This curly-leafed winter green lived under the snow all winter long, and aside from the alfalfa seeds we sprouted in a jar, was the only fresh salad we ate from November to April.
I was always the one booted out of doors with a bowl and a pair of scissors to retrieve the kale. Looking over our snow-covered garden, with its soft mounds scattered here and there, no one would ever guess that there was life underneath. I would kick away the snow with my boots and dig with my woolen mittens until the bright green stalks came into view.
My mother always had a jar of poppyseed vinaigrette prepped to dress our kale, and that combination remains a favorite of mine. It was our daily salad and much-needed vitamin C boost during the long Yukon winters.
After having the luxury of gorgeous Mexican produce at my fingertips for two weeks this past February, it was hard to get excited about the selection of salad greens upon my return home. Of course that was just wimpy of me, as I know winter salads can be vibrant and delicious – they just take a little more effort than their lazy summer counterparts.
So I challenged myself to create a salad a day. I stocked up on winter greens like endive, Napa cabbage and kale. I selected my favorite seasonal vegetables like beets, avocados and red onion. Winter citrus and a few nuts and seeds rounded out my ingredients of choice and suddenly, eating fresh in Canada's coldest month was looking pretty good.
I posted a few salads on Instagram which made it easy for me to have a few to show you today and hopefully inspire you. Finally, I'm sharing a super easy salad I fixed for a recent Sunday dinner – the Caesar wedge.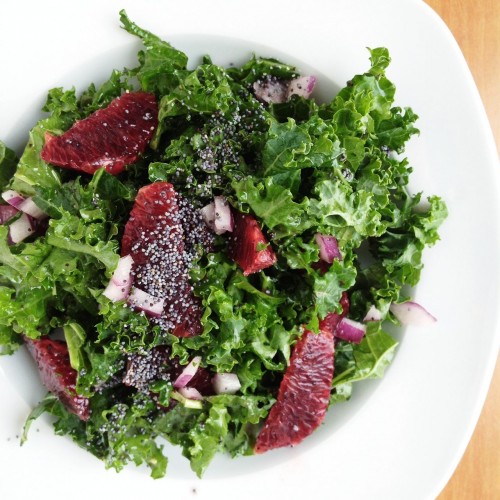 It's the kale salad with poppyseed vinaigrette mentioned above, livened up with diced red onion and segments of blood oranges. Tip: toss your kale salad a full five minutes before you plan to serve it. The extra time will soften the tough green and 'marinade' it, if you will.
Roasted yellow beets (here's how I roast them) are paired with avocado, grapefruit and red onion for a salad that hints at spring with its soft color palette, but offers flavors that are decidedly wintery.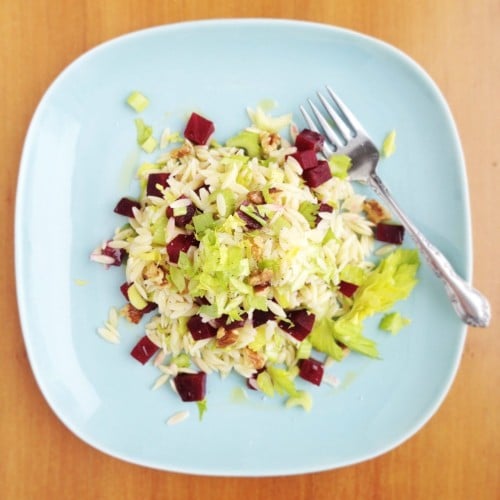 I had to recreate my beet & orzo salad with celery and walnuts, only I left off the feta cheese this time. Consider this the vegan version of a winter pasta salad.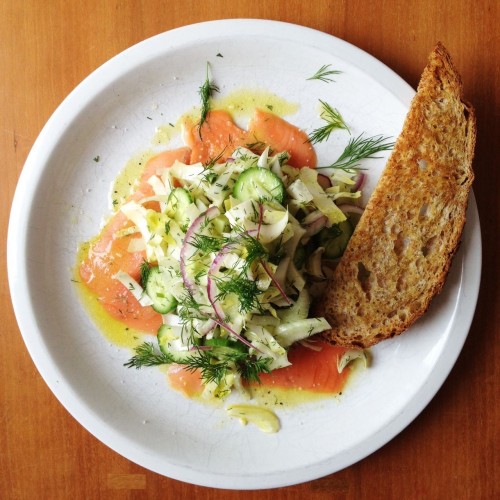 It's hard to go wrong when you begin a salad with a bed of smoked salmon. From there, I tossed a combination of shaved fennel, cucumber, endive, celery or radish (whatever I have on hand that day) together with lemon juice, olive oil and a handful of fresh dill. I piled it high on the salmon and finished with a sprinkling of sea salt. Crouton optional, but recommended.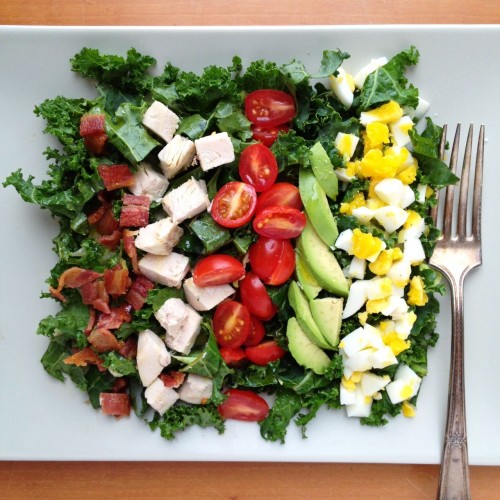 The Cobb salad is hardly anything new, but the Kale Cobb is a fun twist on a classic. I loved the contrast between the hearty winter green and the soft egg and avocado. I tend to slosh salads like this (chef salad, etc) with any dressing I have around, but it's particularly nice paired with a homemade Buttermilk Ranch Dressing.
Caesar Wedge Salad
I've made my Caesar salads with both a creamy dressing and a oil and vinegar dressing. I've added and taken away the controversial anchovy addition. I've even grilled my Caesar salad, but for a recent Sunday dinner with guests, I served it up in a different manner altogether. Pictured at the top of the post, may I introduce you to the Caesar wedge salad.
The Caesar wedge is ever so simple, and every component can be prepared in advance, making it a good candidate for Sunday dinner. Crisp hearts of romaine are split down the middle, arranged on a platter, and garnished with the usual suspects: bacon and Parmesan cheese. A drizzle of dressing and a crack of fresh pepper finishes the salad off.
Tips:
I like to bake my bacon to ensure that it stays flat (it's prettier for presentation) and crisps up evenly so that it shatters when cut into. Chewy bacon would only be awkward on this salad.
Croutons would only roll off the top of the wedge and bounce on the floor, so I leave them off the salad altogether. Besides, they aren't really missed.
You can use any Caesar dressing you like for the salad, but if you want to make your own, here are two versions: mine is quick, mild, and egg-less; Casey's is a little bolder with Dijon and white balsamic vinegar coming into play.
If possible, use Parmesan from a block (not pre-grated), the freshest pepper around, and serve the finished salad with lemon wedges for a little extra tang.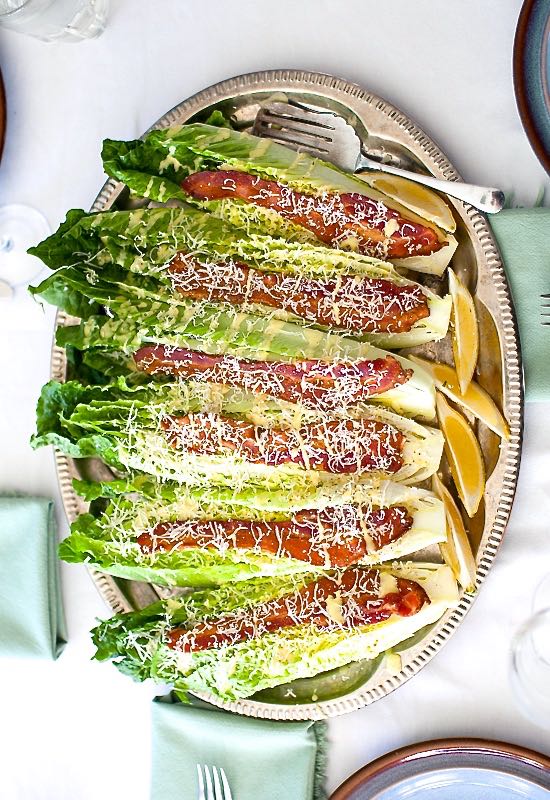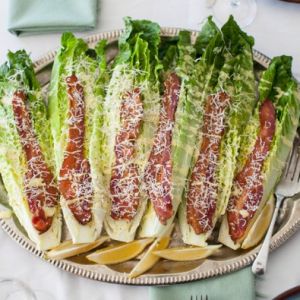 Caesar Wedge Salad with Bacon & Parmesan
A fun twist on the standard Caesar salad, this wedge version takes just minutes to assemble and present. All components can be prepared ahead of time.
Print
Pin
Rate
Ingredients
3

hearts

Romaine lettuce

6

strips

cooked bacon

baked, to keep it flat

1/4

cup

freshly grated Parmesan cheese

3

Tablespoons

Caesar dressing

fresh black pepper

lemon wedges

to garnish
Instructions
Slice Romaine hearts in half lengthwise and rinse under cold water. Drain upside down for a few minutes, then wrap in a large kitchen towel and press lightly to remove as much water as possible.

Arrange Romaine hearts on a platter and top with a tablespoon of dressing. Add bacon strips to the top of each six wedges and sprinkle with Parmesan.

Just before serving, drizzle with remaining Caesar dressing and a sprinkling of fresh black pepper. Top with more cheese, if desired.

Serve immediately, with lemon wedges.
Nutrition
Calories:
95
kcal
|
Protein:
4
g
|
Fat:
8
g
|
Saturated Fat:
2
g
|
Cholesterol:
14
mg
|
Sodium:
289
mg
|
Potassium:
40
mg
|
Vitamin A:
80
IU
|
Calcium:
50
mg
|
Iron:
0.2
mg
How do you like to prepare a winter salad?