Another salad. I know. But after being on the road, it's all I want to eat when I come home.
Yesterday Clara and I headed out to the garden first thing to get inspired for lunch. The fridge was literally empty, save for a few dates, the usual condiment collection and other odd bits. After collecting the morning eggs, Clara busied herself with picking and eating peas; we're getting a small second crop and she nabs every single pod.
Nasturtiums, basil and tomatoes are going crazy in our raised beds right now; an obvious trio to harvest for my lunch and for this recipe. The #EatSeasonal bloggers and I are celebrating August produce today, so read on to discover our creations and my colourful salad.
We started these edible flowers from seed and I'm always amazed at how well they do. Every so often I hack off a large section and drop it into the chicken coop. I've heard they are a natural dewormer and, anyway, the hens are crazy about them.
I've had a minor letdown in my garden this year.  Overall, the plants we started from seed back in March are thriving, but the two vegetables I picked up at a local nursery became overcome with bugs. Sadly, I had to pull the cucumber and zucchini plants and burn them. My beds are now bug-free, but we are down two varieties of produce.
It's frustrating, but I should have known better. Next year I'll start everything from seed – or let the kids do it – and avoid the commercial seedlings. It's tempting to take the shortcut, especially when the plants are already flowering, but — gross. Who cares about a jump start on the garden when it comes with unwanted 'extras'? Not me.
August has finally given us the correct number of sequential hot days to ripen my tomatoes and they are turning red like crazy. I've already professed my love of tomato salads this summer, and today's version is a special edition only because: edible flowers!
I  harvested a few of my marigolds as well, and  handful of geranium too, but those are for another salad, another day. It's summer! Let's eat all the flowers.
If you've got nasturtiums in the garden, pick the bright green leaves and favour the smaller ones, as they will be more tender. A good wash is necessary to remove dirt and stray bugs. I'm making use of my newly thrifted and assembled outdoor vintage enamelware sink for this job.
I've been wanting a sink on the back deck for some time for washing eggs, hands, and of course, garden produce. This summer it finally happened, and I'm rather tempted to post the tutorial, although we still need a proper faucet and drain. And even though I had a friend build the stand for me out of old barn wood.
Really, all I've done is hunt down a speckled blue sink from the '30's, but I'm still taking credit for the project!
Nasturtiums, and all edible flowers, really, are pretty to eat but don't come even close to filling you up. And when I'm buzzing around the homestead, I need a lunch to carry me through until afternoon tea.
So along with loads of fresh-picked tomatoes, I rounded out the salad with slices of dates and a handful of pistachios. The sweet and salty additions paired well with the spicy nasturtium and added the contrasting textures the salad needed.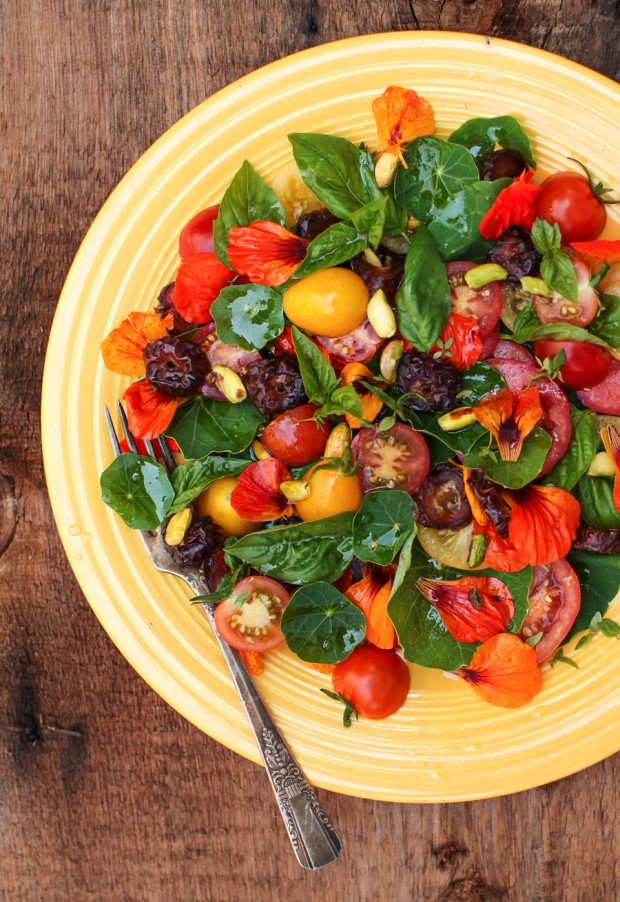 Nasturtium leaves are quite peppery and best paired with a slightly sweet – yet light- vinaigrette. The flowers are very delicate and won't hold up to a thick, gloopy dressing. I chose white balsamic vinegar, but champagne vinegar would also be fantastic. A splash of orange blossom water did wonders to perfume the salad and a sprinkling of sea salt finished it off.
Enjoy!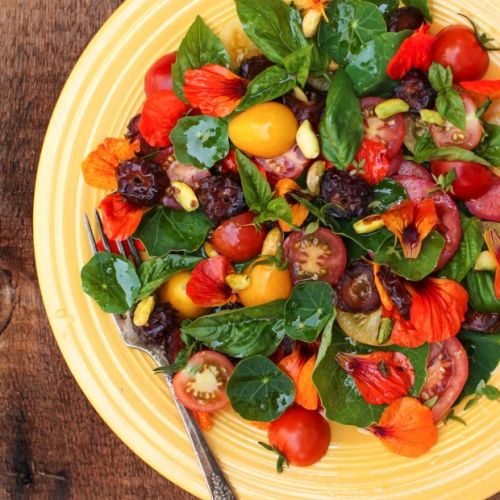 Tomato Nasturtium Salad with Dates and Pistachios
Fresh-picked tomatoes, slices of dates and a handful of pistachios. The sweet and salty additions pair well with the spicy nasturtium and add a contrasting textures to the salad.
Print
Pin
Rate
Ingredients
1

teaspoon

white balsamic vinegar

1/4

teaspoon

orange blossom water

2

pinches

sea salt

1

Tablespoon

olive oil

2

cups

nasturtium leaves and flowers

loosely packed

1/2

cup

fresh basil leaves

1

cup

cherry tomatoes

6

Medjool dates

pitted

2

Tablespoons

shelled pistachios
Instructions
In a small bowl, whisk together vinegar, orange blossom water, a pinch of sea salt and the olive oil.

Wash and dry nasturtiums, basil and tomatoes. Remove the stems from both the leaves and the flowers.

Slice tomatoes into 1/4 inch rounds. Arrange on two plates with the greens and flowers.

Slice dates and add to the top of the salad. Sprinkle with pistachios.

Drizzle the vinaigrette over the two salads. Sprinkle with a little sea salt and serve at once.
Nutrition
Calories:
362
kcal
|
Carbohydrates:
61
g
|
Protein:
5
g
|
Fat:
13
g
|
Saturated Fat:
1
g
|
Sodium:
398
mg
|
Potassium:
830
mg
|
Fiber:
6
g
|
Sugar:
51
g
|
Vitamin A:
825
IU
|
Vitamin C:
18.5
mg
|
Calcium:
81
mg
|
Iron:
1.9
mg
Eat Seasonal
A stellar group of food bloggers and I are bringing you a list of original seasonal recipes created specifically for August! Have fun shopping, harvesting and cooking in season…
Find the full August produce guide on The Vintage Mixer.
How do you feel about flowers in your salad?