Written by Shaina of Food for My Family.
I can still hear the tin of my Voltron lunchbox echo as I swung it up onto the long, laminated tables and plopped down on the long blue bench. Carefully I would pull out the packaged contents of my lunch: peanut butter and honey or ham and Swiss on wheat. A random mix of fruit and vegetables accompanied them, but each day my mom would press fillings between two soft pieces of bread, tuck them into a red Tupperware container with a white lid and slide it into my lunch box.
My children don't often have sandwiches tucked into their lunchbox. This is not because they don't fancy two slices of bread filled with a variety of meat and cheeses, spread, lettuce, and a pickle spear side. It is more due to the fact that I have not been good at baking sandwich breads that fit my sandwich bread needs: soft, evenly shaped for slicing, not too dense, nor too sweet.
Instead, I buy them infrequently when I find myself near a suitable bakery, and in between I stuff their sacks with alternative items: Frittatas, soups, fried rice, pasta salads, tortilla wraps, and baked oatmeal.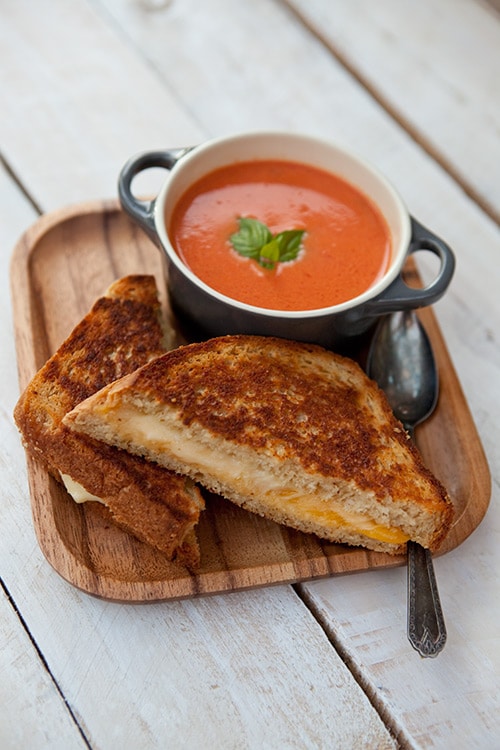 Photos by Shaina Olmanson | Food for My Family
It's not that I think it's necessary to send a sandwich to school. I just don't even consider it an option most of the time because of this bread issue. Avoiding preservatives and other hard-to-pronounce ingredients from the store-bought varieties has left us with little in the way of alternatives. It's one of those nagging needs waiting for me to tackle it and make it my own.
I've made this loaf a handful of times now, adjusting it to my family's tastes. I prefer it with a light honey over a darker molasses or maple syrup. It's light enough to slice and serve, and it toasts nicely for grilled cheese and soup or during the breakfast rush.
Ingredients
2 1/2

cups

bread flour

1 1/2

cups

whole wheat flour

1 1/2

teaspoons

instant yeast

or 2 teaspoons active dry yeast dissolved in 2 tablespoons of the water below

3

Tablespoons

powdered milk

1 1/4

teaspoons

salt

1 1/4

cups

lukewarm water

2

Tablespoons

vegetable oil

3

Tablespoons

honey
Instructions
Mix together the bread flour, whole wheat flour, instant yeast, powdered milk, and salt. Stir in the water, oil, and honey until fully incorporated and the dough comes together to form a ball.

Transfer the dough to a lightly oiled surface and knead for 8 to 10 minutes minutes until the dough is soft, but still firm. You can do this in a mixer with the dough hook attached. (During the winter or in dry climates it may be necessary to add a bit more water to soften the dough slightly.)

Place the dough in a lightly greased bowl and cover with plastic wrap. Allow it to rise for 1 1/2 to 2 hours, or until the dough has doubled in size.

Transfer the risen dough to a lightly greased surface and shape into an 8" log, pulling the sides around to the bottom to cloak the gluten. Place the dough in a lightly greased 8 1/2-inch x 4-inch loaf pan, seam side down, cover with plastic wrap, and allow the bread to rise a second time for 1 to 2 hours, until the dough has risen 1" above the pan.

Preheat the oven to 350º F. Bake for 35 to 40 minutes in the center of a baking sheet, rotating and covering with tented foil halfway through baking to prevent the top from over browning. The bread should be golden brown, sound hollow when tapped, and be 190º F internal temperature when finished.

Remove the loaf from the pan and cool for 1-2 hours on a cooling rack before cutting. Serve warm or sliced for bread at room temperature.
Nutrition
Calories:
390
kcal
|
Carbohydrates:
70
g
|
Protein:
12
g
|
Fat:
7
g
|
Saturated Fat:
4
g
|
Cholesterol:
3
mg
|
Sodium:
501
mg
|
Potassium:
239
mg
|
Fiber:
5
g
|
Sugar:
10
g
|
Vitamin A:
35
IU
|
Vitamin C:
0.3
mg
|
Calcium:
52
mg
|
Iron:
1.7
mg
Do you make your own sandwich bread?