The following is a guest post from Christen who writes at Nurture Baby.
In the spirit of Simple Bites' celebration of the one-pot meal, we would like to share some "One Pot Wonder" dishes dedicated exclusively to babies and toddlers.
Many moms question what to feed their little ones past the purée stage. The conventional store-bought baby food looks so unappealing, but the thought of making homemade food seems a bit daunting.
At NurtureBaby, we've come up with some easy "One Pot Wonders" that take the guesswork out of feeding your little one a balanced, tasty meal and I am happy to share them with you today. Rest assured, these dishes will tantalize your little one's taste buds and you will feel great about serving a fresh, healthy, and delicious dish.
Bébé Bolognese
This first "One Pot Wonder" dish was inspired by my days as a college student in Paris. Living in a hostel, food preparation was limited. We traveled 30 minutes on a rush hour subway to the best "free" cafeteria in the area, Cité Universitaire. It was there I discovered pasta bolognese. Yes, let's state the obvious – it was an Italian dish from a French school cafeteria that I might feel a bit differently about today. In my memory, however, it was a warm, hearty, oh-so delicious dish that provided the comfort of home while living thousands of miles away.
Ten years later, with a nine month old daughter in tow, I yearned to provide fresh, healthy foods convenient for a working mom to prepare. The goal was a hearty and nutritious meal – one that encompassed most of the major food groups. It was then I remembered the delicious bolognese dish from my days in Paris and decided to adapt the recipe for my little one's palate.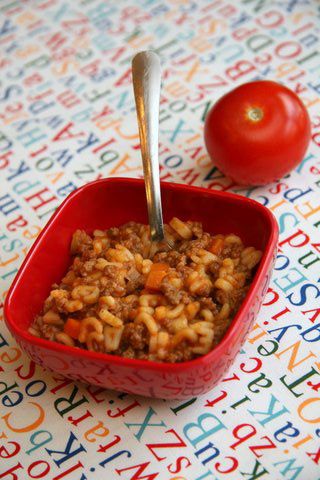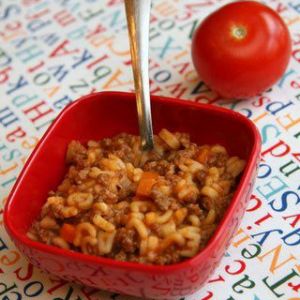 Ingredients
1

Tablespoon

olive oil

extra virgin

1/2

medium

onion

1

medium

carrot

1

medium stalk

celery

1

clove

garlic

1/2

pound

organic lean ground beef

or ground turkey

1

small can

organic no-salt tomato paste

4

cups

chicken stock

or beef stock - homemade or organic, no-sodium store bought

2

cups

whole grain small pasta

preferably stelini pasta, or pasta stars

2

leaves

fresh basil

optional

1/4

cup

grated Parmesan cheese

optional
Instructions
Bring a large stock pot of water to a boil.

Meanwhile, chop onion, celery and carrot into small cubes, about 1/4 inch in size and set aside.

In a separate pot, heat olive oil on medium-high heat. Add ground beef and cook until browned. Remove from pot and drain on plate covered with a paper towel. Turn down heat to medium.

Add onions, celery, carrots and garlic and sauté for 5 minutes, or until onions are transparent. Add ground beef back to the pot along with tomato paste and stock and simmer for 10-15 minutes.

When water comes to a boil in large stock pot, add and cook stelini pasta (or other small pasta such as orzo or acini de pepe) according to package instructions. Once tender, drain pasta in colander.

Add cooked pasta to sauce mixture and mix thoroughly. Mix in parmesan cheese and chopped fresh basil, if desired.
Notes
Freezing Tip:
You can make a batch of this Bébé Bolognese and freeze in silicone cupcake tins. Once frozen, pop out of silicone and store in freezer bags. These perfect portions of homemade goodness will last about 3 months and can come quite in handy. Just reheat and serve. And feel free to lick the bowl... I promise it tastes better than the shelf-stable meals found in your corner grocery store.
Nutrition
Calories:
445
kcal
|
Carbohydrates:
58
g
|
Protein:
30
g
|
Fat:
12
g
|
Saturated Fat:
4
g
|
Cholesterol:
48
mg
|
Sodium:
835
mg
|
Potassium:
1082
mg
|
Fiber:
3
g
|
Sugar:
11
g
|
Vitamin A:
3310
IU
|
Vitamin C:
12.2
mg
|
Calcium:
129
mg
|
Iron:
5
mg
If you saw my post in Simple Kids about 5 Techniques to Inspire Healthy Food Choices in Your Child's Diet, you know I'm typically not a big fan of the deceptive technique, such as sneaking spinach puree into my kid's precious brownies.
However, this recipe does sneak in a Super Food (pumpkin!) into the nutritionally inept, yet proverbial kid's favorite – macaroni and cheese. This recipe works because the pumpkin adds a subtle sweet taste while masking beautifully in the cheese sauce.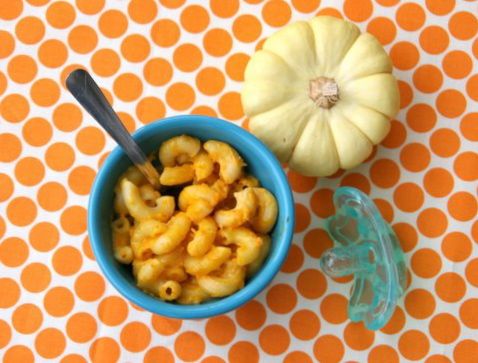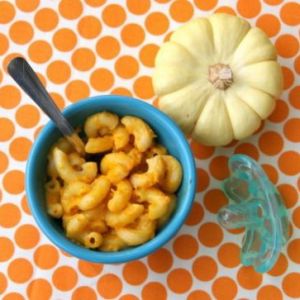 Ingredients
1

box

whole wheat macaroni pasta

8 oz. box

2

Tablespoons

unsalted butter

2

Tablespoons

All-Purpose Flour

1 1/2

cups

milk

warmed

1/2

cup

canned pumpkin

1

cup

mild cheddar cheese

grated

1

Pinch

freshly grated nutmeg

optional
Instructions
Cook the pasta in large pot of boiling water according to package instructions, about 8-9 minutes. Drain and set aside in large bowl.

Begin making the cheese sauce by melting butter over medium-low heat in a saucepan. Once completely melted, add the flour little by little and mix with a whisk to prevent lumps. Cook flour and butter mixture for about 3 minutes, but do not let brown. Remove from heat and slowly add milk; mix with whisk until well combined. Return to medium-low heat and cook for about 5 minutes until the sauce is thick and coats the back of a spoon. Add nutmeg and pumpkin. Remove from heat and add grated cheese; stir until cheese is completely melted and sauce is smooth.

In a large bowl, pour cheese sauce over cooked pasta. Mix sauce and pasta until well combined. The mixture may appear a bit soupy but the pasta will absorb more of the cheese sauce as it sits. Once cooled, chop slightly in food processor for small babies or keep whole for toddlers.
Notes
*Can substitute pumpkin with puréed sweet potato or butternut squash.
More Tips:
You can also add green peas or finely chopped broccoli for an added punch of flavour and vitamins.
Just like the Bébé Bolognese, this recipe makes a large amount that you can freeze in perfect portions. Just dole into silicone cupcake tins and freeze. It contains vegetables, whole grains, and dairy so you can feel good about serving your little one this healthy alternative to the dreaded blue-box variety.
Nutrition
Calories:
442
kcal
|
Carbohydrates:
53
g
|
Protein:
19
g
|
Fat:
19
g
|
Saturated Fat:
12
g
|
Cholesterol:
54
mg
|
Sodium:
222
mg
|
Potassium:
333
mg
|
Fiber:
1
g
|
Sugar:
6
g
|
Vitamin A:
5372
IU
|
Vitamin C:
1
mg
|
Calcium:
338
mg
|
Iron:
3
mg
How about you? What healthy, "one-pot wonders" have become instant hits in your family's home?