Don't worry, there are other fish in the sea.
This saying might be quipped by consoling friends if someone's romantic relationship goes sour. Aside from being in bad taste, in my opinion, this phrase implies that the "catch" was one of a near limitless supply of available mates, and one simply has to go back to the "sea" to get another one.
I think this expression, like so many others, exposes or reinforces a viewpoint on life, one of abundant, limitless resources.  We don't believe that our actions truly make a difference.  This, however is not reality.  The oceans are being depleted, the earth is warming up and species in all life kingdoms are disappearing as fast as humans can document them.
One of the last movies we watched in 2010 was "End of the Line", a documentary on the decline of the world's fishing stocks which forced us to consider, yet again, the impact of our eating habits and whims. I strongly urge you to see this film.
The Film

There were two points in The End of the Line that struck me as extremely sobering.
The first was the stated effect of trawling on the sea-floor ecosystems.  Trawling is a form of fishing that is essentially dragging a net across the seabed in order to catch the bottom feeders. In order to keep the net down, there are big weights and wheels that are attached to the net.  The stated ecological impact is akin to plowing a field 7 times a year.
For all you green-thumbs out there, can anyone tell me what would grow on a field that is plowed 7 times a year?  Not much worth eating.  I find it hard to condone a practice that imposes this level of damage to any kind of ecosystem.  There has to be a better way.
The other point was the scale (weak fish-pun intended) of the decline of fish stocks. I remember learning about the Grand Banks of Newfoundland in high school, and how early explorers claimed that the fish were so dense that they actually slowed the boats.  Not anymore, as the cod population collapsed in 1992.  In fact, now, 90% of the big fish that everyone likes eating such as tuna, salmon and swordfish, have been depleted.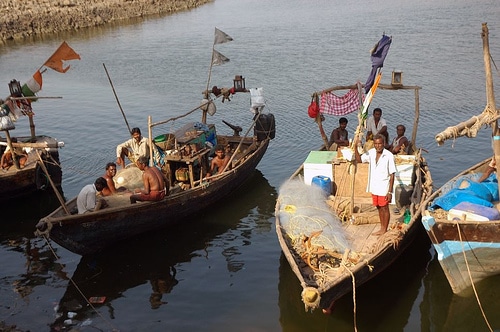 Photo by JoVivek
For Work or Pleasure: responsible fishing practices matter
Some people's lives depend on fishing; whether it be the men and women living in Canada's eastern provinces who have strict limits imposed by the government, or the fathers living in Senegal who do their best to catch $6 of fish per day to return home with only $2 (after gas costs), all while gigantic ocean trawlers scoop up the lion's share of the available catch just outside of their National borders.
What happens to these families and communities when gross overfishing causes the extinction of so many species?
Fact: I have never caught a fish worth eating.  I've caught one or two tiny minnows off a dock, but that's it.  About every other year, we head West to visit Aimée's family, and I invariably get asked by her well-meaning brother to join a fishing trip.  There are promises of "the thrill" of battling a wild salmon, but the only thing I've caught are a few rocks (which ate my lures) and the only thing I've battled was a piece of driftwood on the far shore of the river. Hence the title of this post.
So I don't really have any (positive) emotional attachment to fishing, nor does my livelihood depend on it, but that is no reason to turn a blind eye to the current ocean crisis.
The big picture
I often read tech blogs or energy efficiency reports that have the line: "if every person in the [US/North America/World] would simply [walk to work/turn off their lights/reset their thermostats], then the impact would be equivalent to so many [cars off the road/homes powered/coal powerplants offline]".  That's nice, you might say, but who will go to all the trouble to do that?  Do you really expect me to get off my butt to turn off the light in the spare room?  It's convenient because I might need something in there later.  Excuses, excuses, excuses…
At a training I went to for energy management, the trainer told a story of when they were in Brazil a few years ago and due to energy shortage problems, the government mandated that everyone who used electricity would have to reduce their yearly consumption by 20%.  Or have their power cut.  There simply wasn't enough power to go around, so if you didn't reduce your consumption by your own means, there would be blackouts anyways and you wouldn't have any at all.
The choice is clear – it is either SMART fishing or NO fishing! If we go on overfishing there will simply be no commercially viable stocks left. – Tony Long, WWF European Policy Office
If the international community were serious about preserving the free resource of fish in the seas, a similar measure would have to be mandated – and enforced. Otherwise, like with power in Brazil a few years ago, there will be none at all to go around.
The film has a date of 2048, at which point there would be no fish left in the sea.
Photo by Stewart
Take Action
Our choices
Aimée tweeted that we will not be eating sushi this year.  The movie had a big role to play in that decision. We have chosen this year to opt for more sustainable seafood, and are cutting out meals like sushi and sashimi which are linked to blue-fin tuna, one of many endangered species.
The decision is also to help create opportunities to talk about The End of the Line and the fishing crisis. Plenty of our friends enjoy sushi and in just a few weeks, our resolution has opened the door for may conversations on the matter.
The tag line tells us that it is a film that will change the way you think about seafood.
It will indeed.
Your choices
It may not cause dramatic, cathartic immediate change, but I'm sure parts of the movie will go through your mind the next time you are at a restaurant perusing a menu.  You'll be thinking: "Gee, I wish I remembered which fishes they had on that chart.  Is THIS one of the good ones?  Hmmm.. What about THIS one?".  Chances are your conscience will start wandering and bringing you places, and you'll end up ordering a salad or a big steak.  (because beef is safe, right?)
What you can do
Get informed about the current ocean crisis and watch The End of the Line.
Purchase fish caught or farmed using environmentally friendly practices.
Find out about which sustainable fish are good to eat.
Write a letter to your politicians [Senator/Member of Parliament] petitioning them to endorse only sustainable fishing practices.
Spread the word. Tell your friends about Seafood Watch.
A broadly adopted kaizen approach should help preserve this precious resource as well as allow the markets to adapt.  No one wants 40,000 fishing jobs to disappear overnight, as happened in Canada in 1992.  Every little bit does help, and you can make a difference through your eating habits and choices.
Takeaway
I don't want you to think that all is doom and gloom, though, because it's not.  Is there really a different way to fish, though?  Yes, and Dan Barber tells us a beautiful (and funny) story about how some people get it right.
What types of fish do you usually eat (if any)?  Do you make a conscious effort to avoid endangered species?