This month for our Eat Well, Spend Less series we're talking about emergency preparedness. We were hit fairly hard by Hurricane Irene recently and lost power for 18 hours; others fared much worse.
We were scrambling a little for things like flashlight batteries and warm blankets, but all in all, we didn't suffer much during the outage. Still, it was a fair warning that we could -and should- be better prepared next time. While the Texas fires may not be warming our doorsteps, we never know what we might need to be prepared for. Certainly a few snow days are in my future, although I've got a few months before I have to worry about that!
We've talked about the benefit of a well-stocked pantry, but how much more valuable does it become during a crisis or natural disaster predicament? Suddenly those cans of lentils, tuna and beans are looking particularly fine, wouldn't you say so?
Lentils are one of my favorite staples to have around – for main meals or sides – and today I'm going to show you why.

For the Love of Lentils
There's a permanent place in my pantry for lentils of all kinds – red, French, green and brown. Here are a few of the reasons why:
Versatile. Lentils don't quite the the same reputation for versatility as say, rice or potatoes, but they actually can be served up many ways (five of them I'll share below in the links). Hot, warm or cold? They can be served at any temperature. Soup or salad? Both! Side dish or main? Either.
Frugal. Plain rice or beans may top lentils for cheap eats, but when they replace meat as a protein, such as in the burgers below, that is when you'll start to see them benefit your budget.
Quick-cooking. Lentils do not require a soak in water before cooking and only need about 30 minutes of simmering, making their cooking time hours faster than beans and equal to brown rice. Of course, canned lentils are an instant option, as long as you don't mind sacrificing texture for time.
Healthy. Okay, so we know lentils are packed with protein, but how about full of fiber? Check. High in iron? Yep, and thus a smart choice for vegetarians and folks who don't eat a lot of red meat.
Dry Storage. Honestly, anything I can pack into jars and add to the pantry shelves is a winner in my books. I don't have to worry about combating freezer burn or jostling for fridge space.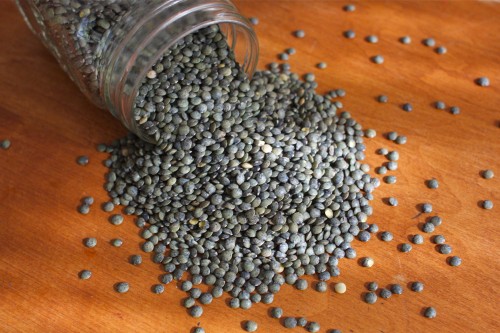 Five Ways with Lentils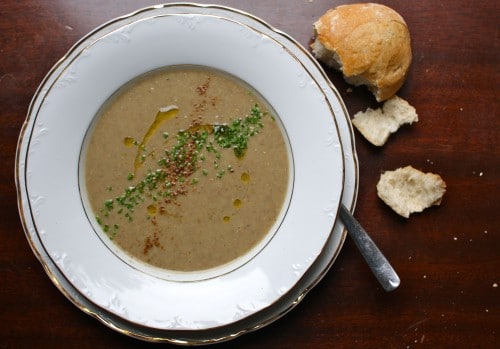 This soup is on regular rotation for our lunches, especially now that the cooler weather has arrived. I love it because all of the ingredients are pantry staples, so if the fridge shelves are looking bare, I know I always have a warm, nourishing meal to fall back on with this soup.
The recipe is slightly adapted from Heidi Swanson's Green Lentil Soup with Brown Butter from her latest book, Super Natural Every Day
. I highly recommend it!
Ingredients
2

Tablespoons

coconut oil

or unsalted butter

1

Tablespoon

good quality curry powder

freshly ground

2

teaspoons

minced garlic

1

large

sweet onion

chopped

5

cups

vegetable stock

or water

1 1/2

cups

green lentils

rinsed

1/2

cup

coconut milk

1

teaspoon

sea salt
Garnish options
fresh chopped chives

yogurt

1

pinch

curry powder
Instructions
Melt coconut oil in a large stockpot over medium-high heat, then add curry powder, garlic, and onion. Saute for about 3-4 minutes on medium heat, stirring often so the garlic doesn't burn.

Add vegetable stock and green lentils. Bring soup to a boil, then partially cover and reduce heat. Simmer for between 20 and 50 minutes (or until lentils are tender; mine typically take about 50 minutes).

Once the lentils have finished cooking, remove soup from the heat and stir in the coconut milk and salt. Puree the soup using an immersion blender or regular blender (in batches if using regular blender) until it is as smooth or as chunky as you prefer.

Serve immediately with your choice of garnish.
Notes
adapted from Super Natural Every Day
Nutrition
Calories:
269
kcal
|
Carbohydrates:
35
g
|
Protein:
13
g
|
Fat:
9
g
|
Saturated Fat:
8
g
|
Sodium:
1181
mg
|
Potassium:
552
mg
|
Fiber:
15
g
|
Sugar:
5
g
|
Vitamin A:
445
IU
|
Vitamin C:
5.1
mg
|
Calcium:
46
mg
|
Iron:
4.5
mg
Have you cooked with lentils before? What is your favorite way to serve them?