Vine-ripened tomatoes and fresh basil are my absolute favorite pizza toppings. I slice the tomatoes thinly, tear the basil and marry them under a blanket of fresh mozzarella. A drizzle of olive oil and…heaven.
However, this deluxe pizza margherita is a summer-only treat, as local fresh tomatoes are but a memory of last August and – aww snap! – my basil plant got hit with frost months ago.  Now, tomatoes are tasteless rocks, a single bell pepper costs upwards of $3, and zucchinis are shriveled and soft. Not at all ideal garnish for my Friday night pizza.
So what is one to do during the winter months when the pizza cravings hit? I don't love loading up pizza with meat – I prefer my ham glazed with a side of scalloped potatoes, thank you very much – and gravitate toward vegetarian toppings, no matter the season. Here are some of my favorites, plus my secret weapon recipe to great tasting pizza anytime.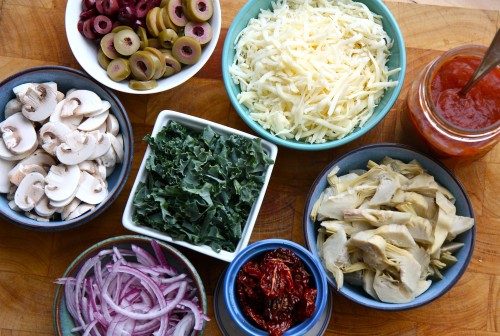 Winter Pizza Toppings
Yes, homemade pizza is synonymous with summer, with its luscious tomatoes and colorful peppers, but winter pizzas can be just as scrumptious as their summer counterparts – and even more creative.
Pictured at top of the post: Kale, Artichoke, Mushroom and Sundried Tomato Pizza.

Consider an assortment of these toppings for your next pizza party:
Canned and Pickled Produce
Olives; black and green
Canned artichokes
Sundried tomatoes; sliced or pesto
Pesto. I still have frozen pesto from my summer batch cooking efforts. Yep, I'm pretty happy about that. Almost as good as fresh torn basil on my pizza.
Produce
Kale and other winter greens
Onion, Garlic, & Leeks. Sliced or diced, raw or sautéed, do not underestimate what onions and their relatives can add to pizza.
Fruits. Green apple & cheddar cheese work in a panini, so why not on a pizza? Figs and pineapple are also excellent choices, though not quite 'local' fare for most of us.
Squash. I might have a hard time getting them past my children, but for more educated palates, small cubes of par-boiled butternut squash or roasted acorn squash are fantastic on pizza. (see recipe below)
Mushrooms. Sure we usually slice up the common cultivated white mushroom, but there's no need to stop there; almost any sort of mushrooms work for pizza.
Meat & Seafood
My sister-in-law, Laura, makes a killer 'white pizza' that I try to reproduce every once in a while. There's something about it that is so satisfying, like a bowl of creamy Penne Alfredo, but in pizza form. It must have shrimp, and roasted garlic is a sure way to gain fans fast. My version (pictured above) contains a soft, crumbly cheese (I use Boursin Garlic Herbs
), sliced button mushrooms, small shrimp, mozzarella cheese and thinly sliced red onion.
Shrimp on pizza? Yes, please.
While I'm satisfied with vegetables and mushrooms, Danny appreciates something more substantial in his pizza. Grilled chicken, seafood, bacon, sausage, and cured Italian meats are all favorites.
Crust, Cheese & Sauce: the other important elements of great pizza
Crust
When we were dating, Danny used to call pizza crust "the handles" and left the gnawed edges conspicuously on the side of his plate, only to toss them later. I objected. I made him dough from scratch. These recipes won him over.
Cheese
Don't limit cheese to just mozzarella. Try crumbled feta, provolone, or something with a bit more bite like blue or asiago.
Sauce
Remember back in July when we talked about canning homemade pizza sauce? Boy, am I ever glad we covered that topic. My jars of Roasted Tomato and Garlic Pizza Sauce have been gracing our pizzas all year long.
Of course, a simple can of tomato paste also works. If that is all you have on hand, then spread it very thin and add a drizzle of olive oil over the bottom of the pizza.
Caramelized Onions
Caramelized onions, my secret weapon for great pizza, are always in season.
Print
Pin
Rate
Ingredients
1

pound

onions

ideally sweet ones such as Vidalia

1

Tablespoon

olive oil

1

Tablespoon

butter

pinch

salt
Instructions
Peel onion, halve and slice thinly and evenly.

Heat a large cast iron skillet over medium high heat and add oil and butter. When butter is bubbling, add onion all at once and stir to coat with butter.

Lower heat to medium and cook slowly for about thirty minutes. Stir often, but let onions brown on the pan before turning.

Sprinkle with salt, and continue cooking slowly until dark brown, sweet and fragrant.
Nutrition
Calories:
406
kcal
|
Carbohydrates:
42
g
|
Protein:
5
g
|
Fat:
26
g
|
Saturated Fat:
9
g
|
Cholesterol:
30
mg
|
Sodium:
118
mg
|
Potassium:
662
mg
|
Fiber:
8
g
|
Sugar:
19
g
|
Vitamin A:
350
IU
|
Vitamin C:
33.6
mg
|
Calcium:
104
mg
|
Iron:
1
mg
Link Love: Winter Pizzas that Sing
Let's hear it; what do you top your pizza with in February?