A round-up of my most popular sheet pan suppers – easy dinner recipes that come together quickly and are loved by all.
I've long sung the praises of the sheet pan supper, made popular in my house back when I had three small children and was writing two cookbooks.
The appeal of tossing all of the ingredients on a pan, sliding it into the oven and walking away is undeniably attractive to the busy parent.
Of course, many of those meals became family favourites and they are still in regular rotation today (I'm looking at you, fish tacos). Now it's time to share them with you for your next meal plan.
7 Sheet Pan Suppers
Below are seven sheet pan supper that have stood the test of time in the Simple Bites kitchen. Each one delivers a nourishing meal and checks every box in the criteria below:
Big, bold flavours
Really and truly only use one pan for cooking
Adored by children (yes, even selective eaters)
Feature a balanced meal of protein and vegetables
Use approachable ingredients
The recipes in this round-up of sheet pan suppers feature the following ingredients: chicken, lamb, pork, turkey, fish, beans and vegetables.
Read on and get ready to be inspired for dinner tonight.
1. Chicken
Easy Maple Mustard Chicken with Roasted Radishes & Asparagus ~ This recipe channels spring with both seasonal vegetables and a touch of maple syrup. It's quite possibly the easiest chicken dinner recipe I've ever written and always gets a cheer from the kiddos.
TIP: If roasted radishes aren't you're thing, you can swap in baby potatoes, cut in half. They roast up nice and crispy and round out the meal nicely.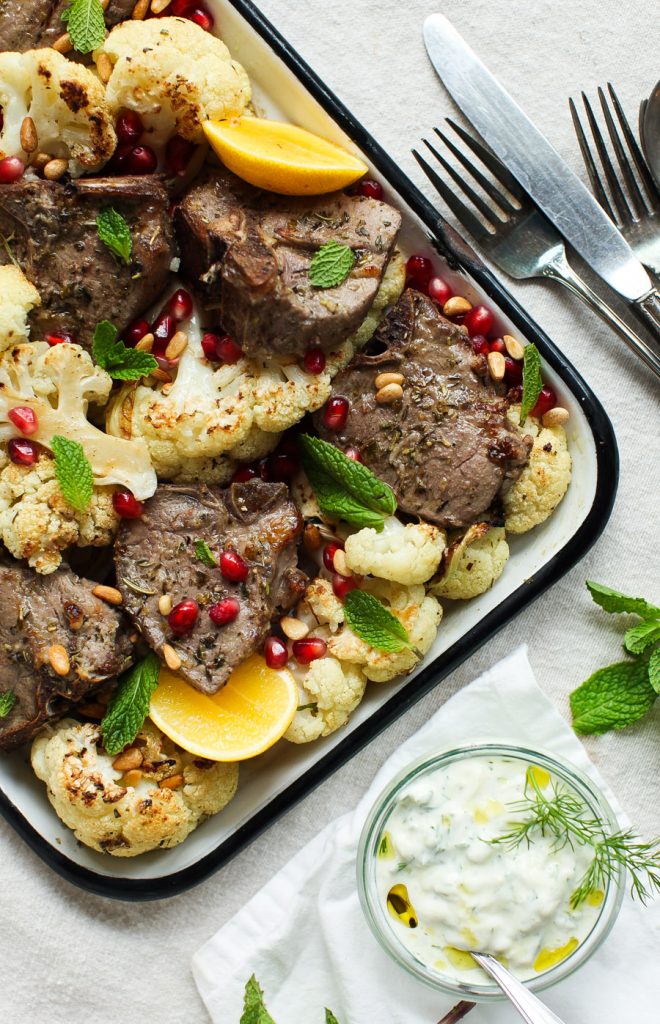 2. Lamb
Sheet Pan Zesty Lamb Chops and Cauliflower ~ I love lamb around Easter time, but I won't cook a whole leg just for us. This recipe is simple enough for a weeknight dinner, but delicious enough for a holiday feast.
It only requires about fifteen minutes of active time, one large sheet pan and the broiler in your oven.
TIP: I serve this dish with a zesty tzatziki, but it's also incredible with a homemade chimichuri sauce. Roasted cauliflower and chimichuri were made for each other.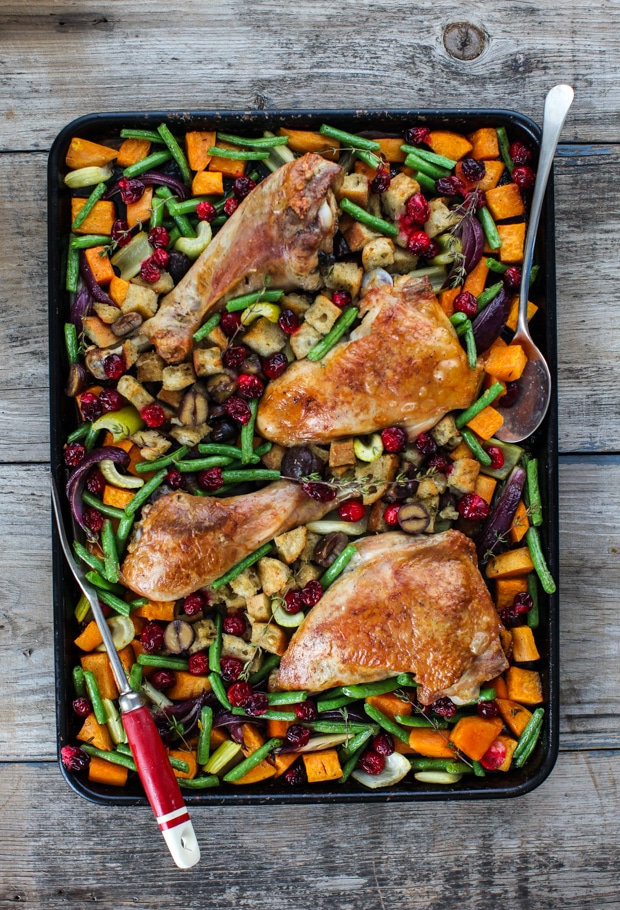 3. Turkey
Sheet Pan Turkey Dinner ~ A reader's favourite, this dish has all the key elements of a holiday meal. They are roasted up together- so those incredible flavours marry – and served up family style.
I can promise you the sheet pan supper meets all the criteria of a well-rounded comforting meal – especially when served with a mountain of mashed potatoes.
TIP: Swap in skin-on, bone-in chicken pieces for the turkey.
4. Pork
One-Pan Roast Sausages with Winter Vegetables ~ Pork sausages are so handy for easy weeknight dinners because they are quick cooking and pair well with most veggies.
Here's a basic sheet pan supper of sausages and winter vegetables, roasted up and finished off with a squeeze of lemon. It's fast, easy to clean up, and you probably have all of the ingredients already.
TIP: roasting brings out the best of winter vegetables, even if they've been sitting around for a while.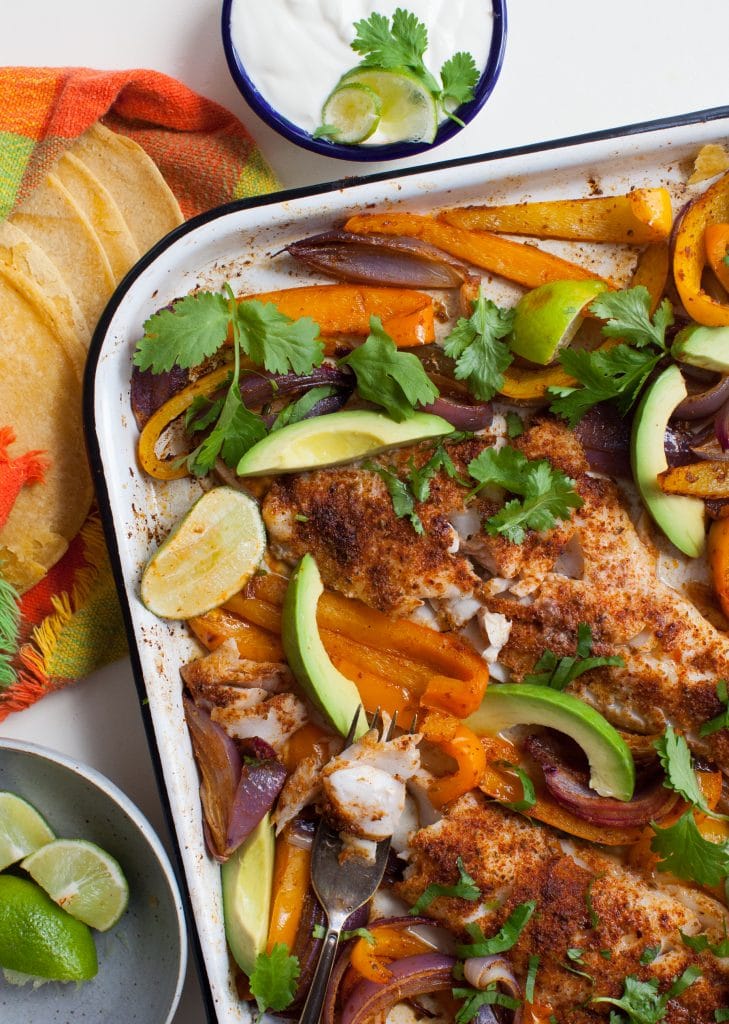 5. Fish
Sheet Pan Fish Tacos ~ A absolutely craveable recipe for simple fish tacos with a zesty lime crema. This dish is easy to make and loved by the whole family.
The more condiments the better! Add hot sauce, cilantro, lime wedges, avocado or guacamole or diced tomatoes. Pile on whatever you like to make these sheet pan fish tacos your new family favourite.
TIP: A homemade fajita spice mix brings just the right amount of heat to the mild fish. I make mine in advance; it keeps for a few months. Your favourite store-bought chili powder or fajita seasoning would also work.
6. Vegetables
Easy Roasted Vegetable Spaghetti ~ If you're craving a taste of summer, then make this comforting meal. It's robust flavours far exceed the complexity of the dish.
Here's how it comes together: Start with a quick chop of the vegetables, and then give them a fast sheet pan roast while the pasta cooked in a pot. Toss both together right on the sheet pan! As the vegetables released their juices, the piping hot spaghetti absorbed them. Delish.
Don't forget to finish the dish with a sprinkle of Parmesan cheese, a drizzle of olive oil and plenty of cracked fresh pepper. A spoonful of pesto is a great flavour boost as well!
TIP: In a do-ahead move you can precook (and even freeze) your spaghetti noodles. Reheat with a splash of boiling water or even right on the sheet pan.
7. Beans
Mexican Molletes: avocado, bean & cheese melts ~ These open-faced sandwiches are piled high with refried beans and salsa, topped with cheese and broiled. Everything about them is delicious and they are so easy to make!
Top these molletes with salsa, avocado and sour cream and watch the kiddos gobble them up. My friend Patti tops hers molletes with Pico de Gallo, which seems like the way to go.
TIP: To make the molletes, I start with homemade bolillos, those delightful crusty Mexican buns, but you could substitute a bun with a good crust, such as Kaisers or individual Ciabatta.
Share a sheet pan supper you love in the comments below! Who has a great idea for beef?