If you make it past the little family table anecdote I am about to recount, then you will find a simple dinner recipe that needs to go on your week's menu plan.
It's inspired by maple season, of course, but combines classic French flavours – lemon, garlic, mustard and tarragon – into a sticky glaze for pan-roasted chicken drumsticks. Spring vegetables roast alongside the chicken and are tossed in the pan juices just before serving.
We've been loving it with roasted radishes, potatoes, asparagus and sweet potatoes; basically, whatever we can get our hands on this time of year.
On a side note, I had forgotten how much I enjoy chicken with tarragon and now I must remake an old favourite for entertaining, Chicken with 40 Cloves of Garlic. The roasted garlic perfumes the whole house and marries with cream and tarragon for a sauce that garners your guests' full attention.
But back to my story, and then the recipe. Read on!
We've always been a roast chicken kind of family – as in, it's a mainstay of our dinners – usually this hugely popular Lemon & Oregano Roast Chicken. Roasting a chicken is always a comforting sort of simple cooking, whether it be for a Sunday night supper or a harvest feast in the garden with friends.
For the longest time, carving a roast chicken was simple, too: the boys each received a drumstick, I carved up the breast for Danny and myself, and the leftovers were reserved for soup. For some reason, the drumstick was the kids' highly preferred cut, and that was all fine and dandy…until Clara came along, took notice, and demanded her fair share.
From then on, every time I carved a roast chicken there was a drumstick dilemma. Two drumsticks, three kids, and a mama who just wanted to enjoy dinner in peace. (I know, I know, talk about a first world problem.)
One night, the children came to the table and each one had a drumstick on their Skip Hop Zoo plate. Clara scanned the table and then looked at me in astonishment. "Mama! How did you get THREE drumsticks from a chicken?"
Well you and I both know what happened; earlier at the butcher, I had opted for a family pack of drumsticks instead of the usual whole chicken. I didn't have a carcass for soup, but I had the cold drumsticks leftover for school lunches. And best of all? No squabbling.
Sometimes, it's the little things, and today, the little things are these Easy Maple Mustard Chicken Drumsticks.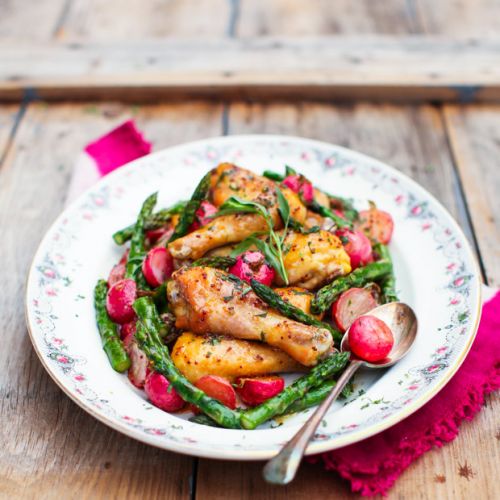 Easy Maple Mustard Chicken Drumsticks with Roasted Radishes & Asparagus
An easy sheet-pan supper that is perfect for spring and loved by the whole family.
Print
Pin
Rate
Ingredients
12

chicken drumsticks

1/2

teaspoon

black pepper

1/2

teaspoon

fine sea salt

divided

1/2

pound

radishes

3

Tablespoons

olive oil

divided

2

small cloves

garlic

peeled

2

Tablespoons

pure maple syrup

2

Tablespoons

grainy mustard

1

pound

asparagus

2-3

branches

fresh tarragon
Instructions
Preheat oven to 375F. Pat chicken with paper towel until it is thoroughly dry. Season generously with salt and pepper. Arrange on an oiled rimmed baking sheet with plenty of space between the drumsticks.

Trim the tops and roots of the radishes, and cut the larger ones in half. Toss with one teaspoon of olive oil. Scatter on the baking sheet among the pieces of chicken. Place the pan in the oven and set a timer for 15 minutes.

Meanwhile, mince the garlic and then pulverize on a cutting board until it is a paste. Transfer to a small bowl and add the maple, mustard, 1/2 teaspoon of salt and 1 Tablespoon of olive oil.

When the 15 minutes are up, remove the pan from the oven. Brush chicken and radishes generously with the maple-mustard sauce. Return the pan to the oven and roast the chicken for another 15 minutes.

Meanwhile, trim the asparagus to spears 3-4 inches long. Reserve the ends for soup or

vegetable stock

. Place asparagus in a bowl and toss with 2 teaspoons of olive oil. Season with salt and pepper.

When the second 15 minutes are up, open the oven, slide the pan out and tip the asparagus onto the pan. Quickly arrange it around the chicken and return everything to the oven.

Roast asparagus for between 5 and 10 minutes, depending on how thick it is. It should be bright green. Remove the pan from the oven and turn off the heat. Sprinkle chopped tarragon over the entire pan.

Using a sturdy pair of tongs, transfer the chicken to a serving platter. Tent with foil and rest for 5 minutes. Toss the radishes and asparagus in the pan juices and keep them warm in the oven.

To serve, arrange the roasted vegetables around the platter of chicken and serve hot.
Notes
May be made with honey as a replacement for the maple syrup.
Nutrition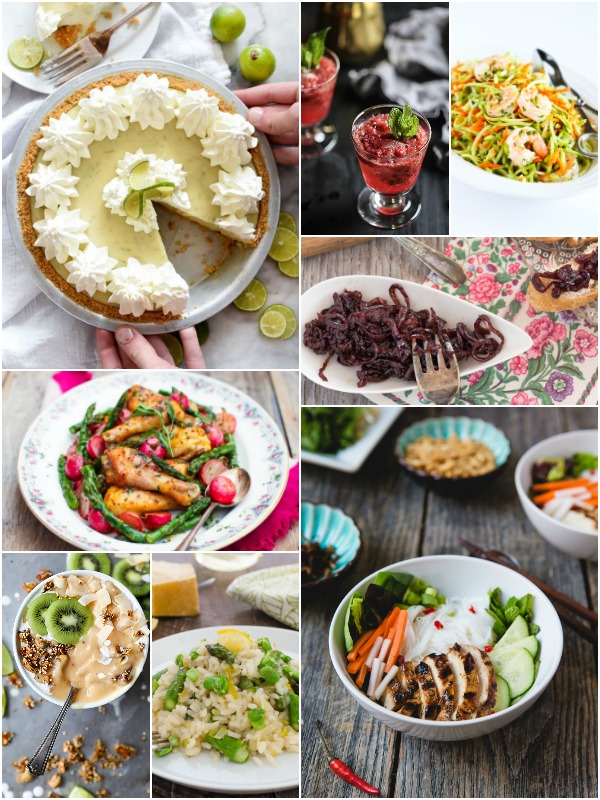 Eat Seasonal: April
Our seasonal eating group of bloggers are back, with more inspiration for cooking and baking this month:
Happy seasonal eating in April, friends!