This past week offered the opportunity to actually get outside and tromp around the homestead a bit. Hello Spring!
Among my discoveries, I noticed that the snow melted from the raised beds and small scarlet nubs of rhubarb are pushing through the mulch. The oregano patch is starting to show some green underneath the tangle of brambles and the raspberry canes are finally free of ice. Life is returning.
We've ordered our pullet hens from the farm and next weekend we'll make repairs on the coop. Small brown eggs are synonymous with spring around here and in a few weeks production will start.
Say, if you haven't toured our homestead yet, why not take a peek? And of course, find the expanded version, with recipes, stories and urban homesteading tips in my recent cookbook.
I'm holding out for local berries and our homegrown raspberries and (so far) have not been tempted by the imports from Mexico. Thankfully I still have a stash of Quebec strawberries and blueberries in the freezer from last summer. Gently stewed with some of this-season's maple syrup, they make a delicious topping for nutty oatmeal.
Speaking of oatmeal, my favourite variety just became a lot more easily available, thanks to a new do-ahead method that I have been playing with for weeks.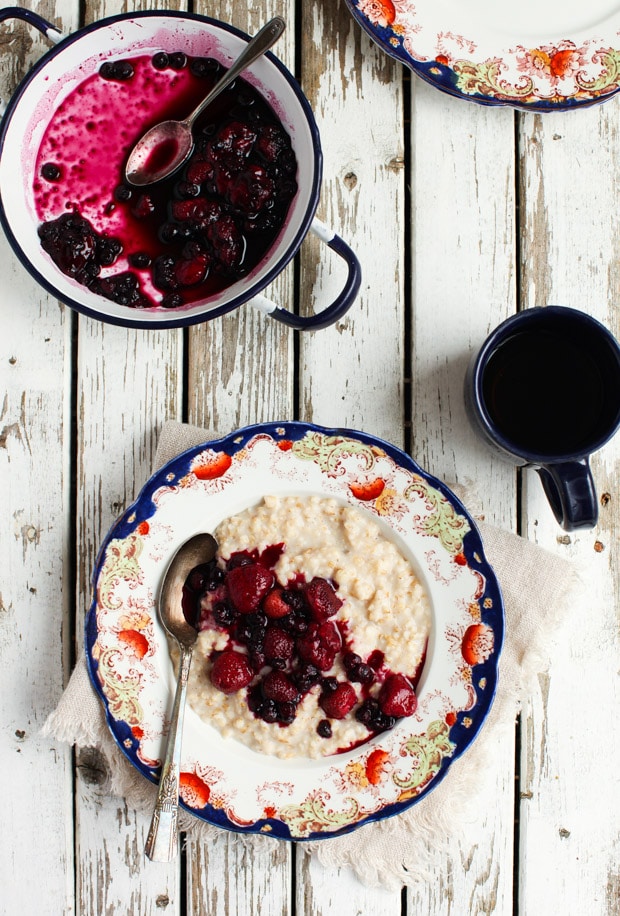 A while back I started experimenting with a sort of hot-soaked overnight oatmeal and played around with it enough to perfect the method for our weekday mornings. It's as simple as boiling water, and in fact, begins with a large pot of the stuff. Five and a half cups, to be exact.
I boil the water just before I head to bed, and then stir in one and a half cups of steel cut oats. A dash of salt and a splash of vanilla finish off the 'work'. I give the oats a stir, cover the pot with a lid and turn off the stove.
In the morning (roughly 8 hours later) the oatmeal is thick like a risotto, with perfectly cooked, individual steel-cut grains. I add a cup of milk (dairy, almond, anything) and bring it up to a simmer. It takes just a few minutes and the results are every bit as good as just-made steel-cut oats.
Since steel-cut oats can take up to 40 minutes to simmer from scratch, we often left them for the weekend. Not any more! It's been four years since my last overnight oats solution, and I am happy to report, today's method is far better.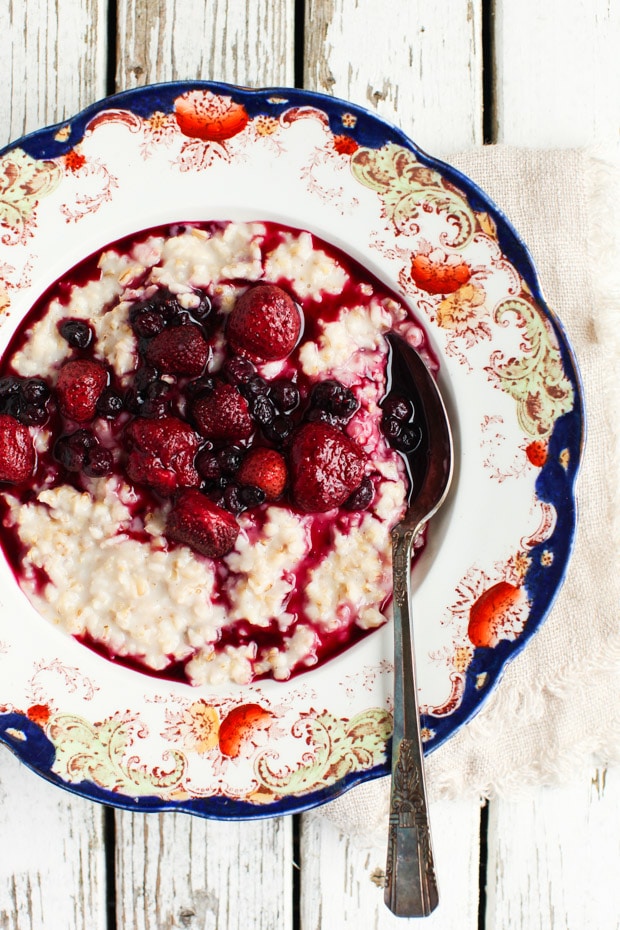 By the way, it's worth mentioning that this recipe for Overnight Apple Cinnamon Baked Oatmeal is still very popular around my breakfast table, but it does take a solid 30 minutes in the oven…
I love today's method for make-ahead steel-cut oatmeal because I can literally roll out of bed and have hot, nourishing cereal on the table before the coffee is even ready. I don't know what it is like in your house, but my boys wake up ravenous and ready to sink a spoon into breakfast even before they are fully awake.
Do give it a try and let me know how it works. A nourishing breakfast is right around the corner.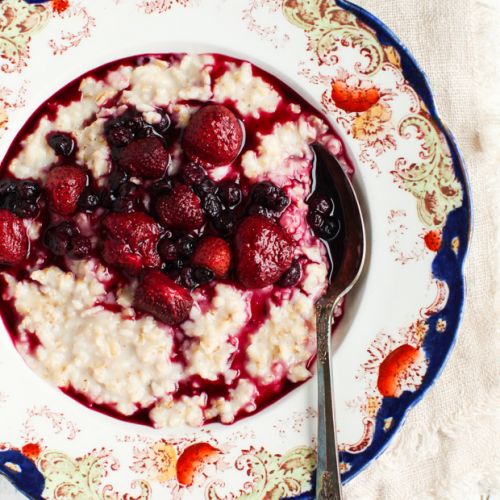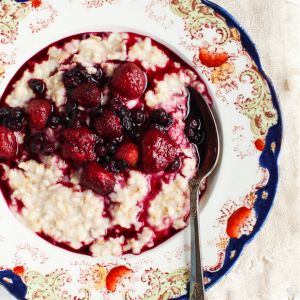 Make-Ahead Steel-Cut Oatmeal with Maple-Stewed Berries
A nourishing, make-ahead breakfast of pure comfort. Use fresh or frozen berries for this breakfast.
Print
Pin
Rate
Ingredients
5 1/2

cups

filtered water

3/4

teaspoon

fine sea salt

1/2

teaspoon

pure vanilla extract

1 1/2

cups

steel-cut oats

1

cup

milk

regular, almond or soy

3

Tablespoons

pure maple syrup

1 1/2

cups

frozen mixed berries
Instructions
In a large pot, bring the water to a boil over high heat. Stir in the salt and vanilla.

Tip in the oats, stirring constantly. Cover with a lid and turn off the heat. Let oatmeal stand overnight.

In the morning, stir the milk into the oatmeal to loosen it and make it a more spoonable texture. Bring the oatmeal up to a simmer over medium heat, stirring occasionally.

In a small pot, warm the maple syrup over medium heat. Tip the berries into the pot and cook, stirring occasionally, until they are bubbling in the center of the pot.

Ladle steel-cut oats into bowls and spoon the berries over the top. Serve hot.
Notes
This dish can be made with 'quick cooking' steel cut oats (I buy Bob's Red Mill); just reduce the water by 1/2 cup or so.
You can refrigerate any leftover oatmeal and reheat it for another day. Cereal will keep for up to 5 days in an airtight container.
Nutrition