During an interview, a podcast host once asked me if given the choice, would I prefer to stay in a cabin in the woods or a chic hotel in the city. You can probably guess my answer.
I find cities to be draining and nature is where I recharge. This is why I carved out an urban homestead for our family, even though we live in Greater Montreal suburbia. This is also why we jumped at the chance to hibernate for a few weeks in the deep woods when our extended family offered up their mountainside cabin to us last month.
I haven't decided if I'm going to write about our trip to British Columbia yet (it would mostly be photos of mountains and the ski hill), but the decision to share this baked oatmeal recipe was inspired by those slow cabin mornings.
Our snowy adventures included lots of downhill skiing, nordic (x-country) skiing, snowshoeing, skating and tobogganing, and that amount of outdoor play required a hearty breakfast  – and copious cups of coffee.
Today's recipe for Apple Pie Baked Oatmeal is an ode to embracing winter. Whether you like to wait it out under a blanket by the fire or hurtle yourself down a slope on skis so long as there is powder, this breakfast bowl will satisfy both types. I'm a mix of both homebody and adventurer. My kids inspire me to get out and hit the trails, but I also adore a slow morning of baking in the kitchen.
Speaking of kitchen, is there anything more hygge than sipping hot coffee and nibbling warm cinnamon buns in the rustic kitchen of a ski cabin (above)? Perhaps pouring cocoa and popping popcorn at the end of the day. Or maybe taking a glass of wine out onto the deck to watch the setting sun turn the mountain peak into a blaze of fire. I soaked those moments in, drawing strength from the forest, inspiration from the view and determination from the rocks.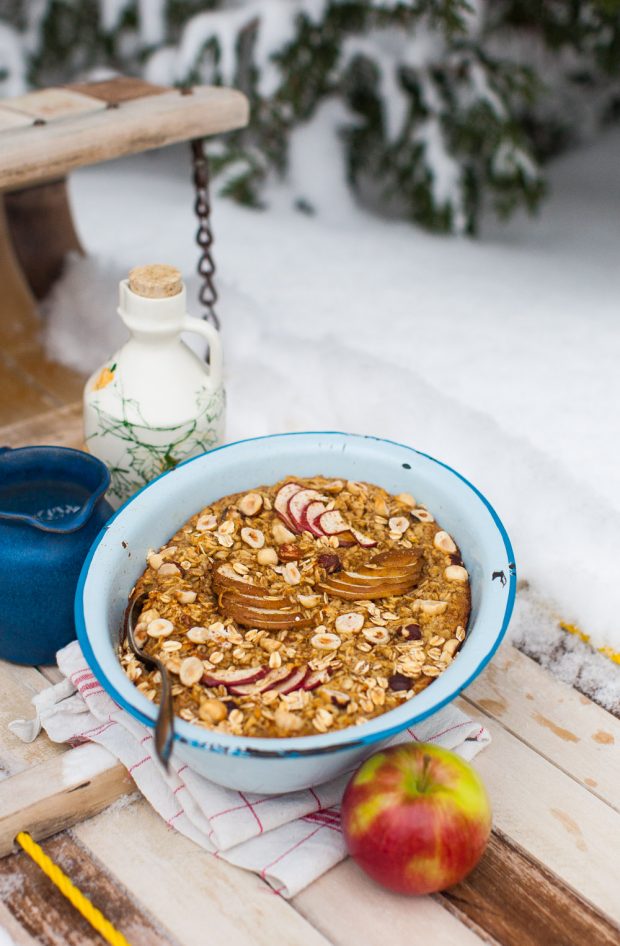 I posted a baked oatmeal recipe way back in 2011 and we've been making variations on it ever since. In summer we'll sprinkle in fresh blueberries and drizzle it with honey; in fall I'll add a few scoops of pumpkin puree and sprinkle cinnamon sugar on the top.
Our gold standard flavour is Apple Pie, however, mainly because we always have an apple or two laying  around. Rolled oats and grated apple are mixed up with eggs and spices and baked up, pudding-style. I like packing the eggs into my baked oatmeal for extra protein, but if you are looking for a vegan version, this beauty from Laura at The First Mess looks delicious.
This breakfast bowl is not overly sweet but you can always finish your bowl with another drizzle of maple syrup or honey. I also add a sprinkling of toasted oats and hazelnuts…and a scoop of whipped cream, if I have it on hand.
The main improvement that I've made to this recipe over the years is that I now soak the oats overnight (or 24 hours) to let them ferment. This helps to break down the oats and lessen the amount of phytic acid in them, allowing our bodies to absorb more nutrients. Power breakfast for the win.
Oats are an absolute staple in the Simple Bites kitchen pantry, starring in muffins, pancakes , savoury breakfast bowls, cakes and much more. We even bake oatmeal into bread for a soft loaf that is perfect for snacking.  Oats of every variety should be stocked in your pantry as they are as versatile as they are nutritious.
My kids are big fans of this breakfast – and I love that it can be made in advance. Since my eldest started junior high and Danny a new job, we're all eating breakfast at different times. A tray of baked oatmeal can keep warm in a low oven and I can scoop out bowls as needed.
Apple Pie Baked Oatmeal also freezes well, so consider making a double batch and popping one tray in the freezer after it has been baked and cooled.
This is a good recipe to invite the children into the kitchen to help you prepare. The smallest hands can whisk the eggs or oil the baking dish, and the more skilled helpers can grate the apple and measure the remaining ingredients.
When it has baked and perfumed the entire house in the process, pour yourself a coffee and gather the family together to enjoy what is sure to become a new breakfast favourite.
Apple Pie Baked Oatmeal
This hearty breakfast is reminiscent of classic apple pie and will equip you with vitality for these cold winter days.
Print
Pin
Rate
Ingredients
3

cups

rolled oats

1/2

cup

kefir

1 1/4

cups

2% milk

4

large eggs

1

teaspoon

cinnamon

1/2

teaspoon

fine sea salt

1/2

teaspoon

pure vanilla

2

Tablespoons

unsalted butter

1/4

cup

pure maple syrup

or honey

1/2

teaspoon

baking soda

1

medium apple

scrubbed

1/2

cup

chopped hazelnuts

toasted
Instructions
The day before serving, stir together oats, kefir and milk. Let stand at room temperature overnight or up to 24 hours.

Preheat an oven to 350F. Oil a 3qt baking dish. In a large bowl, whisk together the eggs, cinnamon, salt and vanilla.

Melt the butter and stir in the maple syrup. Pour into the eggs and whisk until smooth and incorporated.

Switching to a wooden spoon, stir the soaked oats and the baking soda into the egg, mixing well to combine and breaking up any clumps of oatmeal with the back of the spoon. Quarter and core the apple; grate it on a box grater - skin and all - and stir it into the oats.

Scrape the batter into the prepared dish. Sprinkle the hazelnuts over the top. Optional: add a few slices of apple on the top.

Place baking dish in the middle rack of the oven and bake for 30-40 minutes, or until golden around the edges and the centre is set. Cool slightly, then scoop into bowls and serve with milk.
Notes
Customize this recipe to suit your taste. Try honey in place of maple syrup, pear for apple, coconut oil instead of butter, etc.
Nutrition