We've been brunching more than usual this summer, taking advantage of our own farm fresh eggs, garden herbs and produce.
I prefer more of a savoury start to the day and find that a breakfast featuring vegetables and eggs – with coffee of course – takes me a lot further in the morning than a sweet carb-y meal.
This extra fuel is essential for keeping up with three kids all summer long; kids who don't believe in sleeping in and are functioning at one hundred percent by seven-thirty in the morning. Oh, big breakfasts are entirely necessary.
This year I've been adding pulses to my breakfast for additional fuel as I attempt to keep pace with the little ones – and in the meantime I fulfill my Pulse Pledge commitment to eat more lentils, chickpeas, beans and peas in 2016.
It's easier than you think to incorporate pulses into the first meal of the day. I frequently enjoy refried beans on an egg-topped tortilla, smashed chickpeas on my avocado toast and lentils in my vegetable frittata. You get the idea!
We're well into August, so by now I'm sure you know that 2016 is the International Year of the Pulse, right? Good. Maybe a bunch of you have taken the Pulse Pledge, as I have, and are committed to eating pulses at least once a week? Great!
If not, it's never too late to take the Pulse Pledge yourself. While you are there, check out the amazing selection of recipes we've been developing for your inspiration. Now onto today's recipe.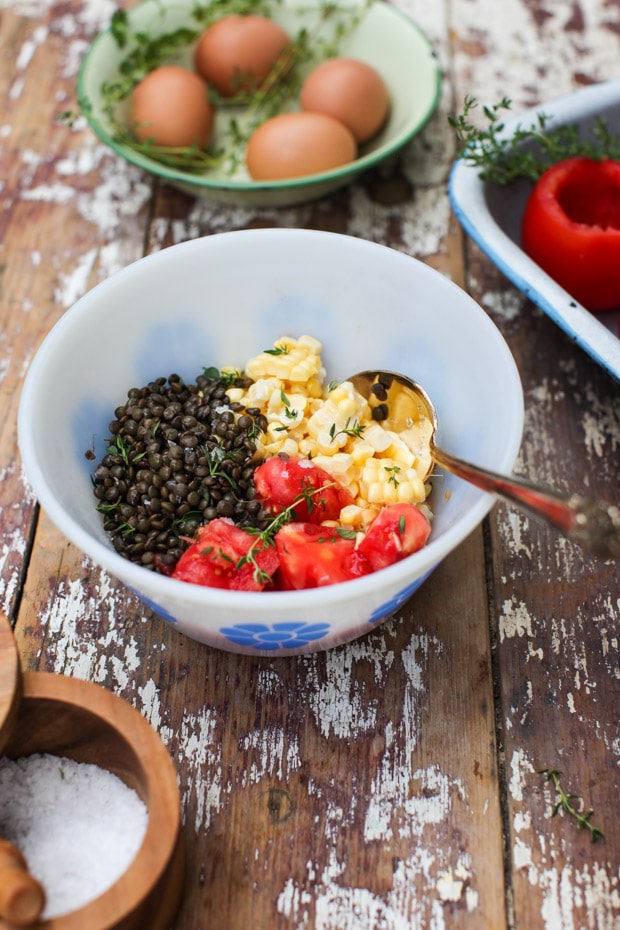 I wanted to create a dish that was uncomplicated but still visually appealing. How many vegetable and egg scrambles have I thrown together this summer? Plenty, but I wouldn't necessarily serve them up for a weekend brunch with friends.
These 5-Ingredient Baked Eggs in Tomatoes on Roasted Corn and Lentils are super simple to prepare and make a beautiful presentation.  Each ingredient shines on its own, which is what you want in a recipe when produce like tomatoes and corn are at their peak.
The addition of lentils adds texture to the dish, filling it out to become a substantial enough for brunch or lunch. A little seasoning and fresh herbs lightly enhance the fresh ingredients and the roasting time really brings the flavours together.
I like to serve these baked eggs in individual bowls with hot buttered toast for dipping. The egg yolk should still be soft enough for the toast. Oh and for an extra special treat, finish the eggs with a drizzle of your finest olive oil or a dollop of crème fraiche.
Not a corn fan? The recipe is also delicious with diced zucchini in place of the corn. It's reminiscent of a classic ratatouille. Just don't leave out the lentils – or else everything tends to taste mushy.
I'm sure you have tomatoes ripening on the counter and a jar or can of lentils in the pantry, so add this to your weekend brunch menu. We've been making this once a week and will continue into the fall as long as our tomato supply lasts.
5-Ingredient Baked Eggs in Tomatoes on Roasted Corn and Lentils
A simple dish with a beautiful presentation that is substantial enough for brunch or lunch. Each ingredient shines on its own, enhanced only by a little seasoning and fresh herbs.
Print
Pin
Rate
Ingredients
4

medium tomatoes

plus a handful of cherry

1

teaspoon

fresh thyme leaves

1

cob of corn

1/2

cup

cooked French lentils

4

medium eggs
Instructions
Preheat the oven to 425F.

Slice the tops off of the tomatoes. Use a melon baller or small spoon to scoop the seeds and pulp into a medium bowl. Be careful not to break through the outer flesh and skin of the tomato. You should finish with four tomato 'cups'.

Use a sharp pairing knife to cut the corn off the cob. Add it to the bowl of tomato flesh along with the lentils. Season generously with salt and pepper. Sprinkle in 1/3 teaspoon fresh thyme leaves and mix to combine.

Lightly oil a 2-quart baking dish. Scrape the tomato, corn and lentils into the bottom of the dish. Slice a few cherry tomatoes in half and add them to the dish. Place the tomato cups on top. Season the tomato cups with salt and pepper and sprinkle a little thyme into them.

Place baking dish on the center rack of the oven and roast for 15 minutes. Remove from oven. Using a pair of tongs, carefully turn over each tomato and drain the juices out onto the lentils. Set tomato, cut side up, back on the lentils.

Crack an egg into each tomato cup. Return the pan to the oven and bake for an additional 10 – 12 minutes. Ovens will vary. Begin checking the egg around 8 minutes. The white should be set and the yolk soft.

Remove the pan from the oven and cool for a few minutes. Season again and sprinkle the last of the fresh thyme on the top.

Serve hot. If desired, finish the eggs with a drizzle of your finest olive oil or a dollop of crème fraiche and toasted brown bread.
Nutrition
Calories:
194
kcal
|
Carbohydrates:
24
g
|
Protein:
14
g
|
Fat:
5
g
|
Saturated Fat:
1
g
|
Cholesterol:
164
mg
|
Sodium:
74
mg
|
Potassium:
413
mg
|
Fiber:
9
g
|
Sugar:
5
g
|
Vitamin A:
1328
IU
|
Vitamin C:
20
mg
|
Calcium:
52
mg
|
Iron:
3
mg
This post is sponsored by North American Pulses. All opinions are my own, and I am of the opinion that we families should all be eating more pulses because they're so nutritious (and as a big bonus, they're super-duper good for the environment, too).