It's a little difficult to focus on writing this post because all I want to do is head to the kitchen and mix up another batch of French toast for the morning.
I already know I have pumpkin puree in the refrigerator, and Danny sheepishly arrived home from work with two loaves of whole wheat miche under his arm "…in case you wanted to make more of that baked French toast."
It's official: we're completely smitten with this pull-apart Pumpkin French Toast. It bakes up crispy on the outside and fluffy on the inside, serves up in slices just like pan-fried French Toast, and is marvelous with a homemade Molasses-Cinnamon Syrup.  You have to try it this weekend.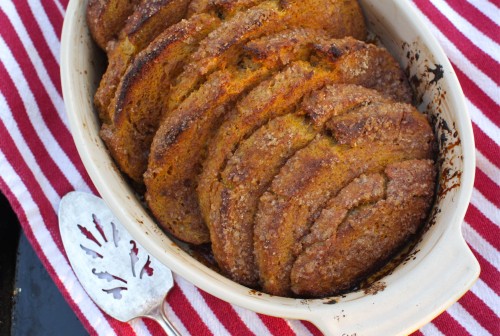 Baked-Overnight-Pull-Apart-Pumpkin-French-Toast. What on earth?
This weekend breakfast dish comes with a decidedly long handle. Allow me to explain each of the terms and why they matter – and then perhaps we can rename the dish in the comment section!
Baked
I'm a longtime fan of baking my french toast, especially when I have a crowd to feed. I'm a firm believer that the cook should be able to sit down at the table and enjoy a hot breakfast along with everyone else instead of standing over a skillet preparing the pan-fried version.
By baking the French toast (similarly to a bread pudding), it delivers the dish to the table all at once, while maintaining a consistent temperature and texture to the French toast.
Now you get to join the family for breakfast and perhaps have a shot at getting a piece of bacon before the kids eat it all.
Overnight
Mixing the French toast the night before and allowing it to chill overnight in the refrigerator serves two purposes: flavor and convenience. You're giving the (often stale) bread a chance to really soak in the pumpkin spice milk mixture and letting the flavors meld together (similar to how a marinade works).
Also, how wonderful it is to wake up, pop breakfast in the oven, and then go back to bed or curl up with the newspaper for half an hour or so? The mixing, measuring and making of dishes is done the evening before, allowing for a simple morning.
Hmm, I'm already thinking about this French Toast for our Christmas morning brunch.
Pull-Apart
Admittedly, this one came about through a little pet peeve of mine where baked French toast actually looks more like bread pudding. Cubes of bread are  baked together and the dish is cut into wedges and served. Sure it tastes great, and there's nothing wrong with this method, but I wanted something different.
When I created this recipe I was aiming for an overnight French toast that actually served up in slices, like the pan-fried version. Presentation was my main motivation, but after peeking around at various pull-apart cinnamon breads, I realized that layering the slices of bread with cinnamon sugar would add the perfect sweet touch as well.
How right I was! Since there is no sugar in the actual egg batter, the breakfast is sweetened by a sprinkling of brown sugar between each piece of bread. This also prevents the bread from 'gluing' together during the baking time and allows for individual servings of French Toast. It's the little things.
Pumpkin
It's the flavor of the month, er, the season. We've made cookies and bread, have a pie coming next week, and I couldn't resist adding it to our breakfast as well. Here's why the pumpkin really works, though: I've chosen to use a fairly hefty whole wheat loaf for this breakfast instead of the traditional French baguette or Italian-style all-white soft loaf, and the pumpkin keeps the bread soft and moist.
The pumpkin flavor comes though brilliantly, complemented by the molasses and blend of spices. I keep imagining just how delicious it would be when made with pumpkin challah. Perhaps for Christmas morning breakfast or New Year's Day brunch.
Tip: If pumpkin isn't your thing, see a variation for Apple Cinnamon Baked French Toast below.
Ingredients
1

loaf

hearty whole wheat bread

sliced

3

large

eggs

1

cup

milk

or cream

3/4

cup

pumpkin puree

1/4

cup

salted butter

melted

2

Tablespoons

molasses

2

teaspoons

pumpkin spice blend

1/4

cup

brown sugar
Instructions
The night before...
In a medium mixing bowl, whisk together eggs, milk, pumpkin puree, 2 Tablespoons melted butter, molasses and 1 teaspoon pumpkin spice blend.

Dip each slice of bread into the mixture to coat well, then place, one layer thick, on a 13x17 baking sheet. Drizzle any remaining pumpkin mixture on top of the bread.

Place plastic wrap over the soaking bread slices and refrigerate for 8 hours or overnight.
In the morning...
Preheat the oven to 350°F. Generously butter an 8 x 11 baking dish. Mix together brown sugar with remaining teaspoon of spice blend.

Remove plastic wrap from the soaked bread and brush tops lightly with remaining 2 Tablespoons of melted butter. Sprinkle French toast tops all over with cinnamon sugar mixture.

Starting with the smaller pieces, arrange the slices of bread in the buttered baking dish, propping them up on top of each other until the pan is full. Place on the middle shelf of the oven and bake for 35-40 minutes until the tops are crispy.
Notes
Variation: Apple Cinnamon French Toast. Prepare recipe as usual, replacing the pumpkin puree with equal amounts of apple sauce or apple butter.
Nutrition
Calories:
480
kcal
|
Carbohydrates:
66
g
|
Protein:
20
g
|
Fat:
16
g
|
Saturated Fat:
7
g
|
Cholesterol:
130
mg
|
Sodium:
586
mg
|
Potassium:
547
mg
|
Fiber:
9
g
|
Sugar:
23
g
|
Vitamin A:
5220
IU
|
Vitamin C:
1.4
mg
|
Calcium:
219
mg
|
Iron:
4.2
mg
So that's my dish. Try it out and then come leave me a suggestion for a brilliant name for the recipe!