Written by Megan of Stetted.
I am nowhere near a bread expert. I have trouble achieving the proper rise and crumb, especially when it comes to sandwich bread. Yet that doesn't stop me from practicing my kneading or remove the thrill that comes from seeing a bowl full of puffy dough.
Of all the breads I've tried making, the one I always come back to is challah. I not only love the flavor, but the methodical technique of braiding the loaves. I know many people hate the work that is involved with making bread, but the process relaxes me and is a great way to center my concentration. And let's face it – we all need a little bit of relaxation when the holidays are fast approaching.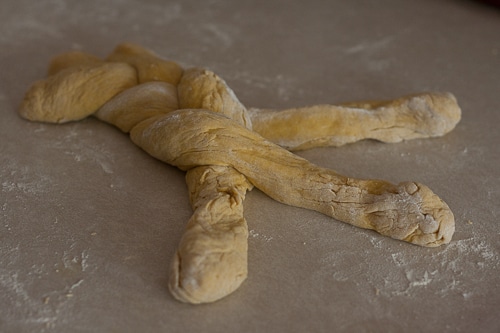 If the thought of kneading keeps you from making bread, remember that a stand mixer with a dough hook can take care of most of the work. Little hands can also pitch in. Sticky, squishy dough is a delight for kids, who can't believe they are allowed to get messy on purpose.
In this version of challah, the pumpkin stands in for the eggs. Adding eggs will make for a richer dough, but of course remember that you'll need to add flour to balance out the additional liquid.
Also, this pumpkin challah is only lightly spiced – I wanted to be able to have the bread fit as both breakfast and sliced alongside a savory dinner.
Tips:
Use a kitchen scale to ensure equal division of dough. I'm just as bad at dividing sections for braiding bread as I am for braiding hair.
I add 3 cups of flour to start with and then add the rest slowly. Due to different moisture levels, varieties of flour, and measuring methods, it's easier to start out with less flour and add what you need rather than adding all at once and finding your dough is too dry.
On the second rise I preheat the oven and set the dough nearby. My kitchen doesn't maintain enough heat for bread to rise well on its own most days, so this helps tremendously.
Recipe: Pumpkin Challah
Yield: This recipe makes 2 smaller loaves. We like to eat one sliced and unadorned, and use the other loaf for French toast.
ingredients:
2 1/4 teaspoons (1 packet) yeast
2/3 cup warm water
1/2 cup sugar
1/2 cup pumpkin puree
1 1/2 teaspoon salt
1/2 teaspoon cinnamon
1/4 teaspoon ground ginger
1/8 teaspoon nutmeg
1/4 teaspoon ground cardamom
4 cups flour, plus more for dusting and kneading
1 egg
Sesame or poppy seeds (optional)
method:
In a large bowl, dissolve sugar and yeast in the warm water. Let sit 10 minutes until foamy.
Stir in pumpkin puree, salt, and spices. Add three cups of the flour and mix until well incorporated. Add remaining flour, a little at a time, until dough is only slightly sticky to the touch.
Dust counter or wooden board with flour and turn out dough. Knead, adding flour as needed, until you have a smooth, springy dough. Place in a lightly greased bowl, cover, and let rise two hours, or until doubled in size.
Punch down dough and turn out onto flour-covered counter. Divide dough in half; set one half aside. For each half, divide into three approximately equal pieces.
Form pieces into long snakelike strands, about 12 inches long. Braid together strands and tuck both ends under the loaf. Carefully place on a flour-dusted board, greased baking sheet, or in a greased loaf pan. Repeat for remaining dough. Cover and let rise until doubled, about 40 minutes.
Preheat oven to 350 degrees. If using a baking stone, start your preheat when you begin the second rise. Beat egg and brush over the bread, and sprinkle on seeds, if using. Put loaves in oven and bake for 40 to 50 minutes, until tops are golden brown.
Do you have a favorite fall baked good?