I've got a love/hate relationship with crackers. They're an easy entertaining option – serve a box of rye crisps with a wedge of firm cheese and a handful of dried fruit and you've got a fast appetizer – and are mighty convenient for handing out to the kids while killing time in a line-up. But they have their drawbacks too.
Excessive packaging, nutritional failings, not to mention high cost, keep me from frequently stocking my pantry with store-bought crackers. In the past, when the holidays rolled around, I would get tempted to stash an assortment of crisps and crackers for entertaining, but now I make my own, thanks to this recipe for homemade crisps.
Homemade crackers? Isn't that a lot of work?
Yes and no. Most homemade crackers require rolling out the dough and cutting each cracker individually, which can take some time. These crisps, however, are first baked as a loaf, then thinly sliced and toasted – no rolling required. I'm certain even the novice baker could turn out a successful batch – and once you taste them, there's no going without!
These highly addicting fruit crisps are delicately flavored with buttermilk & honey, scented with fresh rosemary and contain just enough nuts & dried fruit to complement the rest of the accompaniments on the cheese board.
7 Reasons to Love Homemade Crisps
1. No Preservatives or Packaging
Store bought crackers usually carry lots of trans fat and unwanted preservatives to increase their shelf life. Rest assured you'll know every ingredient that goes into your crisps.
2. Ideal Do-Ahead Baked Good
These crisps freeze well both as pre-sliced loaves as well as in their cracker-like state. Stored in an airtight container, they can last up to two weeks in the pantry, but I'm willing to bet they will be consumed long before then.
3. Pick Your Own Flavor Combinations
Customize your crisps by choosing your favorite ingredients to fill out the fruit, seed and nut categories. Hate raisins? No problem, just replace them with dried apricots or cranberries.
4. Kid-friendly Baking Activity
I made several batches of crisps with my two-year-old on his 'helping' stool. By having all the ingredients pre-measured, it was easy to include him in the mixing (and tasting!) without worrying over mixed up measurements.
5. Made in 2 Steps
We all know that the window of time for baking is often short, so I love that these crisps can be made in two steps.
Step 1: Mix and bake loaves (which can then be wrapped and frozen.)
Step 2: Slice & bake crisps.
6. They're Healthy!
Wheat flour, wheat germ, flax, assorted seeds – these are just some of the ingredients that contribute to your daily intake of Omega-3's and help to lower your cholesterol.
7. Homemade Cracker Freakout Factor
You'll understand this one once you've made and served these crisps to guests and the umpteenth person exclaims:
"You MADE these? She made these. I can't believe you made these."
Yeah, it happens every time.
Now, on to the recipe.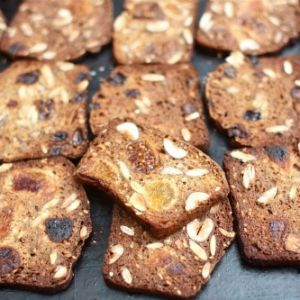 Apricot-Hazelnut Crisps
It looks like a lot of ingredients, but each one is important for the flavour and texture of the loaf, so make a list, check it twice, and get going! Also, one recipe makes about eight dozen crackers, so it's well worth the work.
Print
Pin
Rate
Servings:
96
crackers (about 8 dozen)
Ingredients
Crisps Base Recipe
1

cup

organic whole-wheat flour

1

cup

organic all-purpose flour

2

teaspoons

baking soda

1/2

teaspoon

salt

2

cups

buttermilk

1/4

cup

raw cane sugar

1/4

cup

liquid honey
Seeds:
1/2

cup

roasted pumpkin seeds

1/4

cup

sesame seeds

1/4

cup

ground flax seed
Suggested Add-ins:
1/2

cup

apricots

1/2

cup

dried figs

chopped

1/2

cup

chopped hazelnuts

1

Tablespoon

chopped fresh rosemary

or

1/2

cup

raisins

or dried cranberries

1/2

cup

figs

1/2

cup

pecans

chopped

Zest of one orange
Instructions
Bake the Loaves
In a large bowl, stir together the flours, baking soda and salt. Add the buttermilk, cane sugar and honey and stir a few strokes.

Add the seeds, (pumpkin, sesame, and flax) apricots, dried figs, hazelnuts, and rosemary and stir just until blended.

Pour the batter into 1 8"x4" loaf pan and 2 mini-loaf pans that have been sprayed with nonstick spray.

Bake for about 22 minutes, until golden and springy to the touch. Remove from the pans and cool on a wire rack.

Wrap tightly and freeze slightly before slicing. OR freeze for up to two months, then partially thaw, slice and bake for fresh crackers.
Slice & Bake the Crisps
The cooler the bread, the easier it is to slice really thin. I start with my loaves partially frozen.

Slice the loaves as thinly as you can and place the slices in a single layer on an ungreased cookie sheet. (Julie likes to slice and bake one loaf and pop the other in the freezer for another day.)

Preheat the oven to 300°F and bake them for about 15 minutes, then flip them over and bake for another 10 minutes, until crisp and deep golden.

Cool and store in an airtight container.
Notes
Because of the whole-wheat flour, these are a fairly hefty cracker. Feel free to use all-purpose flour instead of the whole wheat (for a total of 2 cups white flour)
- adapted from Dinner with Julie
Nutrition
Calories:
37
kcal
|
Carbohydrates:
5
g
|
Protein:
1
g
|
Fat:
2
g
|
Saturated Fat:
1
g
|
Cholesterol:
1
mg
|
Sodium:
42
mg
|
Potassium:
44
mg
|
Fiber:
1
g
|
Sugar:
2
g
|
Vitamin A:
25
IU
|
Vitamin C:
1
mg
|
Calcium:
15
mg
|
Iron:
1
mg
It looks like a lot of ingredients, but each one is important for the flavor and texture of the loaf, so make a list, check it twice, and get going!
Also, one recipe makes about eight dozen crackers, so it's well worth the work.

Crackers. Do you pull them out for entertaining? What's a favorite flavor and have you ever made your own?