This week, in classic mid-August Aimée style, I embarked on a few procrastibaking projects as a way to avoid my post-camping laundry and clean-up.
To be fair, I couldn't wait to get back into the Simple Bites kitchen after a few weeks of travel. As is usually my custom when I road trip, I returned home with a stash of the most beautiful produce I encountered along the way.
This time I brought several pints of wild blueberries, for this Nova Scotia fruit grows wild all over the province and is free for the picking. Clara and I busied ourselves in a patch early one morning and produced enough for our buttermilk pancakes as well as a small store for the cooler.
Since then I've muddled a handful into a gin & tonic cocktail and topped a summer edition of my do-ahead muesli, but I saved the majority of them for a special baking project: cheesecake.
Summer cheesecakes, whether they are fruit-topped, jam-swirled or bathed in coulis, are a decadent way to showcase seasonal fruits and berries. For this recipe, I made a quick wild blueberry jam, cooled it, then swirled it into a creamy, vanilla New York-style cheesecake – my favourite.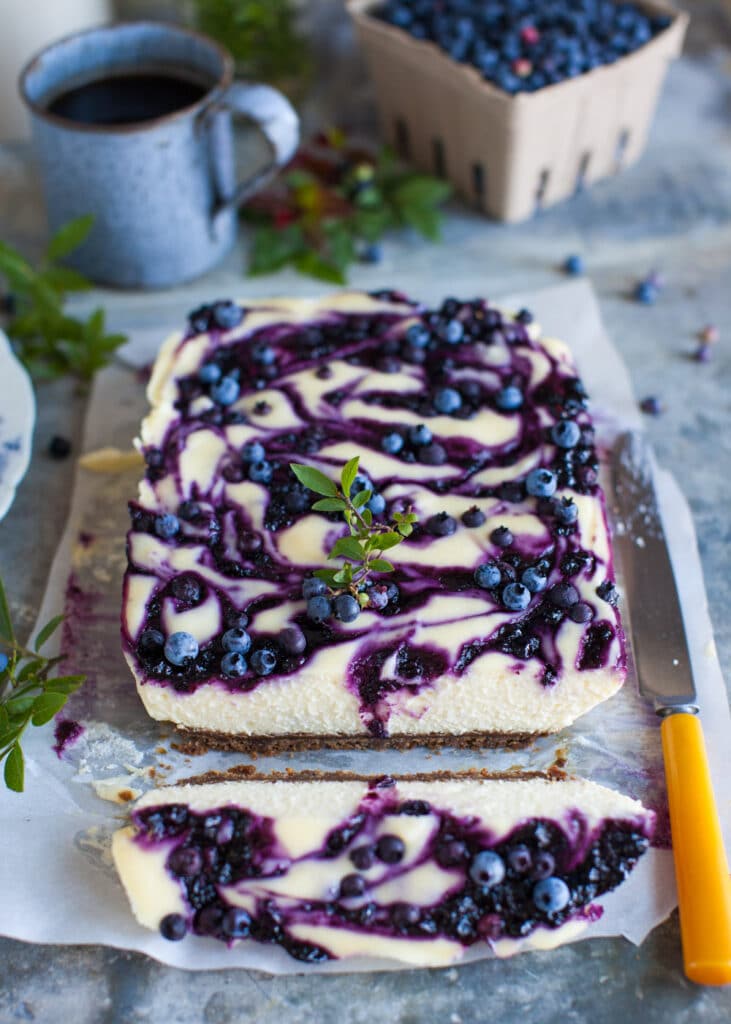 Now seems like a good time to mention that, while I'm showcasing seasonal berries today, you can bookmark this recipe to make year-round, even when wild fruits are long gone. Just swirl in your favourite jam or fruit butter into the base recipe and keep it changing with the seasons.
The ingredient list is short and no springform pan is required, making this a relatively simple dessert – but with showstopper results.
The crust comes together with whatever sort of cookie crumbs you have on hand – chocolate, shortbread…ginger. I took the opportunity to finish off some crumbly graham crackers left over from camping and blitzed them in the food processor with a handful of gingersnap cookies.
For a very-berry experience, I topped the cheesecake with a few fresh blueberries, which adhere nicely to the jam, and served it up in two-bite squares.
Tips for a prefect cheesecake
When making a baked cheesecake, take these steps in the kitchen to achieve a velvety texture with no cracks in the top.
Have all of the ingredients at room temperature to start. This will help to avoid having lumps of cream cheese during the mixing.
Don't over mix the batter after adding the eggs. Beat the cream cheese good and well beforehand, but go gently with the eggs. Eggs hold air inside the batter which could cause the cheesecake to rise – and crack – during baking.
Don't open the oven door during the baking process. Cracks in the surface can also be caused by temperature changes in the oven.
Don't overbake the cheesecake. It's best to have the middle of the cheesecake a bit wobbly when you gently shake the pan, unlike a regular cake! It will firm up as it cools, especially with an overnight chill.
If possible, let the cheesecake cool very slowly in the oven once it is turned off.
Lastly, allow plenty of chilling time before you attempt to slice the cheesecake. Use a hot knife and wash it clean before each slice.
If you do end up with cracks, don't sweat it! You can always cover them with a little jam and a handful of fresh berries.
This Wild Blueberry Slab Cheesecake with a Gingersnap Crust makes plenty to share, as a small square is enough to satisfy any sweet tooth. It also freezes well, so make it in advance for Sunday dinner with friends.
Wild Blueberry Slab Cheesecake
For this recipe, I made a quick wild blueberry jam, cool it, then swirl it into a creamy, vanilla New York-style cheesecake – my favourite.
Print
Pin
Rate
Ingredients
For the Jam
1 1/4

cups

wild blueberries

divided

3

Tablespoons

cane sugar

2

Tablespoons

maple syrup

2

teaspoons

lemon juice

freshly squeezed
For the Crust
1

cup

gingersnap cookie crumbs

4

Tablespoons

butter

melted
For the Filling
2/3

cup

cane sugar

2

250g packages

cream cheese

1

teaspoon

pure vanilla extract

2

large

eggs

1/2

cup

sour cream

1/4

cup

fresh blueberries

for garnish
Instructions
For the Jam
Add the blueberries, sugar, maple syrup and lemon juice to a small heavy-bottomed pot and bring to a boil over medium heat. Simmer for 12 minutes, stirring frequently, until it thickens slightly and berries turn dark.

Remove jam from heat and cool. It should yield about 1/2 cup of jam.
For the Crust
Preheat the oven to 350°F.

In a small bowl, combine the gingersnap crumbs with the melted butter.

Line a 9 x 5" loaf pan with parchment paper. Press the crumbs into the bottom of the pan.

Bake crust for 10 minutes, then cool completely on a wire rack.
For the Filling
Reduce the oven temperature to 300°F.

In the bowl of a stand mixer fitted with the paddle attachment, beat the sugar and cream cheese until smooth, about 2 minutes.

Crack the eggs into the mixer and add the vanilla. Stir on low speed until just barely combined.

Remove the paddle attachment, and stir in the sour cream with a spatula. Do not overmix.

Scrape the cheesecake filling into the cooled crust, and smooth out the top with your spatula.

Dot the cooled wild blueberry jam over the surface and use a butter knife to drag it through the batter, creating a swirled effect.

Place the pan in the centre of the oven, and bake for 60-70 minutes, or until the cake is mostly set, with a slight jiggle in the middle. Try not to open the oven door during the baking process.

Turn off the oven, open the door, and let the cake slowly cool in the oven for 15 minutes. This prevents cracking from cooling too quickly. Remove from oven and cool completely on a wire rack. Cover loosely and chill in the refrigerator overnight.

To serve – sprinkle fresh blueberries over top, cut into 2-inch squares, and serve.
Notes
For the cookies, use what you have on hand, such as chocolate cookies, shortbread cookies, or graham cracker crumbs.
Nutrition
Calories:
275
kcal
|
Carbohydrates:
37
g
|
Protein:
3
g
|
Fat:
13
g
|
Saturated Fat:
7
g
|
Cholesterol:
78
mg
|
Sodium:
149
mg
|
Potassium:
81
mg
|
Fiber:
1
g
|
Sugar:
29
g
|
Vitamin A:
364
IU
|
Vitamin C:
3
mg
|
Calcium:
37
mg
|
Iron:
1
mg