In this summer sunset picnic for two, simple elegance meets seasonal eats in a pretty little dock feast. Strawberries are featured in the recipes and the mood is chill. Join us!
So far, Nova Scotia summers have been a continuous invitation to bring dinner outside and I've been happy to accept.
I've curated dozens of picnics for the beach, fired up the charcoal for patio eats and even brought a portable breakfast out in the kayak with me on a particularly fine morning.
Meals enjoyed al fresco are usually on the rustic side, as I'm often feeding a crowd, the majority of whom are small children. Their finely tuned palates gravitated towards barbecue chicken and fudgy brownies, which is all well and fine, but occasionally I crave something a little more refined and elegant.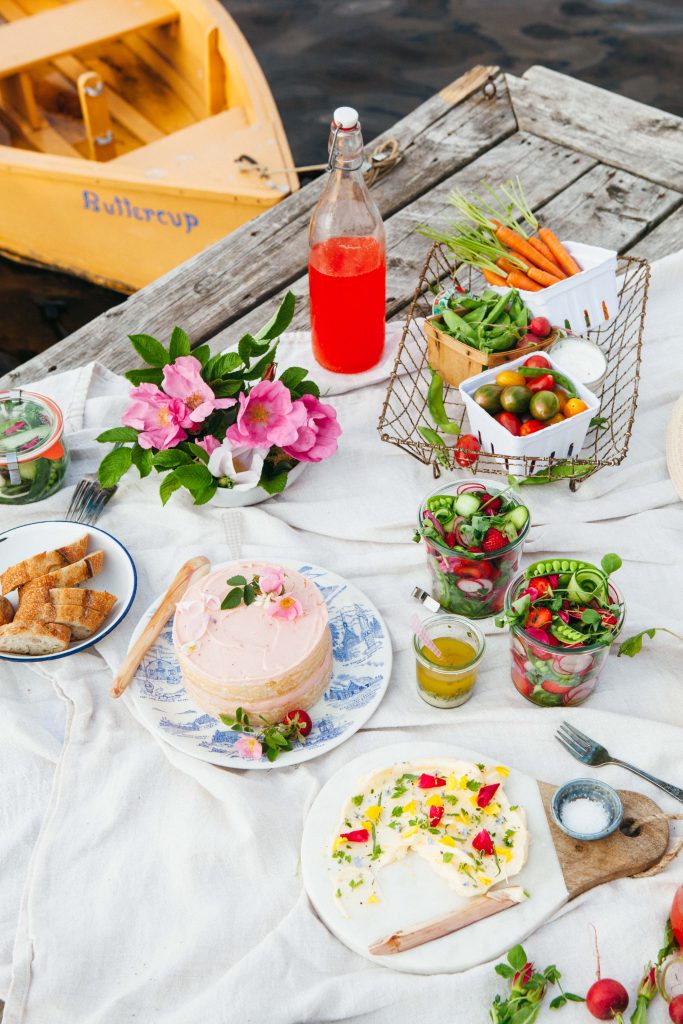 Recently my good friend, Kelly Neil and I took some time out of our week to intentionally slow down, dangle our feet off the dock and eat cake. As the sun set, we swapped stories of parenting in summer (exhausting!), what inspires us (collaborating!) and everything else from favourite cookbooks to camping tips.
Kelly had her camera, and I laid a picnic spread, and we captured it all for your inspiration. It was just the creative outlet I needed at the time – an opportunity to create beautiful food and present a pretty picnic without a chicken wing in sight.
Together, our menu and setting combined made for a wildly romantic picnic for two, however the romance was all for our mutual love of our coastal province.
Nova Scotia wild roses graced our spread, her lake lapped the dock where we sat, and the gentle July sun warmed our cheeks. Moments like these we have to soak in and conserve to help us through the long, wet winters.
A Summer Sunset Picnic for Two: The Menu
Each dish featured beautiful, seasonal produce in its prime, with strawberries taking center stage and the lake providing the backdrop.
Crudité of baby carrots, cherry tomatoes and sugar snap peas.
Strawberry, Cucumber and Radish Salad with Pea Shoots
Herbed Butter with Edible Flowers & Sourdough Baguette
Lemon Buttermilk Cake With Strawberry Jam-Cream Cheese Icing
When local produce is this beautiful, you need do nothing more than serve it up fresh and unadorned. Those colours!
Rather than arange an elaborate crudité platter (rather awkward to transport for a picnic), my favourite presentation for veggies is to serve them up in little repurposed berry baskets, and group them together in a vintage wire basket. Simple and pretty.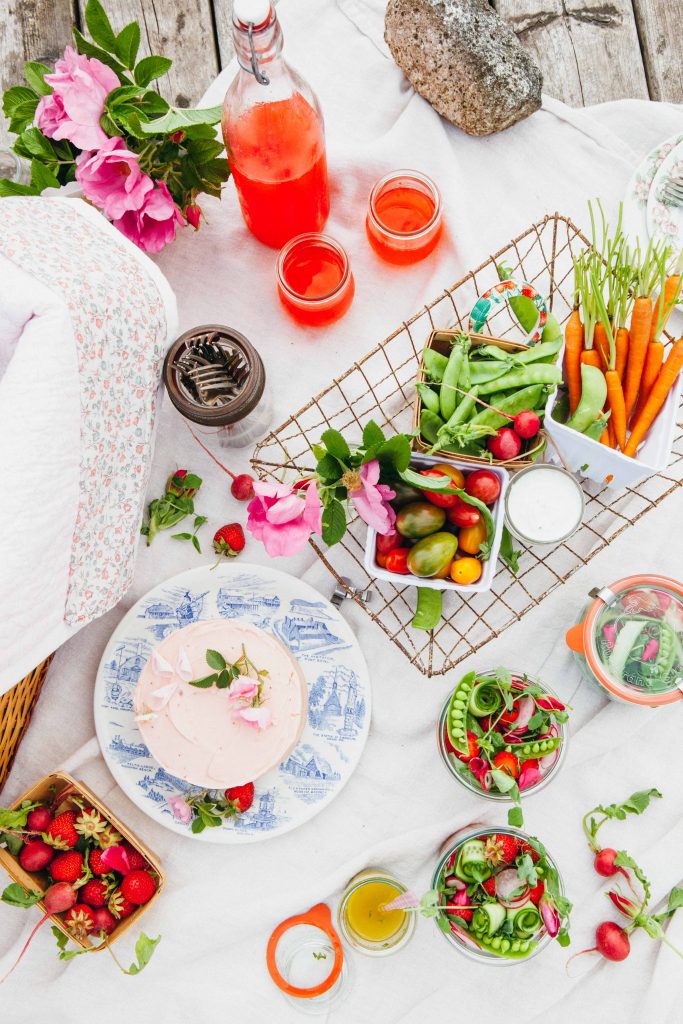 Our dishes only had to be walked down from the Simple Bites kitchen to the dock at the bottom of my property, so we chose pretty plates for the cake, served up the salad and limeade in Weck jars and went with vintage silver forks for our menu.
If I had to transport this picnic to a beach, I'd probably choose differently, but for a warm summer's eve in my backyard, this spread was perfect.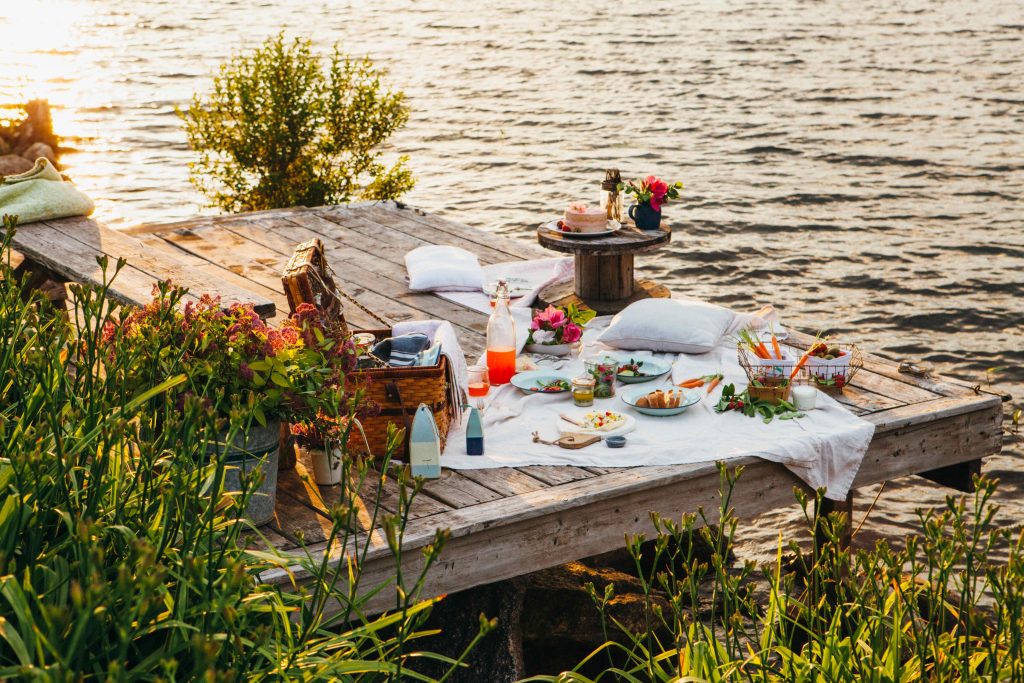 As the sun sank further down in the sky, the wind picked up and whipped the lake into choppy grey. It blew my hat into the lake – but kept the bugs at bay, so I didn't mind.
And then there was cake! Kelly's Lemon Buttermilk Cake With Strawberry Jam-Cream Cheese Icing was a work of art and love letter to local strawberries. You can find a few more photos and Kelly's recipe over on her blog.
Well folks, I'm taking a bit of time off for summer holidays so things will be quiet around here for a few weeks, but be sure to follow me on Instagram for camping inspiration. I've packed up the Simple Bites kitchen and we're camping around Nova Scotia, traveling as far up as Cape Breton and taking some time to explore our new province.
I fully intend to catch as many sunsets as possible, hit up as many local bakeries as I can find, and have at least one more slice of cake on a lakeside dock. Cheers to summer!
All images created in partnership with my fellow foodie friend, Kelly of Kelly Neil Photography. Recipe & Food Styling by myself; Photography by Kelly.