Ad. This post is sponsored by Coleman Canada and Canadian Tire.
We're logging quite a few beach days this summer, as our three children are the ideal age for this outing.
Now that everyone knows how to swim, the beach is actually relaxing, and that is a welcome change after a decade of rescuing kids from the surf. After applying sunscreen to three little people, my main job is feeding them all and that takes some organization – and the right gear.
This summer I'm partnering with Coleman Canada and Canadian Tire to encourage families to get outside. So far I've shared backyard cookout tips, steps for a clean camp kitchen, and now I'm dishing my best hacks for packing a cooler. On blistering hot July days, it takes some strategic planing to keep everything cold.
Over on GetOutsideCanada.com I'm sharing my best cooler hacks for a picnic at the beach, just in time for the heat wave around here. From the post:
"A family outing to the beach gets everyone excited. Mum and dad get a chance to sit back and relax while the waves and beach treasures entertain the children. Sunshine, sand and surf is all wonderful… so long as your tummy isn't rumbling. A well-stocked cooler really makes the beach day a success, and these cooler hacks will ensure that all goes to plan."
Read the rest here >>  8 Cooler Hacks for a Day at the Beach. You'll want to Pin this post!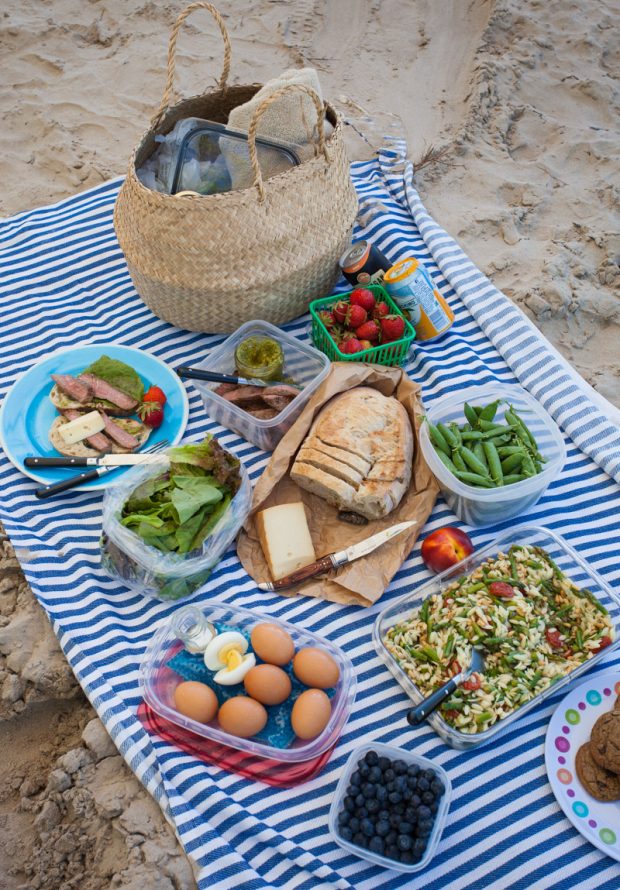 When we're at the beach, it's a full day affair, starting as soon as the provincial parks open and leaving  . I try to pack enough for two full meals for five people, plus snacks. Somehow the water and the fresh air makes everyone ravenous and we usually eat our way through everything.
What to pack in that cooler? I usually pack cheese and meat, condiments and boiled eggs. We stop by a country farm stand for fruits and vegetables and a really exceptional loaf of bread.
I also like to bring a hearty pasta salad  to the beach, don't you? It travels well and can be made in advance. We love an orzo salad that is in my cookbook with toasted pine nuts, slow-roasted cherry tomatoes and asparagus or snap peas.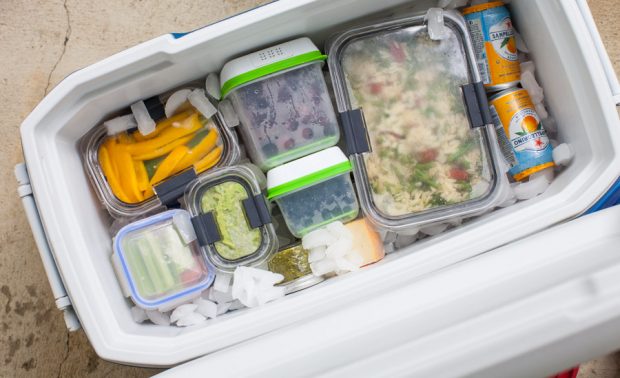 If I have time, I'll make a guacamole before we leave, and grab a bag of tortilla chips for snacking. All the sandcastle building stops when we break out the guacamole!
We have to have cookies, of course, like these Honey Whole Wheat Chocolate Chunk Cookies that can be made in advance and grabbed from the freezer.
Our cooler is also packed with lemonade, sparkling lemonade and tons of water. And I always bring a thermos of cold brew coffee, iced to near freezing and sweetened with maple syrup.
Tomorrow is National Get Outside Day and I hope you'll be making an effort to get out into nature. Maybe it will be a backyard cookout with friends or a hike up a trail you've always wanted to check out. We're heading to a local U-pick to load up on strawberries.
And if you're heading to the beach, don't forget to read my 8 Cooler Hacks for a Day at the Beach. before you start packing. You'll learn a thing or two, I promise!
Disclosure: This post is sponsored by Coleman Canada and Canadian Tire. All opinions are my own.
What do you like to pack for a picnic at the beach?