We're logging quite a few beach days this summer, as our three children are the ideal age for this outing.
Now that everyone knows how to swim, the beach is actually relaxing, and that is a welcome change after a decade of rescuing kids from the surf. After applying sunscreen to three little people, my main job is feeding them all and that takes some organization – and the right gear.
This summer I'm dishing my best hacks for packing a cooler. On blistering hot July days, it takes some strategic planing to keep everything cold.
The best cooler hacks for a picnic at the beach
A well-stocked cooler really makes the beach day a success and these cooler hacks will ensure that all goes to plan (and nothing goes to rot). When we're oceanside, it's a full day affair, starting as soon as the provincial parks open. I try to pack enough for two full meals for five people, plus snacks. Somehow the water and the fresh air makes everyone ravenous and we usually eat our way through everything.
1. Pack foods that travel well. Hearty salads such as pasta, potato and grains all hold up well. Look for bread with a good crust on it. Instead of baked goods that will squish, bring Chocolate Pretzel Monster Cookies or something equally substantial.
2 Pre-Chill the Cooler. I pre-chill the cooler with a blog of ice so it is ice cold when I pack it full of food. If you have a big group of people, consider designating an additional cooler just for drinks. This will cut back on the use of the food-designated cooler and it will preserve the chill for longer.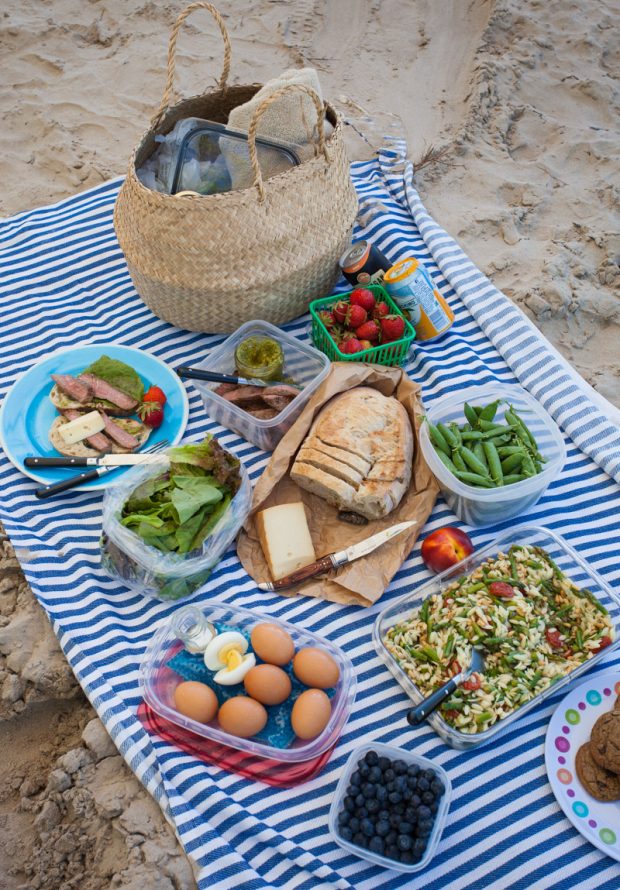 3 Pack foods in clear containers. Wash fruits and vegetables at home, then dry them well and package everything clear, resealable bags or containers so you can see at a glance what is inside. Salads, cold meats, cheese – everything can be safely stored in a clear plastic container.
4. Pack only cold food and drink. Pre-chill as much food and drink as possible before loading the cooler. Freeze drinking water in plastic jugs to use in place of ice blocks. You'll have drinking water when they melt!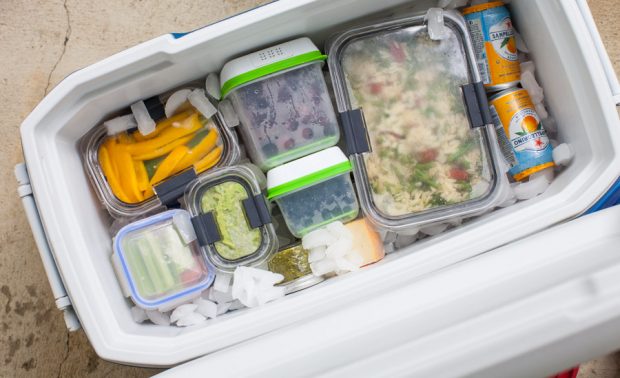 5 Make a packing list of cooler contents and tape it to the top. This helps you remember what you packed and you can scratch off items as they are removed.
6 Pack smart and pack full. I follow this order: a layer of ice packs at the bottom of a clean, pre-chilled cooler, followed by meats (cold cuts, cold chicken, etc). I shake a bag of ice around the meat, then add dairy, salads and condiments on top.
Produce goes in next, with the most delicate items on top. Lastly I tuck drinks in and around the produce, and a few more small ice packs. It's always best to fill a cooler to the brim and avoid pockets of air. Empty spaces can be filled with clean beach towels or a picnic blanket.
7. Keep the cooler out of the sun. When possible, store the cooler in the shade to help it stay cool. We love our Coleman Eaved Canopy for sun shelter at the beach.
8. Clean up for next time. Upon returning home, wash the cooler with warm soapy water once it has been emptied. Disinfect if necessary, then rinse and dry well before putting it away, ready for the next adventure!
So, what to pack in that cooler? I usually pack cheese and meat, condiments and boiled eggs. We stop by a country farm stand for fruits and vegetables and a really exceptional loaf of bread.
I also like to bring a hearty pasta salad  to the beach, as it travels well and can be made in advance. We love an orzo salad like my Mediterranean Pasta Salad with asparagus or snap peas.
What do you like to pack for a picnic at the beach?