My decision to serve panna cotta at our recent Canada Day party was influenced by a culinary lesson learned in London: the simple goodness of panna cotta should not be discounted in lieu of flashier desserts.
Creamy, light-as-air-panna cotta is scrumptious on its own and even better when served with a seasonal fruit compote. These days I have all the local strawberries I could wish for, both in my backyard garden and at the markets.
Hence a patriotic red and white dessert made the final menu on July 1, but on merits far worthier than colour alone.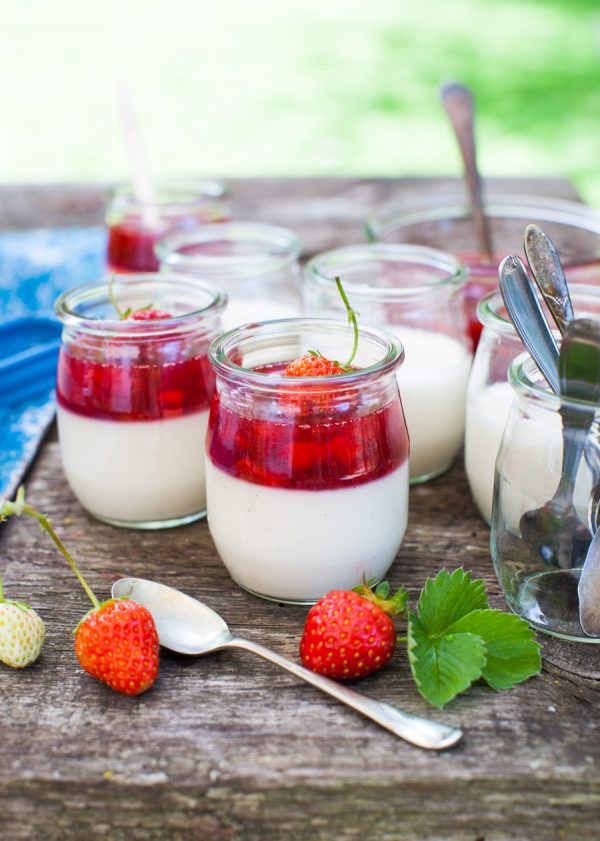 Panna cotta falls into the pudding category of desserts, at least in my opinion, and that translates as pure comfort food. We served it in every restaurant where I worked, back in the day, topped with any local fruit in season, and it was always a best seller, right along with creme brule.
Although I love a winter panna cotta, like my maple-sweetened, slightly bitter Blood Orange variation, it's hard to beat the summer edition. The cool silkiness of a panna cotta is delicious on a hot July day, and in this recipe the tang of the sour cream contrasts nicely with the sweet, jammy strawberry compote.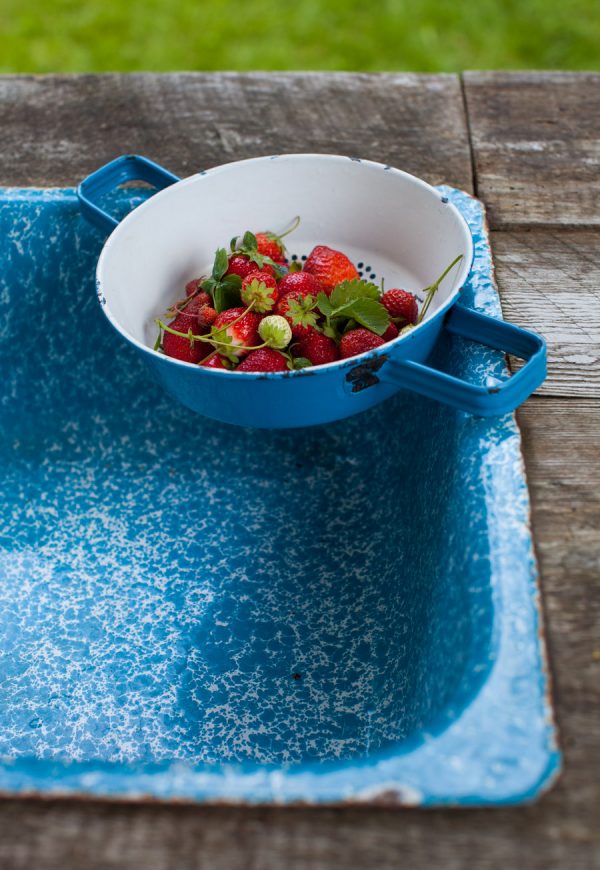 All the rains of May have made for a less-than-stellar strawberry crop this season in Quebec. The berries are heavy with juices, but are lacking their characteristic sweetness. But don't worry, this compote is the ideal recipe for those lackluster strawberries. A squeeze of lemon brightens the berry flavour and plenty of sugar makes up for the tartness.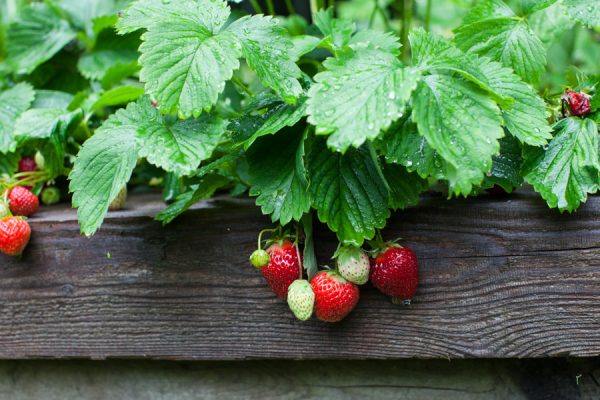 Panna cotta can also be made well in advance, which means its an ideal party dessert. I prepped 24 mini jars a few days ahead of my event and then spooned on the berry compote just before serving. No one can resist a tiny jar of dessert and my Sour Cream Panna Cotta with Strawberry Compote disappeared fast.
This recipe was adapted from my friend Renée's beautiful cookbook, All the Sweet Things, and is not the first recipe I have prepared from the book. We also love her Brown Butter Spelt Brownies and Buckwheat Molasses Cookies, and found the Lemon and Cream Cheese Muffins to be a dream. Thanks, Renée.
Be sure to scroll past the recipe for our July #EatSeasonal round up.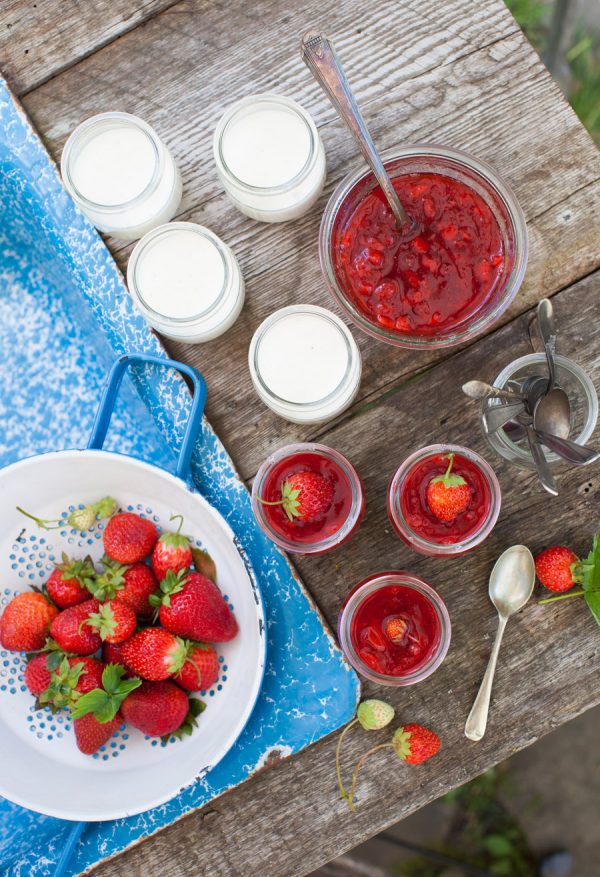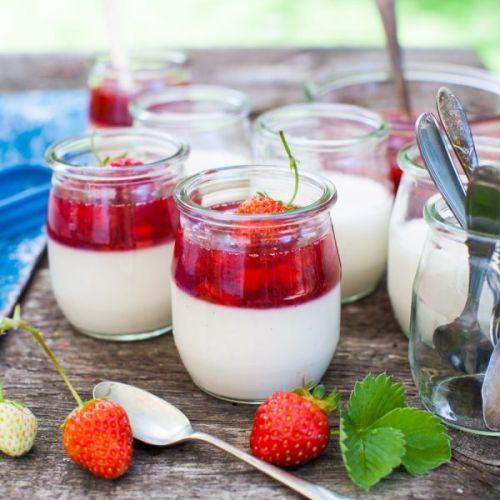 Sour Cream Panna Cotta with Strawberry Compote
Adapted from All the Sweet Things by Renée Kohlman
Print
Pin
Rate
Ingredients
For the Panna Cotta
2 1/2

teaspoon

unflavoured powdered gelatin

(1 pkg)

1 1/4

cups

whipping cream

1/3

cup

granulated sugar

plus 1 Tablespoon

1/4

tsp

salt

1

vanilla bean

halved lengthwise

1 1/4

cups

buttermilk

1

cup

full-fat sour cream
For the Strawberry Compote
2

cups

sliced fresh strawberries

divided

1/2

cup

granulated sugar

1

Tablespoons

fresh lemon juice

Pinch

salt
Instructions
To make the Panna Cotta
Place 1/4 cup cold water in a small bowl and sprinkle the gelatin over top. Let it stand for 10 minutes.

Meanwhile, heat the cream, sugar and salt in a medium saucepan over medium-high heat. Scrape in the vanilla bean seeds and then throw the whole pod in too. Bring the cream mixture just to a simmer, whisking occasionally. Add the gelatin and stir until it dissolves.

Remove the pan from the heat and let it cool for 5 minutes. Remove the vanilla pod and whisk in the buttermilk and sour cream.

Divide the cream mixture between 6-8 small serving dishes or jars and chill, uncovered, in the refrigerator until set, at least 4 hours.
To make the compote
Place 1 cup of the strawberries in a medium saucepan with the sugar, lemon juice and salt. Cook over medium-high heat until the berries start to break down, about 10 minutes, being sure to stir often.

Turn down the heat to medium-low and continue cooking until the sauce coats the back of a spoon, 15-20 minutes, stirring occasionally. Take the back of your spoon and smoosh the berries, breaking them up even further. I use a potato masher for this job.

Add the remaining 1 cup of sliced berries and cook for about a minute longer. Remove the pan from the heat and let cool completely in the pan. The berries will continue to cook slightly more.

Store in a jar or airtight container in the refrigerator until ready to serve, then divide the berry compote among the jars and serve with spoons.
Notes
The compote will keep well in an airtight container in the refrigerator for up to 1 week.
Once the panna cotta has set, top with the compote.
The panna cotta can be made up to 5 days ahead. Cover it tightly with plastic wrap and refrigerate until needed.
If you do not have vanilla bean, just add 1 teaspoon of pure vanilla extract to the cream for the panna cotta.
Eat Seasonal: July
The markets are bursting with seasonal produce! Here's some fresh recipe inspiration for using those cherries, berries and more. Find the full Seasonal Food Guide for July over on Becky's site, Vintage Mixer.