This post is sponsored by KitchenAid Canada.
Melons are a summer fruit we can all agree to like in my little family. Believe it or not, I have one boy who despises berries of all kinds and another boy who will have nothing to do with stone fruits. Melon, however, disappears as fast as I can cut it into wedges.
I'm trying to be patient with these peculiar tastes of my children, even though I'm yearning to make summer berry crisps and peach cobblers a part of our regular dessert line-up. (And sometimes I do, just for Danny and I.) Clara, on the other hand, eats all fruits, and all vegetables, for that matter. Can I attribute this to baby-led weaning? Partially, I am sure.
Taste buds can change – I've seen it happen – and I am confident the boys will eventually grow out of this picky phase. They heartily enjoy foods like beans, lentils, olives, avocado, seafood, and salads, so I have that to be thankful for.
For now, we'll come together over cantaloupe, sticky our fingers with watermelon and hang out over a plate of honeydew on hot summer days. This sorbet is a perfect example of that happening.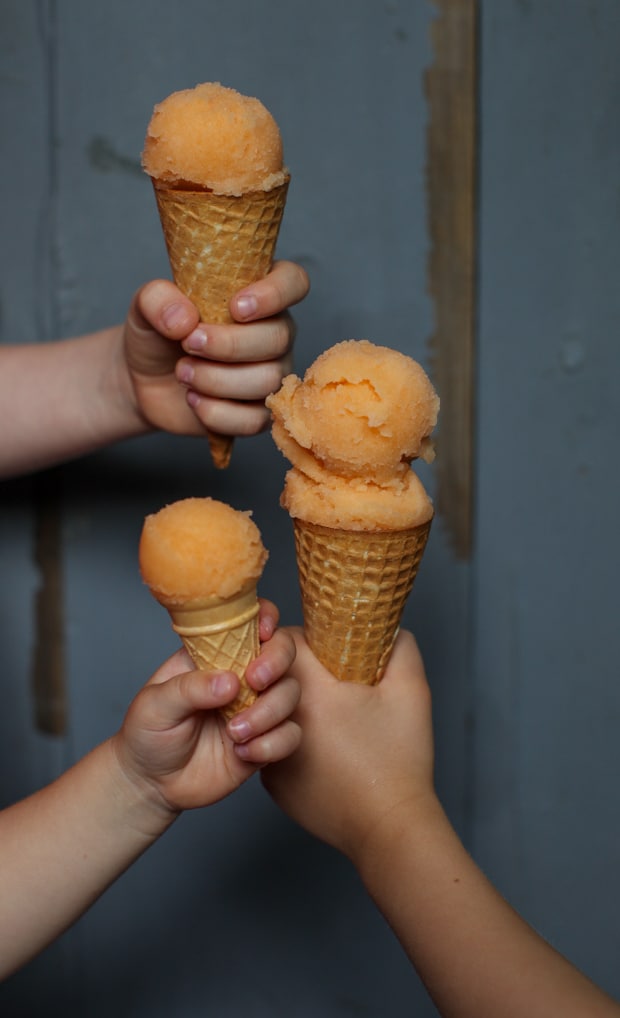 Making this sorbet was a spur of the moment decision. So swift, in fact, that I didn't think twice about scooping out half a cup of pre-pasta boiling water from a pot on the stove – and then adding it to honey for my simple syrup. It seemed like a sensible shortcut.
I completely forgot the water in the pot was pre-salted until I dipped a spoon into the syrup for a taste (always taste your food!). The salt surprised me, but then, as I stood in my hot kitchen, contemplating the cubes of cantaloup, it all made perfect sense.
Since cantaloupe (papaya and watermelon too, for that matter) is best enjoyed with the slightest sprinkling of salt to balance the sweetness of the fruit and mysteriously enhance the flavour, there was a good chance it would do the same for my sorbet. And it absolutely turned out to be a good thing.
I haven't spotted local melons at the markets yet, so we're eating cantaloupe shipped up from the US. They're probably picked slightly green and aren't as flavourful as the local varieties. A salted honey simple syrup took care of any, and I mean any, shortcomings my melon may have had.
It was utterly fantastic; even the kids agreed, as they toasted 'Cheers!' with their cones. A toast to summer, breaking out the KitchenAid ice cream attachment, and a fruit we can all agree on.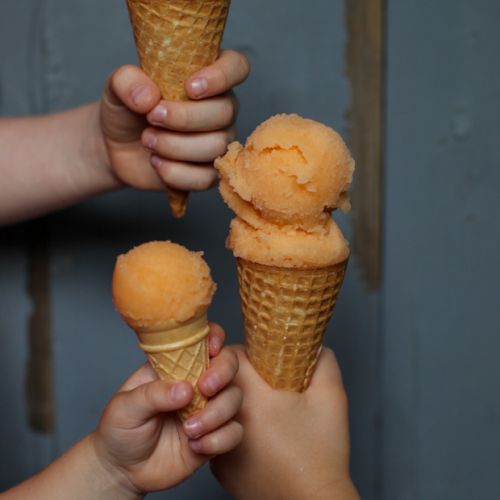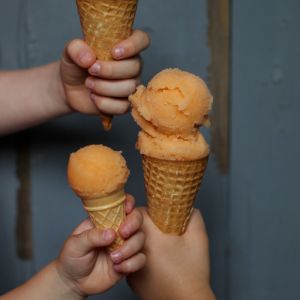 Salted Cantaloupe Honey Sorbet
A slightly salted honey simple syrup enhances the flavour of the delicate cantaloupe and brings a well-roundedness to this stunning summer sorbet. A family favourite.
Print
Pin
Rate
Ingredients
1/2

cup

liquid honey

3

pinches

sea salt

4

cups

cubed cantaloupe

about 1 whole

1

Tablespoon

vodka
Instructions
At least 12 hours before making ice cream, set the freeze bowl of a KitchenAid ice cream maker in the freezer.

Combine honey, salt and 1/2 cup of water in a small pot over medium heat. Warm until honey is melted and salt is dissolved. Cool.

Add cantaloupe, honey syrup and vodka to a blender and puree until completely smooth. Transfer to a quart jar and chill for at least 6 hours or until very cold.

Attach the freeze bowl to the KitchenAid stand mixer as directed in the care manual. Give the sorbet base a good shake as it will have separated during the chill time.

With the dasher turning in the freeze bowl, pour the entire jar of sorbet base into the bowl. Churn for 30 minutes.

Serve at once, or transfer the sorbet to a lidded plastic container and freeze for up to 4 days.
Notes
The vodka can be omitted, but it keeps the sorbet from freezing solid, and helps it to remain a nice consistency (not icy), yes, even when the power goes out for 12 hours and it thaws and refreezes.
Nutrition
Calories:
95
kcal
|
Carbohydrates:
23
g
|
Sodium:
159
mg
|
Potassium:
224
mg
|
Sugar:
23
g
|
Vitamin A:
2705
IU
|
Vitamin C:
29.5
mg
|
Calcium:
8
mg
|
Iron:
0.3
mg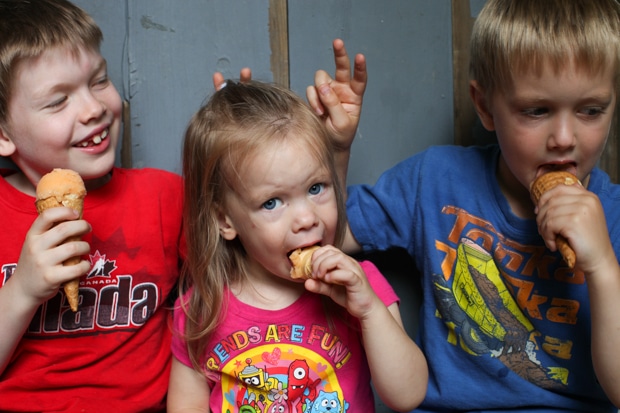 DISCLOSURE:
KitchenAid Canada has compensated me for my services and my posts, but all posts represent my own opinion.
Who doesn't like berries?? I know. Sigh. What food is your child refusing to try these days?