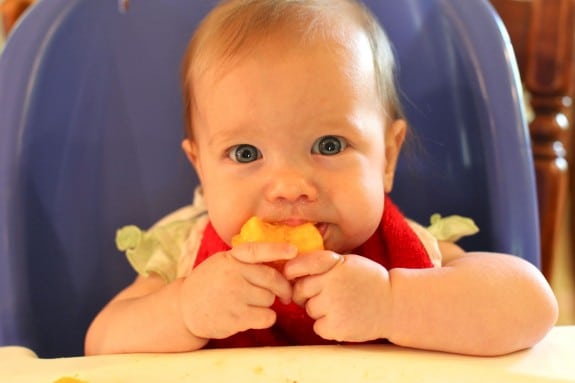 A few weeks ago I sat at the dinner table and watched Clara furrow her brow as she focused on a centimeter square piece of omelet that was sitting on her dinner tray. She reached a chubby arm and closed her dimpled hand over the egg, raking it closer, before clutching it in her tight grip and transferring it to her mouth. It took some effort, but she succeeded, and thoughtfully chewed and swallowed the omelet before looking around for more. I actually blinked back a few tears in awe and pride.
Clara is not quite six months old and is eating on her own like a little champion. She is slow, messy, and doesn't actually ingest all that much, but gracious me, she is not picky! In fact, quite the contrary, she wants to eat everything. In solid form, too.
How did we get here? No drippy rice cereal? Brown-colored puree? Well, while I was still pregnant with Clara, my doula tipped me off to a method for introducing solids called Baby-Led Weaning
, or as I like to call it, Baby Led Feeding. I have no intention of weaning Clara yet, but have been supplementing her diet for a month or so now using BLW.
Baby-led feeding is the common-sense practice of giving your baby soft, palatable whole foods and letting her feed herself her first 'bites', while continuing to breastfeed. The theory is that babies will experiment and discover food at their own pace, as well as develop new abilities including chewing and keen hand-eye coordination.
I've certainly seen firsthand the benefits of skipping purees and moving straight to solids. Not only is it less work in the kitchen, but Clara is continually astounding us with her early ability to chew and participate around the dinner table. And of course I'm hoping in the long run that she'll be open to a much wider range of food than my boys were.
What are the advantages of BLW?
Skipping purees and going straight to solid food sure sounded attractive to me, as I never enjoyed the spoon-feeding days with my boys, but I have to admit, I wondered if it would really be a success. It only took a few days for me to observe that a baby who is ready and eager to eat, as Clara was, is completely capable of handling, chewing, and eating solid foods.
In brief, here are some of the advantages of BLW versus jarred baby food/purees:
Baby eats what you eat. So, no extra meal prep, dishes, etc.
Babies are in control of what they are eating. They stop when they are full, or continue when they are hungry. There's no (less?) power struggles.
Babies are more likely to be better eaters as toddlers and young children because they have been exposed to such variety of taste and texture, and been in control of their eating, from such an early age.
Babies feed themselves, leaving you free to use a knife and fork of your own – while supervising, of course.
Babies learn to chew first, and then swallow, as opposed to just letting the puree slide down, which, in my opinion, makes for a difficult transition to chunkier food and real solids.
Getting Started
Whether Clara is a budding 'foodie' or not, I have to credit BLW for giving me the confidence to set whole foods down in front of my tiny little girl – and allowing her to swipe an occasional slice of tomato off my plate.
We started, unofficially, at 4 months, when she tucked into an ear of corn and proceeded to give it about 20 minutes of her time. From there we moved on to chicken bones, with shreds of meat attached. I had noticed the signs of early teething, so likely the corn and the bone felt good on those sore gums; still, she was obviously interested in food. I just wasn't sure if her tummy was ready.
By 5 months she was holding a peach and sucking the juices from it. We moved on to vegetables, some braised meats, and pancakes and her chewing improved drastically. A favorite food was oven-roasted zucchini sticks.
Hand-eye coordination and dexterity already surprised us at (almost) 6 months. She now eats as if hungry, although food is still like a toy for her and she gets most of her 'food' from breast milk.
Tips for Baby-Led Weaning
Watch for signs that baby is ready.
We eat together as a family every evening as a way of creating a healthy family food culture. While sitting on my lap at the dinner table, Clara would take my hand and gently redirect my fork to her mouth. It doesn't get more obvious than that.
Other signs we noticed were:
intently watching others eat
making little noises and sucking motions with her mouth
drooling
BLW and a Whole Foods Diet
Families that are striving for whole foods diets are already on the right track to Baby-Led Weaning. Most of the foods on your table are suitable for baby, too, meaning they feature organic ingredients, and are for the most part, unprocessed.
What a time-saver when the entire family can sit together and eat the same dinner!
Clara's Diet:
I'm starting slowly with Clara, so although she's been grazing for almost two months, her diet is still limited. I'm holding off on grains (difficult to digest) save for a triangle of French Toast here and there, as well as dairy, although I may try goat yogurt soon.
I'm also waiting on very sweet fruits such as banana, blueberries and pineapple. I'd prefer if she formed an attachment with vegetables and savory flavors before going 'bananas', as it were, on sweeter food.
chicken, usually braised until soft and tender
beef, some steak, some ground beef (easy to pick up and chew)
salmon
peaches, pears, whole or sliced, very ripe, peeled
strawberries
broccoli, whole steamed florets
sweet potato, zucchini 'fries', baked
avocado
corn on the cob
carrots, roasted
scrambled eggs & omelets
French Toast, pancakes
Right now we're waiting for Clara to be a little stronger when sitting up, and then it will be time for a whole new menu! Squash, apples, beets – fall has so many lovely foods that I can't wait for her to try.
Here's what a few 'real food' mothers have to say about Baby-Led Weaning:
Nicole, The Art of Simple.
"BLW has been super fun. I've been amazed at the dexterity Hallee has acquired in less than two months. I like that with BLW I am teaching my baby to put food in her mouth and chew it (or suck/gum it to start), rather than teaching her to swallow first, which is actually a little backwards if you think about it."
Katie, Kitchen Stewardship.
"Baby-led weaning may mean that my 12-month-old eats like a carnivore who loves fruit but I'm okay with that. It feels really good and natural to trust his instincts (except when he throws food overboard onto the floor), and I haven't missed the special cooking and reheating of "baby food cubes." My little guy hardly ate anything until 10 months old and then had 4-5 foods he enjoyed, and I'm so glad I didn't feel like I had to feed him so much food and so many choices. Those power struggles over the highchair tray aren't worth it."
Brittany, A Healthy Slice of Life.
"Hailey eats what we eat! I make sure it's modified to fit her needs (soft, long pieces with no spices), and we can all eat together. And if we're out? She can eat off our plate- no spooning her food! So far, I love baby led solids."
Looking ahead
I've been told to expect a bit of a lull around 7-8 months as babies get over the novelty of handling and eating foods, but pick up with renewed interest around 9 months. We shall see. I think once Clara discovers how her mama can cook she won't want to leave the table! *wink*
For me, there is no haste to make and freeze cubes and bags of frozen puree. Clara will eat what we eat and celebrate the seasons and the variety they bring. I'll definitely be reaching for the The Baby-Led Weaning Cookbook
along the way.
Now, if only we had a dog to take care of the mess under the high chair…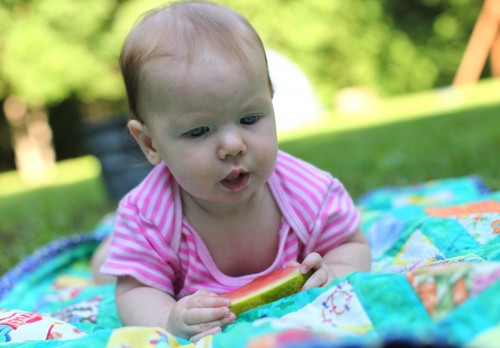 Resources:
Comments? Questions? Experienced BLW parents, I'd LOVE your input!