Beat the heat with our week-long series on simple frozen treats! Written by Elizabeth of Guilty Kitchen.
I've often written in my personal blog and other places around the internet that I have a picky eater. This is not just any picky eater. This is a kid who will eat one thing one day and then flat out refuse to the very next moment. He won't eat chocolate sometimes! For the longest time he refused to even try grilled cheese sandwiches and even now won't so much as look at a ramekin of ketchup, going to the extreme of insisting it be removed from his plate if it makes it to our table alongside his sandwich and fries.
Desserts are not a given, and I'm often left completely boggled as to what to feed my son. I'd almost lost all hope of having a child who would follow in my food loving footsteps and then I had my daughter. At one year old, she'll pretty much eat anything. She'll at least give it a try and most likely swallow the first bite even if she isn't too keen on it. My son? Still refuses to try anything new without coercion.
So when the weather started to heat up a bit, I thought I would try my hand at making popsicles. What better treat to give my kids than a healthy, tasty, homemade popsicle?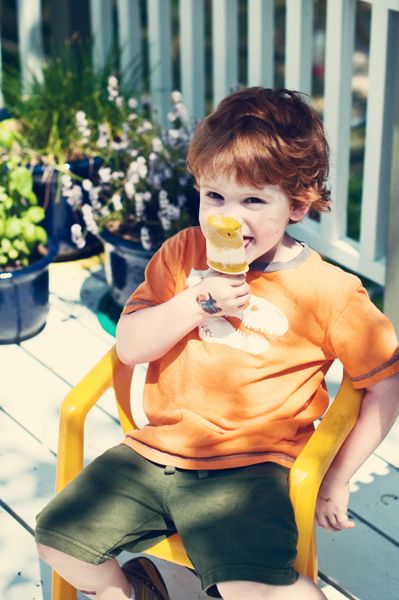 All photos by Guilty Kitchen
My first thought turned to mangoes, as both kids enjoy them and ataulfos (a small yellow Mexican variety) were on sale by the case.
Inspired by the simple flavors of a good mango salsa, I combined the sweet fruits with a hint of cilantro and citrus and layered it with a honey sweetened yogurt for even more health benefits.
Recipe: Mango and Cilantro Popsicles
These popsicles are refreshingly delicious and if you are making them for adults, try adding a splash of your favorite summer tipple. I think these would be fabulous when made with vanilla vodka, lemon rum or even chambord.
For the fruit layer:
1 1/2 Ataulfo or other mangoes, peeled and chopped
1/4 cup loosely packed cilantro
1 tsp vanilla
2 tbsp sugar (optional – if your mangoes are very sweet, skip this ingredient)
juice of 1/2 a lemon
For the yogurt layer:
1/2 cup plain 2% yogurt
juice of 1/2 a lemon
2 tbsp honey
1 tsp vanilla
1. In a blender, place mango, cilantro, vanilla, and lemon. Pulse the ingredients together and then taste them. Add the sugar to taste.
2. When well blended and no lumps remain, pour into a bowl or measuring cup with a spout for pouring. Set aside.
3. In a separate bowl, stir together the second set of ingredients: yogurt, lemon, honey and vanilla.
4. When ready, get out your popsicle molds. Pour the mango mix in first, filling it 1/3 of the way. Spoon the yogurt mix on top, filling it to the 2/3rds full mark and finish it off with a second layer of fruit. Make sure to leave about 1/2-1/3 of an inch at the top for expansion during freezing. Pop in the sticks and freeze for at least four hours before enjoying.
5. To easily remove the popsicles from the mold, run warm water on the outsides of them first which will free them up.
Fresh fruit and herbs make a refreshing summer pair. What is your favorite combination?