There's a good reason why it has taken me over five years to post an ice cream recipe in this space: I don't want to assume that each and every one of you has method for churning ice cream, you know what I mean?
I tend to stick with recipes that can be made with basic kitchen tools and appliances, and an ice cream machine is not a necessity – or is it? Considering we mostly use a second-hand, beat-up churn that I picked up for $5 at a garage sale, I'm gong to take a risk and state that if you want homemade ice cream badly enough, you can probably get your hands on a churn.
Because let's face it, there is nothing better on a sweltering summer day. Sure you can make a no-churn frozen dessert, like this Fresh Strawberry Granita, but when you can also have the option for Salted Cantaloup Honey Sorbet or today's vanilla bean ice cream, let the heat wave come.
So assuming you've acquired an ice cream churn, where do you start? My advice is to begin with a great classic vanilla base that you can doctor up with creative additions. But watch out, that plain vanilla might just taste so fantastic, you find yourself making it for the second time in a week, scooping it into cold coffee,  serving it up alongside pie, and swirled with jam for a cone. Today's recipe is such a classic.
This Simple No-Cook Vanilla Bean Ice Cream unforgettable on its own, thanks to a double dose of vanilla. It has a small splash of bourbon which not only enhances the vanilla flavour, but keeps the ice cream 'scoopable' in the deep freeze. Homemade ice cream tends to turn into a rock once it hits the freezer, but this batch has a lovely texture and remains soft enough to dip a spoon in for a taste any time the mood strikes. Dangerous!
Here's a tip: if you don't want to taste the alcohol, ice cream expert David Lebovitz recommends adding vodka to the base instead.
The mix is easy enough for children to prepare on their own. In fact, this recipe is written out on a note pad in my kitchen and stuck to the refrigerator. Noah mixed up a batch yesterday to go with our slab pie, and he was in and out of the kitchen in 10 minutes.
Because nothing is cooked, this ice cream base is ready to churn immediately, although you certainly can chill the base for several hours if you wish to prepare it in advance. Sometimes its fun to churn ice cream with an audience, if you're entertaining outdoors.
Important: Use farm-fresh organic eggs from free-range chickens
Alright, we should probably talk about the 'raw' part of this ice cream: the egg yolks. We use our own eggs, which are from pastured chickens, who live in a clean environment. These are protein and nutrient-rich eggs that are safe for raw consumption. Now, we don't regularly eat raw egg yolks, as many people do for heath benefits, but we're not afraid of them, either.
Review this post from my archives: The Beauty of Farm-Fresh Eggs and How to Source Them, then see what you can do about finding farm-fresh organic eggs from free-range chickens for this ice cream. It's worth the hunt!
If you only have access to average, grocery store eggs, I recommend that you cook them for an ice cream base. I can suggest my friend Jennifer's Vanilla Bourbon Ice Cream in that case, although you should allow about three extra hours for preparation and chilling time.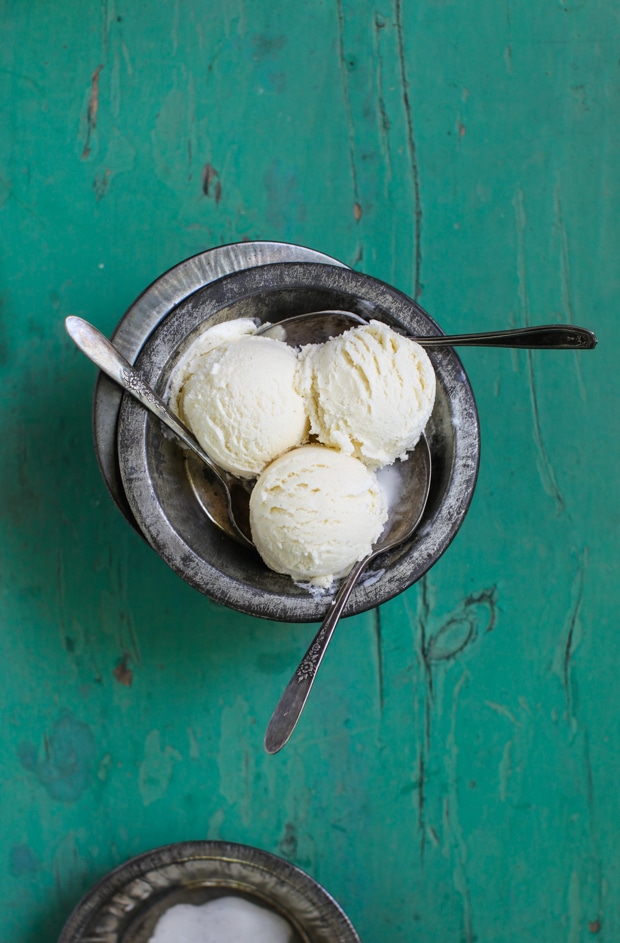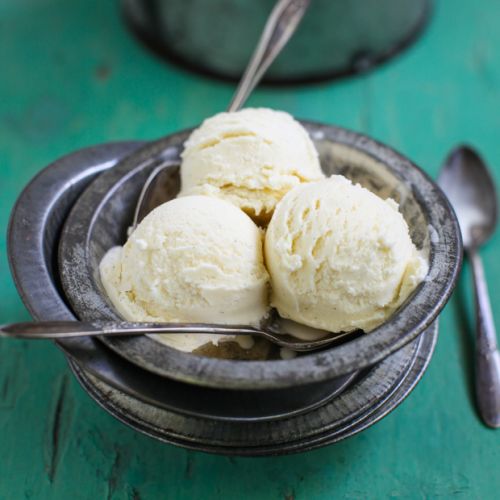 Simple No-Cook Vanilla Bean Ice Cream
A classic ice cream that is easy to make and pairs with every summer dessert. Be sure to use farm-fresh organic eggs from free-range chickens for this no-cook ice cream. Directions are by hand, but you can also use a stand mixer for the recipe.
Print
Pin
Rate
Ingredients
3

egg yolks

preferably organic, from local, pastured chickens

1

vanilla bean pod

3/4

cup

organic raw cane sugar

1

teaspoon

pure vanilla extract

2

teaspoons

bourbon

2

cups

whole cream

1

cup

2% milk
Instructions
Place the yolks in a large bowl. Slice the vanilla bean in half lengthwise and scrape out the seeds with the tip of a knife. Add the paste to the egg yolks.

Whisk yolks and vanilla seeds them until pale and frothy.

Slowly pour in the sugar, a few tablespoons at a time, whisking all the while. Beat well, until the sugar is dissolved and the mixture is light and frothy.

Pour in the vanilla extract and the bourbon. Beat well.

Add the cream and the milk and whisk to combine. Chill for up to 6 hours, or pour into a prepared ice cream churn. Be sure to scrape all the vanilla seeds into the churn.

Churn until stiff, then remove the dasher and scoop. Ice cream will be like soft serve. For hard serve, place the ice cream in a deep freezer for at least 4 hours.
Notes
Be sure to use farm-fresh organic eggs from free-range chickens for this no-cook ice cream. Don't use cracked eggs.
What's you're favourite ice cream flavour? Homemade or not?