In an age of multi-colored and teflon-coated non-stick and stainless-steel cookware, it can be a challenge to remember the tried and true beauty of an old-fashioned cast-iron skillet.  Often a necessity in many a grandmother's kitchen, the cast-iron skillet is a "back-to-basics" item worthy of any family cookery.
Both economical and healthy, these rustic cooking supplies are easily purchased at thrift stores, antique markets and neighborhood garage sales. Also known for releasing small amounts of iron into food, cast-iron skillets provide healthy benefits for those with iron deficiencies. Lasting for years when well cared for, skillet cast-offs or newly purchased pans require nothing more than a little loving care for capable cooking use.
Here's a look at everything you need to know about why to cook with cast-iron, how to season and clean your skillet and simple cast-iron recipes for your family table.
Seasoning Your Cast-Iron
If you purchase your pan at a kitchen-supply store, chances are it will be pre-seasoned. If that's the case, simply follow the manufacturer's directions for use. If you are the lucky recipient of your grandmother's giveaway, you will need to season your skillet. Here's how:
Preheat your oven to 300°F. Wash your pan with hot, soapy water and dry well. Spread a tablespoon of oil (canola or grapeseed) over the surface of the pan with a paper-towel or pastry brush. The pan should be evenly covered, with no excess oil lingering. Place the skillet in the oven to bake for approximately 1 hour. Turn off the heat and allow the cookware to cool in the oven. Your cookware is now ready for use.
Cooking with Cast-Iron
Their ability to withstand high temperatures makes these skillets a multitasking genius for the kitchen. Used for searing, baking, frying, roasting and sautéing, cast-iron can be transferred from stove-top to oven with little difficulty.
An even distributor of heat, these pans are perfect for browning veggies, making English muffins, grilling steak for fajitas and deep-frying homemade French fries. A few drops of oil with each use will eventually create a smooth, non-stick surface on the pan. Proper cleaning and drying will keep the skillet free of rust.
Cleaning Your Cast-Iron
If seasoned properly, your skillet will require nothing more than warm water, a scouring pad (no steel wool) and a little elbow grease for each cleaning. A few droplets of mild soap can be used for particularly encrusted food particles, but a paste made from 3 parts Sea salt to 1 part olive oil works just as well and preserves the seasoning.
Periodically treat your skillet to an oil treatment – warm the skillet over medium heat, wipe with oil and allow to cool. Your skillet, and your food, will thank you.
Simple Skillet Recipes for the Family Table
Cheddar and Tarragon Skillet Cornbread
1 cup medium grain cornmeal
1 cup unbleached all-purpose flour
1 tablespoon baking powder
1 teaspoon salt
2 teaspoons dried tarragon
1 cup aged cheddar cheese, grated
1 cup whole milk
1/2 cup honey
1 large egg
1/3 cup unsalted butter
Preheat oven to 400°F.  Heat a 10″ cast-iron skillet in the oven for 10 minutes.
Whisk the cornmeal, flour, baking powder, salt and tarragon in a large bowl to blend.  In a separate bowl combine the milk, honey and egg.
Remove the skillet from the oven and add the butter.  Swirl around the pan until melted.  Pour all the butter into the egg mixture.  Add the egg mixture to the cornmeal mixture.  Do not over mix; the batter will be wet and runny.
Pour the batter into the skillet.  Bake until the edges are browned and a tester inserted into the center comes out clean, about 20 minutes.  Cool in skillet for 10 minutes.  Serve directly from the pan.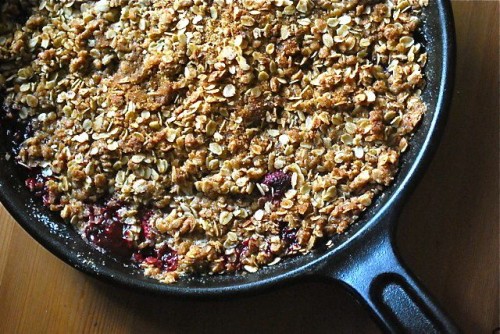 Frozen-Berry Crumble
3 cups oats
1/2 cup + 2 tablespoons whole wheat flour
1 cup chopped pecans
1 cup dark brown sugar
2 teaspoons cinnamon
1 cup butter, cut into 1″cubes
6 cups frozen berries
1/4 cup granulated sugar
Preheat the oven to 400°F.  In a large bowl, combine the oats, 1/2 cup flour, pecans, brown sugar and cinnamon.  Add the butter and gently combine with mixture to create a mealy consistency.
Place the berries in a 12″ skillet.  Sprinkle with granulated sugar, remaining flour and gently toss.  Cover with oat mixture and transfer to oven.
Bake until fruit is bubbly and topping is golden brown, about 30 minutes.  Allow to cool; serve as is or with vanilla ice cream.
Do your cupboards house a cast-iron skillet? Is it an essential kitchen tool for you?