Danny and I inherited an old lidded bean pot from his mother, the likes of which can be found in most any antique shop across Quebec. No doubt this brown stoneware pot has slow-cooked countless batches of baked beans, and delivered them to the table to be served up in rustic style. It is this oven to table method for feeding the family that I embrace wholeheartedly.
Since Sunday dinner is truly more about bringing family and friends together over a meal instead of trying to impress, there's no need to dirty your fancy serving dishes for the occasion, should you have any (I don't!).  I am willing to guess you'd rather go for an afternoon walk in the snow or take a snooze with the cat instead of washing extra dishes.
Oven to table cookware is one practical solution to help save time and effort spent on Sunday dinners. Whether your style is stoneware, enamelware, or vintage Pyrex, there is sure to be a collection of cook- and bake-ware that is pretty enough for the dinner table. Now, you'll still need a salad bowl and a bread basket, but there's no reason why the main and side dishes can't be served up straight from the oven.
Over the years, I've put together a respectable collection of oven to table cook- and bake-ware that serves our family well. It's somewhat of a motley collection, but the pans are very functional, and I can recommend any one them for your kitchen collection.
Eight reliable options for oven to table cookware
Here are eight oven to table cookware options that I frequently use that I have found to be versatile and reliable, and fit in well to my rustic table-set style. They very in price from about $10 – $400.
1. Enamelware Roasting Pan from Crow Canyon
I call this my Jamie O pan, as he's always cooking up something quick, family-style, in a pan like this. This pan is great for outdoor entertaining and has a summery feel to it.
Pros: Shatterproof, vintage style, naturally nonstick, lightweight, dishwasher safe
Cons: no complaints
My uses: Baked Lasagna Casserole, roasted vegetables, baked French toast, and much more.
Available from: Amazon, West Elm Market.
Price range: $15-30
2. Le Creuset French Oven
I've sung my praises of the Le Creuset French Oven many times before, and it's oven to table appeal is just yet another reason to love it. I have two, a wedding present, the Le Creuset Enameled Cast-Iron 5-1/2-Quart French Oven for smaller dishes, and the Le Creuset Enameled Cast-Iron 9-1/2-Quart Oval French Oven
in beautiful Fennel color for big batch cooking.
Pros: Versatile, durable, doesn't hold flavors, acts as a slow-cooker, pasta boiler and much more.
Cons: no complaints
My uses: Baked Brown Rice Pilaf, Apple Cider Braised Brisket, almost everything else.
Available from: Amazon, specialty kitchen stores, major department stores
Price range: $225 – $350
3. Le Creuset Stoneware Casserole Dishes

These shallow baking dishes from Le Creuset come in an array of pretty colors and are as sturdy as they are lovely. I received two as wedding presents over 10 years ago: the 9-Inch Oval Baking Dish
, and the 12-1/2-by-9-1/2-Inch Rectangular Baking Dish
, and they still look as good as when I unwrapped them as a young bride.
Pros: Freezer, broiler, microwave, and oven-safe (to 500 degrees F), easy to clean,
Cons: not as durable as the cast iron
Available from: Amazon, specialty kitchen stores, major department stores
Price range: $30 – $70
Formidable, dependable, and yet still elegant. Further appeal of the enameled cast-iron casserole dishes
is their stove-top to oven to table abilities. For making gravy, there's nothing better: while the roast rests, the pan can go over the flame to loosen all the tasty caramelized bits stuck to the pan.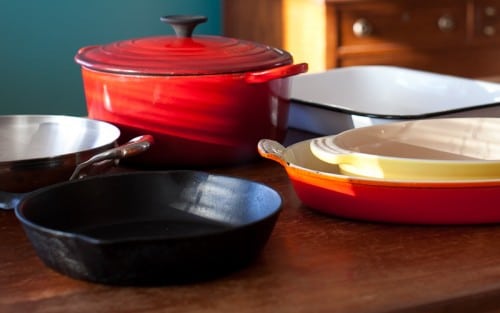 5. Pyrex
There is probably a piece or two of this classic glass bake-ware in every kitchen around North America, and has been for a few generations. Now the antique casseroles with soft colors and pretty patterns are fetching high prices on Ebay by vintage lovers.
I haven't started my vintage Pyrex collection yet (although I'm partial to the Turquoise Snowflake set) but I do own one piece of glass Pyrex that takes on all sorts of duties in the kitchen. For a perfectly browned-bottomed pie crust, there's nothing better than a Pyrex Pie Plate
.
Pros: classic, durable, neutral,

Cons: Pyrex is not broil-safe, so if you're trying to brown a gratin, you're out of luck.
Available from: Amazon, specialty kitchen stores, major department stores, Pyrex.com
Price: $10 and up

I use this little covered pan frequently, as food can be started on the stove top, transferred to the oven, and then brought straight to the table. Over the holidays I must have made Deb's garlic butter roast mushrooms with parsley and capers four times, serving them alongside Boeuf Bourgignon, piling them on top of crusty baguettes for a hot lunch, and pairing the mushrooms with my Christmas salad and tourtiere. This Anolon Nouvelle Copper Covered Skillet
was perfect for the job.
Pros: copper-core base, stainless, affordable, excellent heat distribution
Cons: too small for most mains
My uses: most side dishes, sausages, crisps & cobblers, and much more.
Available from: Amazon, (I couldn't find this pan on the Anolon website, but here is more info on Nouvelle Copper)
Price: $70
7. Cast-Iron Skillet
It's the old-fashioned back-to-basic staple of the kitchen. Not everyone would consider the cast-iron skillet to be worthy of the oven-to-table label, but thanks to a renewed trend of modern bistro cooking, you can serve up your cornbread, crab cakes or peach cobbler at dinner straight from the skillet.
Pros: made for superior heat retention and even heating of foods, afforable
Cons: heavy, requires upkeep,
Price range: A new large skillet will cost about $30 to $100, but used pieces are easy to find in secondhand shops and can be brought up to snuff with a little elbow grease.
8. Le Creuset Round Braiser
Only on my wishlist, but the Le Creuset Enameled Cast-Iron Round Braiser
is recommended by Simple Bites contributor, Katie, and pretty much every food blogger I know who has one. I love that it is more shallow than a French Oven and would make a nicer table presentation.
There are a lot of other options out there such as CorningWare or Pampered Chef, but they are not my style and I can't dish advice on how well they stand up to use. Then there are options that I can only dream about, like the stunning Falk Culinair line from Belgium, gleaming Mauviel Cookware: M'Heritage 150B Copper-Stainless Oval Pan
. Oh my word.
Please share your favorite oven to table cookware, if you have any, and what you like to cook in the dish.