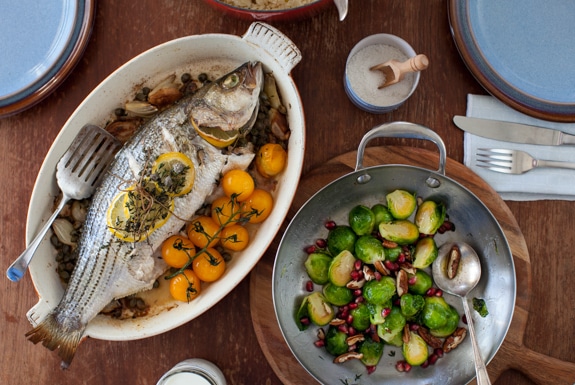 It may have been the children's book, Farmer Boy, that made me fall in love with the concept of Sunday Dinner at an early age: that main meal at midday, enjoyed after church, with the whole family gathered together. A spread.
Around Almonzo's table there was Mother's glazed ham, mounds of mashed potatoes and a sideboard displaying crimped dried apple and raisin pies, but what stuck with me the most was how they honored this leisurely family time every week.
Now, in our home we eat dinner together almost every night of the week, but admittedly it is rushed – hurriedly prepared and eaten in haste, as there is homework to do, stories to read, and boys that must be tucked into bed early or else we risk a follow-up day of The Cranks. Saturdays are often a blur of activities and errands in the morning, followed by a social-something in the afternoon and evening. Not, as this stage of life would have it, the day for a slow dinner where gravy is poured, wine swirled, and custard spooned over preserved fruit.
We need to bring back Sunday dinner.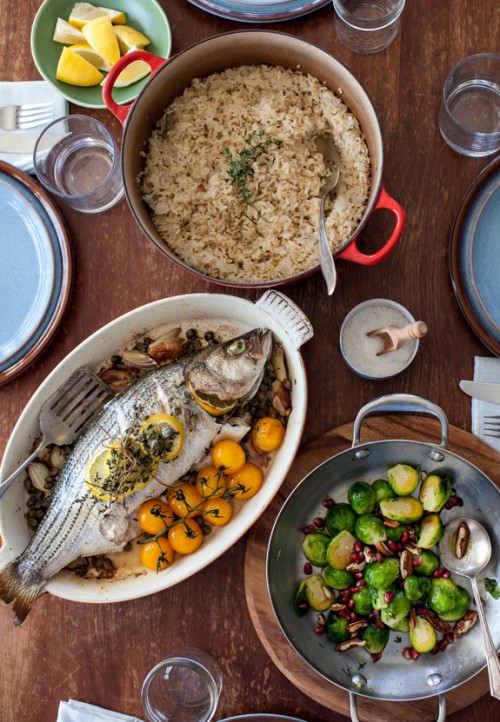 For a while now I've wanted to begin a tradition of Sunday dinner, something slightly more special than our usual weeknight meals, enjoyed slowly, and prepared together. It's about so much more than an opportunity to prepare a roast, whisk gravy and frost a cake (although…FUN!) I feel like this is an important step in developing our healthy family food culture, even though my children are young.
It's also an opportunity to entertain. Sundays have a the slowest pace of the week and this meal makes for the perfect opportunity for catching up with family and friends in our home.
And so, I'm beginning a new monthly series here on Simple Bites called 'Bringing back Sunday dinners' – although, to be honest, I'm not entirely sure what it will look like yet. I'll chronicle some of our meals, that is a given, provide menu suggestions and entertaining tips, but mostly I want to inspire you to plan a slow feast of your own on the weekend – just for your own family or for additional guests.
Sunday dinner must be enjoyed at midday, mainly, I think, because we have small children and they droop as the day wears on. At lunchtime there is laughter and discourse around the table; in the evening, when they are tired, it's mostly just refereeing (us) and monkey business (them). There's also something elegant about a multi-course, well-rounded meal in the middle of the day. And do you know what? It's healthier, too. On Sunday nights we'll fix a small snack for supper (or make pancakes) and go to bed feeling lighter.
Also, there must be dessert, and a delicious, but not overly fussy main dish. I'll consider it my personal challenge to put a beautiful meal on the table without spending hours in the kitchen. I'll also work on do-ahead suggestions, cooking for leftovers, and honoring traditions. Can you tell I'm excited?
Here's the first menu (pictured above) with links to the side dishes.
Sunday Dinner Menu #1
Herb-Roasted Striped Bass with Lemon, Capers and Shallots (recipe below)
Honey Pomegranate Glazed Brussels Sprouts with Pecans
Baked Brown Rice Pilaf with Thyme
Double Chocolate Coconut Cookies

The meal came together in an hour (minus the dessert). I prepped the pilaf, set the timer for 40 minutes, and went to work on the fish. It's not a fussy preparation, and soon the fish was roasting in the oven alongside the pilaf. While they cooked, I set the table and cooked off the brussels sprouts. The pilaf rested for 10 minutes, while I snapped the photos, and then we sat down to eat together.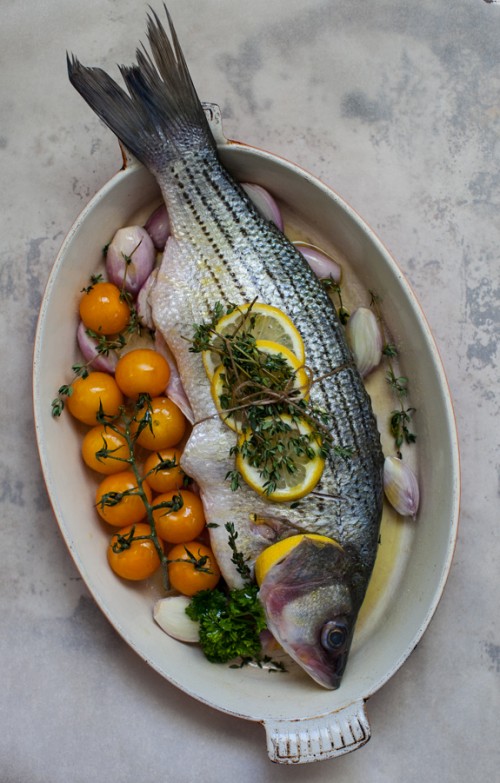 Tips on roasting fish
Roasting a whole fish is easier than you probably think. If you've yet to pop a dish like the one above into your oven, head and all, let 2013 be the year you branch out! Fish is so good for you, and this beautiful striped bass cost me less than an organic chicken or roast beef. You can get the recipe below, but first, here are a few tips:
Start with a fresh fish. Ask your fishmonger to clean the fish for you (it should be included in the price). I like to leave the head and tail on for presentation (and great conversation starters with the kids) but you can ask to have them chopped off. You can proceed with the recipe all the same.
I picked up a Striped Bass, which I know nicely serves four (my boys consume a man's portion of fish, and Clara does her fair share), but you can prepare this recipe with most any variety of round fish such as trout, Arctic char, small salmon, grouper, tilapia or snapper.
To determine if a whole fish is properly cooked you can look for the following signs:
The flesh becomes firm (but will still spring back when touched lightly)
Flesh separates from the skin and bone easily.
Translucent flesh becomes opaque.
The meat begins to flake (just test it with a fork)
Happy Cooking!
Herb-Roasted Striped Bass with Lemon, Capers & Shallots
Simple to dress and quick to roast, this tender fish dish will win your family and guests over with its pairing of caramelized shallots and pungent capers.
Print
Pin
Rate
Ingredients
1

Striped Bass

dressed (meaning viscera, gills, fins & scales are removed)

1/4

cup

extra virgin olive oil

1/2

teaspoon

salt

4

sprigs

fresh thyme

1

lemon

sliced

6

shallots

peeled and halved

3

Tablespoons

capers

1

branch

cherry tomatoes

optional
Instructions
Preheat oven to 375F.

Pat bass dry with paper towels and rub inside and out with 2 Tablespoons olive oil. Sprinkle with salt inside and out and tuck into the body cavity 2 sprigs of thyme and 2 lemon slices.

Place bass in an oiled oven-to-table dish and top with a few more slices of lemon and 2 sprigs of thyme. Wrap about 8-inches kitchen twine around the belly of the fish and tie loosely, securing the lemon and herbs.

Sprinkle the shallots around the fish and place in the preheated oven. Roast for 15 minutes.

Add cherry tomatoes to the baking pan, and sprinkle capers all over and around the roasting bass. Drizzle with a little more olive oil. Bake for another 10 minutes.

Remove from oven, drizzled with a little more olive oil and a serve with a few wedges of lemon.

To serve: remove twine and peel back top layer of skin. With a fork or flexible spatula, lift of the flesh from the bones along the entire length of the fish. Then, lift the tail and the backbone will come right out of the pan. Set it aside and serve the second side of flesh below it. Always check children's food carefully for bones.
Nutrition
Calories:
374
kcal
|
Carbohydrates:
9
g
|
Protein:
41
g
|
Fat:
18
g
|
Saturated Fat:
3
g
|
Cholesterol:
180
mg
|
Sodium:
617
mg
|
Potassium:
738
mg
|
Fiber:
2
g
|
Sugar:
3
g
|
Vitamin A:
250
IU
|
Vitamin C:
19.1
mg
|
Calcium:
59
mg
|
Iron:
2.8
mg
Does the idea of a Sunday dinner sound good to you? What sort of information would be helpful for you to get started?