Written by Shaina of Food for My Family.
Leaves change color and fall to the ground as the market fills with the bounty of summer. These weeks are my favorite at the market, where a sweater alone keeps you plenty warm and there's a certain nip in the air that invites hot apple cider as vendors rearrange their goods and offer up the season's best.
While seasonal shifts in this direction always have me feeling a bit melancholy with the thought of winter to come, pausing time right here in this moment is a thought I've welcomed often and freely. The mix of warm and cold, summer and autumn and the slow shift from salad to soup on the dinner table causes me to breathe deeply and enjoy.
Along with soup will come an increase in baking, a return to warm breakfasts and a desire to hole up in the kitchen creating. Let's not forget, however, roasted meats.
Where summer had me turning off my oven and looking towards the grill and the smoker to provide the heat for the family's meals, the fall will bring the meat back inside simmering away, especially if you, say, purchased a good portion of a whole cow that is coming to a freezer near you.
Braising Basics
Braising generally uses tough pieces of meat and makes them stretch a bit farther than they otherwise might be able to, creating a tender dish that makes you think of home. It starts with a good searing of the meat about to be braised. Liquid is added, and the meat is then roasted and simmered in the oven along with a few vegetables until tender and perfect.
Season your meat.
Heat oil, butter or other fat in a Dutch oven. Add in the meat and sear on all sides. Remove to plate.
Add in vegetables and sauté slightly before deglazing the pan with a bit of liquid.
Choose a liquid to work with, be it wine, beer, tomato sauce or, in our case, apple cider. Add meat and vegetables and pour in the liquid.
Cover and place in a hot oven for a few hours until the meat is tender.
Drain the liquid and separate the fat before boiling down the sauce into a gravy to be served over the now-braised meat.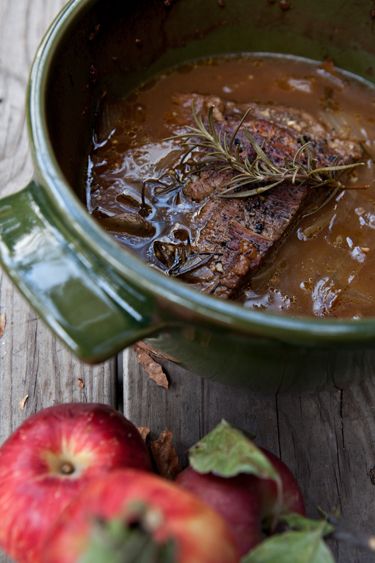 Photos by Shaina
Ingredients
2

Tablespoons

butter

4-5

lbs

beef brisket

outer fat trimmed

1

teaspoon

salt

1/2

teaspoon

pepper

2

yellow onions

cut into wedges

5

cloves

garlic

3

sprigs

rosemary

3

cups

unfiltered apple cider

3

apples

cored and sliced
Instructions
Preheat oven to 325ºF. On the stovetop over a medium-high heat melt butter in a Dutch oven. Season brisket on both sides with salt and pepper, and then add to Dutch oven and sear on all sides until golden brown. Remove to a plate.

Add in the onions and garlic and sauté until softened. Pour a few tablespoons of the apple cider into the pan to deglaze. Stir until all caramelized bits are lifted from the pan. Add in brisket and herbs and pour remaining apple cider over the top.

Bring to a simmer, cover and move to the oven. Roast the brisket at 325ºF for 2 1/2 to 3 hours or until tender, adding in apples 30 minutes prior to the end of cooking.

Remove Dutch oven and allow to cool. Drain fat from the top of the pot and discard. Remove meat, apples and onions and heat the remaining sauce over medium heat, stirring occasionally, until the mixture reduces and becomes a gravy. Add in brisket, apples and onions and cook until warm. Serve immediately.
Nutrition
Calories:
467
kcal
|
Carbohydrates:
23
g
|
Protein:
48
g
|
Fat:
20
g
|
Saturated Fat:
8
g
|
Cholesterol:
148
mg
|
Sodium:
501
mg
|
Potassium:
959
mg
|
Fiber:
2
g
|
Sugar:
17
g
|
Vitamin A:
125
IU
|
Vitamin C:
6.5
mg
|
Calcium:
32
mg
|
Iron:
4.6
mg
 What fall and winter meals have you been looking forward to?