It's time for a peak-summer recipe round-up featuring all that is ripe and beautiful at the market and in our backyard gardens.
End-of-August produce can be almost overwhelming with its array of seasonal fruits and vegetables. From sweet corn to juicy tomatoes and bundles of herbs to luscious peaches, we certainly are spoiled for choice.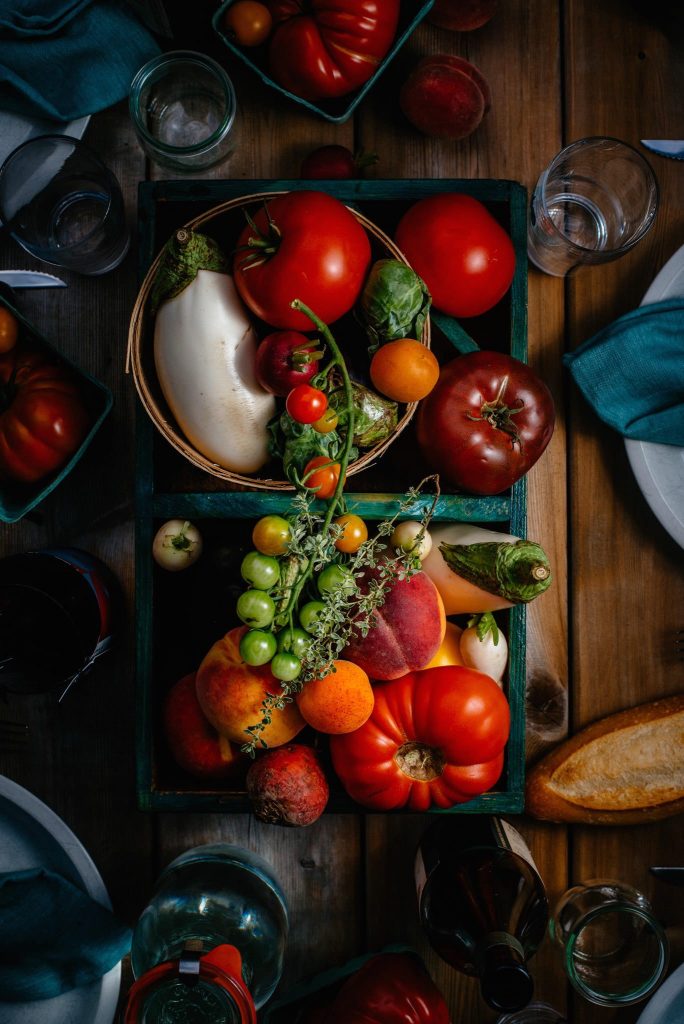 Here are 11 August recipes to make right now in your kitchens from soup to dessert, with plenty of salads and grillables, too. Get ready to fire up the barbecue and break out the ice cream machine!
Whether you invite some friends over and host a harvest dinner or just grill up a feast for the family – these recipes celebrate the gorgeous fruits and vegetables in their prime.
My ideal peak summer breakfast includes a load of vegetables and a few eggs, like these 5-Ingredient Baked Eggs in Tomatoes on Roasted Corn and Lentils.
They are a perfect way to use up blemished tomatoes and leftover herbs. I serve my baked eggs with a stack of thick toast wedges and a pot of black coffee.
I let the kids help with this Watermelon Greek Salad; it's so full of colourful August fruits and vegetables, we call it our rainbow salad.
They slice peaches, cube watermelon, halve cherry tomatoes and cut up cucumbers. Just before serving, everything gets tossed with a very herby vinaigrette and finished with creamy feta. Delicious!
Grilled Zucchini Salad with Hazelnuts, Feta and Yogurt Mint Dressing is one of those side dishes that steals the show every time. Serve it warm or cold, just don't forget that delicious tangy dressing.
I love pairing peaches and tomatoes together, as is evident in yet another salad: Tomato Peach Caprese with Wild Blueberries.
This dish is peak August – bonus points if you pick your own wild blueberries. They are everywhere in Nova Scotia right now.
Harvest Tortilla Soup features the best of August ingredients such as corn, tomatoes and zucchini. My kids love heaping on their own toppings such as fresh lime juice, crispy tortillas and diced avocado. I add a dash of hot sauce and a dollop of sour cream – the best!
Easy Roasted Vegetable Spaghetti is your ideal Meatless Monday option. Not only can you clean out your vegetable drawer, but it comes together so easily and is loved by the whole family. A great weeknight (or school lunchbox) option!
Put that abundance of summer herbs to good use with this Sage-Scented Barbecued Chicken with Grilled Lemon. It only takes a few minutes to prep and then you can hand it over the the grill master of the house.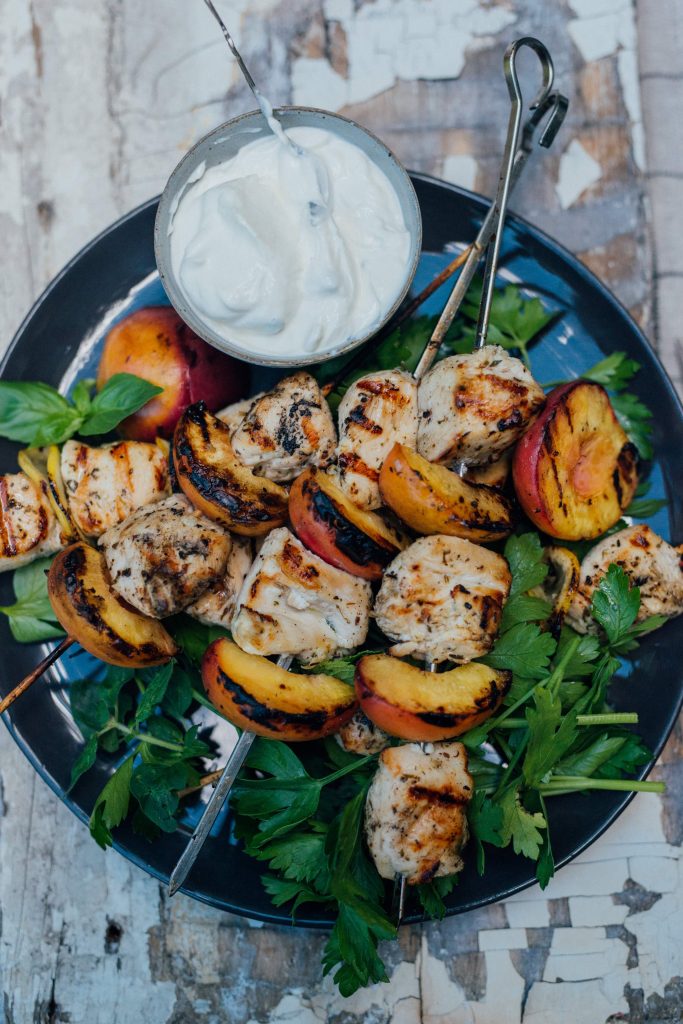 Here is another fantastic recipe for the coals: my Grilled Peach and Chicken Kebabs. They require a bit more prep work than the recipe above, but they are a great recipe to serve up to friends on a warm summer's eve.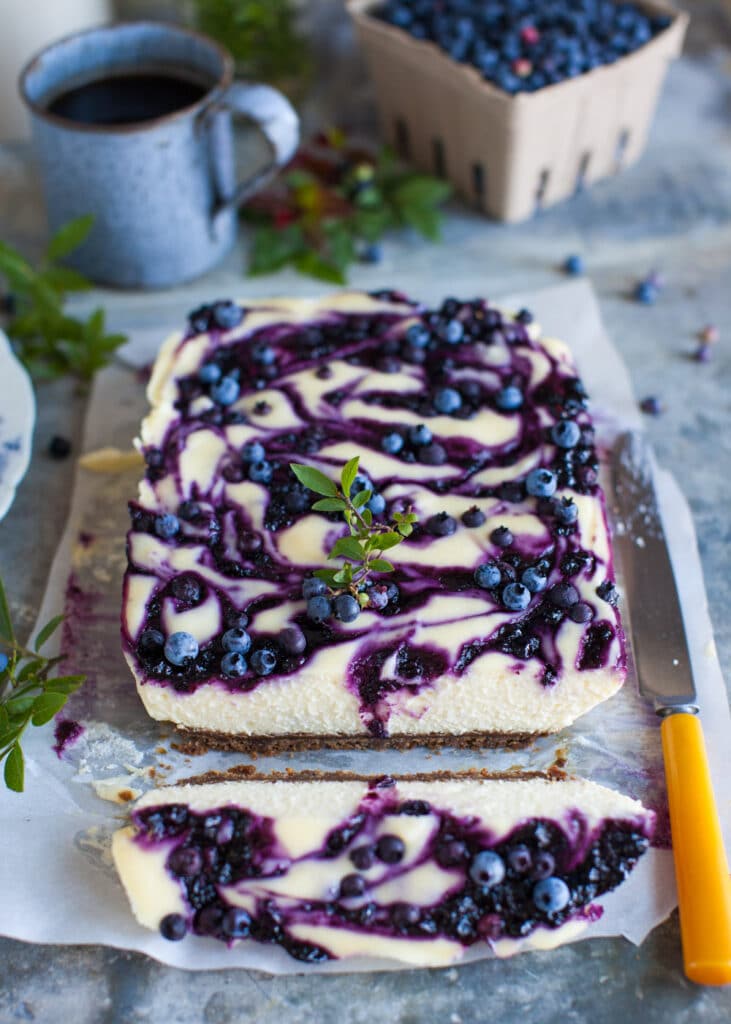 Wild Blueberry Slab Cheesecake is an all-new recipe here on Simple Bites. Do not miss out on your chance to make it before the berries are gone!
This cheesecake also freezes well, so you can make it in advance of serving. Remember that it needs an overnight chill, so factor that in when making a dessert plan.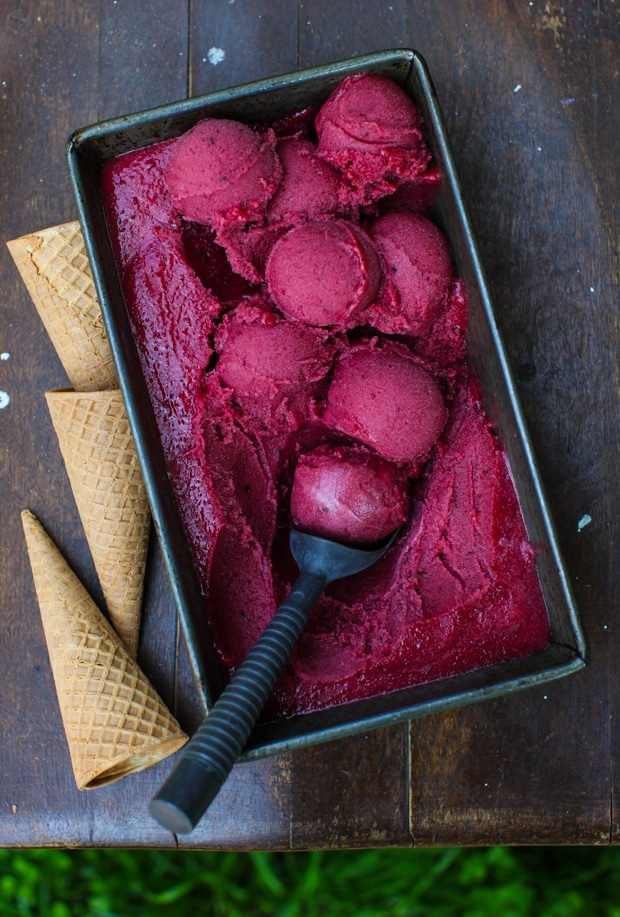 In this Muscavado Blueberry Plum Sorbet, local berries and stone fruit are married in a seasonal summertime dessert. This vibrant sorbet is simple to make and showcases the best of August fruits.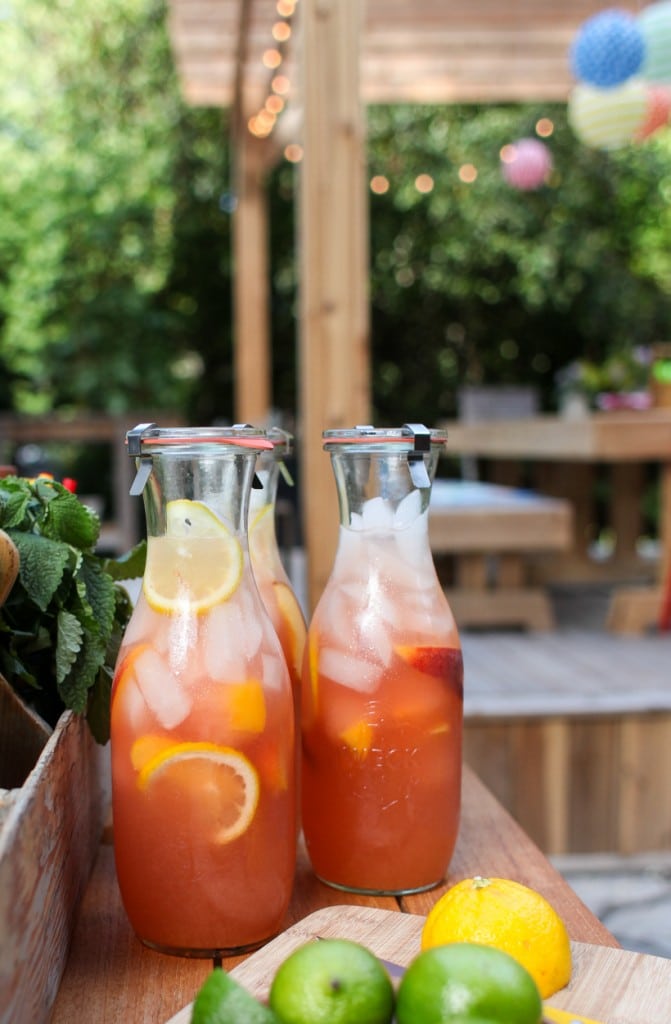 Honey-Sweetened Peach Lemonade – invented by my eldest and forever a summertime favourite. I love mine with a splash of bourbon and extra ice.
What will you make first? What's currently inspiring you at the August markets?