Today my children go back to school, and I return to my desk as well to assume responsibility of my work life, both online and off.
As a closing note to the end of our carefree summer days – which were really and truly relaxing – I threw together a laid-back dinner on the weekend. My sister and brother-in-law had stopped by for a visit, so we put the baby to bed early, lit the coals on the kettle grill and opened a bottle of my favourite late-summer wine.
In a way, it was an intimate version of our harvest dinner which I host every August. My cookbook has more details and all the recipes from this annual backyard event, but essentially it is a slow dinner in the garden to celebrate the bounty of summer. It's the one time of the year when I bring the white tablecloth and stemware outdoors –  a simple way to add elegance to a table with little effort.
This being a harvest dinner and all, I highlighted some our own homegrown produce in the menu: yellow zucchini, fresh mint, assorted fresh tomatoes, basil, baby carrots, purple and green sage and lemon balm.
It's been a splendid year for fresh herbs and I'm adding them into everything from cocktails to dessert. For this menu, I snipped everything table-side and sprinkled it liberally over the dishes.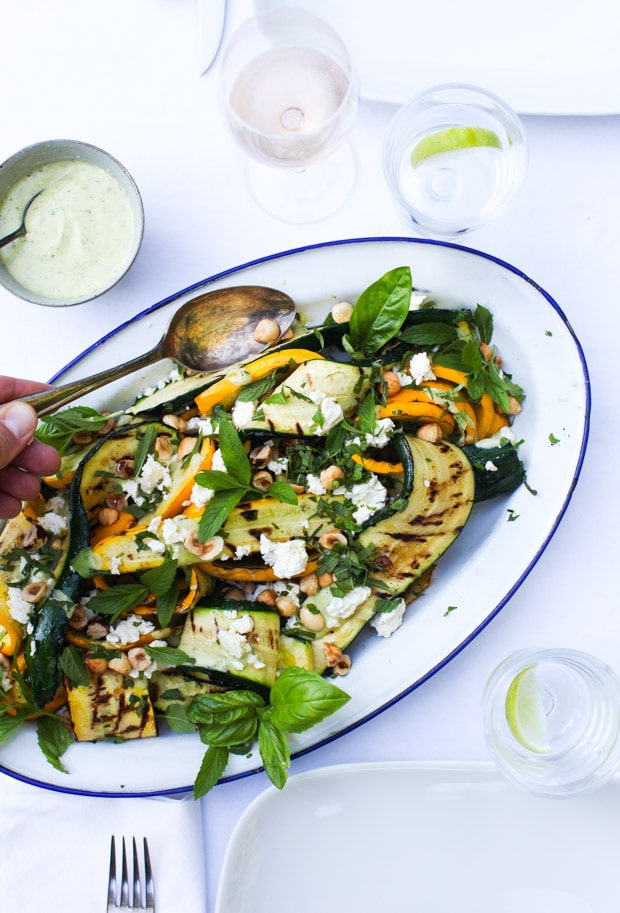 I've been working on developing a grilled zucchini salad ever since I enjoyed zucchini, chilies and almonds together in a salad at The Merchant Tavern in St. John's. Zucchini is rampant right now and grilling is my absolute favourite way to serve it up for dinner.
My version combines slightly charred zucchini with toasted hazelnuts, crumbled feta cheese and plenty of torn mint and basil. It is topped off with a creamy yogurt mint dressing, which I like to drizzle on everything from grilled meats to salads of all kinds. The result is a late-summer salad that you can't stop eating.
The secret to this salad is to grill the zucchini over very hot coals and try to char them quickly without cooking them too much. You want them to have the smoky flavour of the charcoal, while still retaining some crunch to them. I also don't oil or salt the slices of zucchini before grilling, which also helps them to char nicely without wilting them too much.
Toasting the hazelnuts is an absolute must; it transforms the nuts and adds an additional smokiness to the salad. As for the cheese, I had feta on hand, but you could use chevre or even a few spoonfuls of a soft labné in its place.
The real star of the salad is the fresh-picked mint and basil, however. You can't have too much of either!
Dinner in the garden: it's as simple as throwing a tablecloth over a picnic table and setting it like you would for Sunday dinner. Out here, it's easy to let go of the little cares and frustrations of the day. They just don't seem as worrisome amid the fragrant scents from the herb garden and the warm touch of the slanting sun.
Call me a romantic, but I think coming together for a meal al fresco, whether you are four or forty-four gathered at a table on the grass, is one of life's simple pleasures.
In addition to the zucchini salad, we feasted on a simple sage-rubbed barbecued chicken with grilled lemon and a few grilled carrots. Look for that chicken recipe coming soon.
Our cherry tomatoes needed nothing save for a little bowl of flaky salt. They are perfect in their own way.
For dessert, I halved peaches and left them over the dying embers in the Weber. An hour or so later, we enjoyed them warm, drizzled with honey and crème fraîche. Gosh, I love August eating.
Summer vacation may technically be over, but I'm going to be making this grilled zucchini salad with hazelnuts and feta well into the fall. Similar to my grilled sweet potato salad, it works as both a vegetable side dish or a salad. I've also been known to make a meal out of it, topped with grilled chicken breast and more of that creamy yogurt mint dressing. Delicious!
Grilled Zucchini Salad with Hazelnuts and Feta, Yogurt Mint Dressing
Zucchini can be a little bland, but not in this salad. It features slightly charred zucchini with toasted hazelnuts, crumbled feta cheese and plenty of torn herbs.
Print
Pin
Rate
Ingredients
1

cup

hazelnuts

4

Tablespoons

plain yogurt

1

small clove

garlic

minced

2

Tablespoons

fresh lemon juice

1

small bunch

fresh mint

4-5

sprigs

fresh basil

1

teaspoon

chopped preserved lemon

optional

1/2

cup

olive oil

1/2

teaspoon

salt

1/2

teaspoon

pepper

4

medium yellow and green zucchini

3/4

cup

crumbled feta
Instructions
Preheat a grill to 400F. I prefer a charcoal kettle barbecue, with the coals swept to one side for both direct and indirect heat.

Preheat an oven to 350F and toast hazelnuts for 6-7 minutes or until light golden. Watch them closely so that they do not burn. Cool, and rub lightly with your fingertips to remove the skins. Reserve.

Make the dressing by combining the plan yogurt, minced garlic and lemon juice together in a blender. Add about a tablespoon each of chopped mint and basil, along with half (1/4 cup) of the olive oil and preserved lemon, if using. Blend until smooth, then stop and scrape down the sides. Add the salt and pepper to the dressing. Drizzle in the remaining 1/4 cup of olive oil with the blender running. Transfer to a small bowl or jar for holding.

Slice the zucchini into 1/4-inch lengths. Grill on the hottest part of the coals, using a long-handled pair of tongs to turn the slices. Grills and temperatures will vary, but about a minute per side. Remove from heat before the zucchini gets too soft.

Arrange charred zucchini on a serving platter and top generously with yogurt dressing. Sprinkle the hazelnuts and feta cheese on top. Tear a few generous handfuls of both mint and feta apart and sprinkle onto the salad just before serving.

Serve warm, with additional dressing as a side condiment.
Notes
The dressing can be made up to two days in advance, but the flavours do intensify somewhat. I like it best made on the same day, while the herbs are fresh and green.
Nutrition
Calories:
368
kcal
|
Carbohydrates:
10
g
|
Protein:
8
g
|
Fat:
35
g
|
Saturated Fat:
7
g
|
Cholesterol:
18
mg
|
Sodium:
420
mg
|
Potassium:
509
mg
|
Fiber:
3
g
|
Sugar:
6
g
|
Vitamin A:
452
IU
|
Vitamin C:
27
mg
|
Calcium:
155
mg
|
Iron:
2
mg