My home is bustling with excitement today because my parents just flew in from British Columbia for a two week stay.
Our morning table was a babble of voices as we got caught up over a breakfast of baked pears with granola and multiple cups of coffee. It's wonderful to have the original homesteaders here on my little piece of land. We're extending summer vacation a bit to visit with them and I won't be online very much, but I had to tell you about a fun feature we did with popular website Kitchn.
Last month, our photographer friend Tim cam over and photographed one of our full canning days. As usual we were set up on our back patio and the whole family was involved. We put up peaches in honey syrup, blueberry butter, sandwich pickles, sweet corn and more.
Then Kitchn shared the full story along with a handful of Tim's beautiful photos:  Canning with Kids: What a Day of Summer Preserving Looks Like for My Family.
From the post…
"It's all hands on deck, literally, as I get us set up in the backyard with a canning station on the stone patio and picnic table. Here in the shade, we escape the heat of the kitchen and benefit from a summer's breeze – and as a bonus, I avoid sticky floors and a sticky stove.
Taking the work outdoors also seems to feel more relaxed for some reason. Perhaps because the kids take turns skipping off to the swing or to dunk their bare feet in the plastic wading pool. I never want our summer canning efforts to feel like a chore, even if we do have a fairly ambitious task list…"
Read the rest over on Kitchn: What a Day of Summer Preserving Looks Like for My Family.
Here are a few outtakes from that fun day of canning al fresco…
Mateo adds mixed spiced to jars of cucumbers while I ladle in the hot pickle brine. This sandwich pickle recipe is coming in my next cookbook.
Noah cuts the corn off the cob into a bundt bowl, one of my favourite kitchen hacks. Later I will blanch it and pack in bags for our freezer stash. I'll also make a simple corn stock for our favourite harvest corn chowder.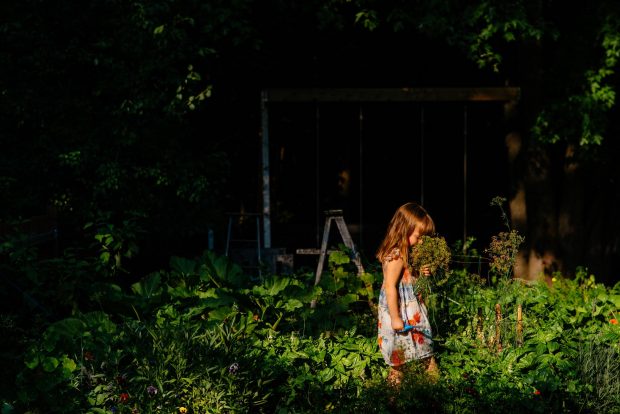 Clara picks a handful of fresh dill in the garden to pack into the jars with the pickles.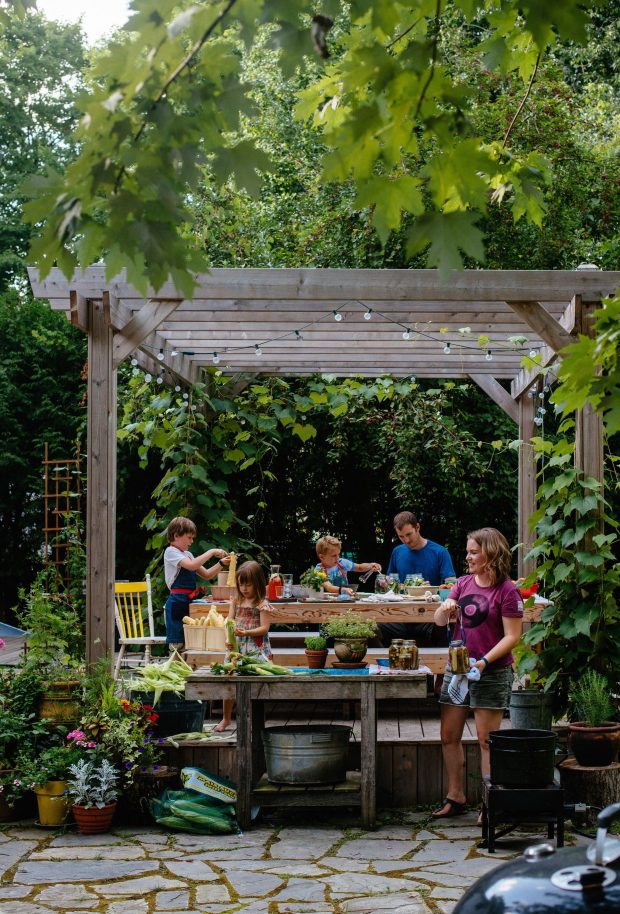 The canning mess sprawls across our entire patio table; drips of fruit butter, wadded up sticky tea towels, half-eaten peaches and corn kernels galore. Thank goodness we're working outdoors; it makes for an easy clean-up.
To read more about our fall canning endeavours, be sure bookmark my post over on Kitchn.
Have a wonderful long weekend, friends!