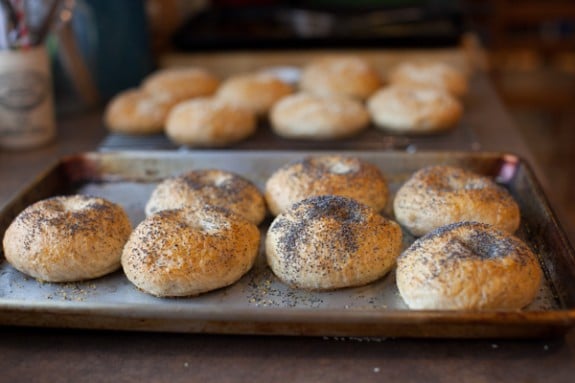 The summers of my pre-teen years were spent a little differently than those of my friends. Well, weekends, anyway. There were no long gossipy phone calls, girly pyjama nights, or mall crawls.
Instead, my sister, Haidi and I spent many a Friday night dusted in flour, hair tied back, baking for the Saturday morning farmer's market in town. We stayed up working until one or two in the morning, crossing off one item after another from our ambitious list of baked goods, and as the Yukon's midnight sun was streaking golden colors across Lake Laberge, we would collapse into our bunk beds.
By then the counters would be lined with loaves of honey-wheat sandwich bread and glistening egg-glazed Challah. Our family's famous Butter Tarts would be carefully packed between tea towels, and trays of sticky cinnamon buns awaited transportation.
Our pride and joy were the golden sesame-toasted bagels, with their crusty bottoms, chewey interiors, and distinctive, slightly misshapen forms. They were boiled, then baked, and a staple in our home – not just on market day.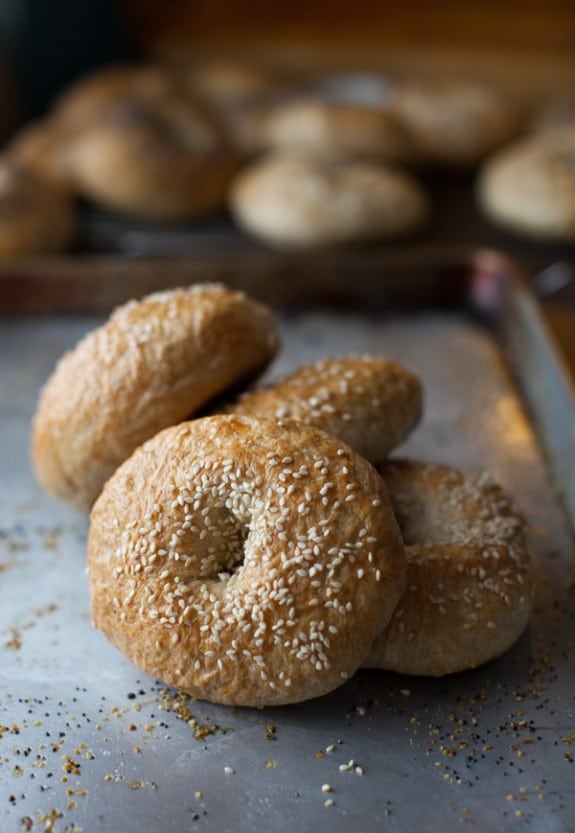 In the early hours of Saturday morning, our bleary-eyed family would quickly go about our chores before leaving for the farmer's market. My brother would milk the goats and kick apart a bale of hay for their breakfast, and my father would load our bright green Ford crew-cab with bedding plants that were to be sold. My mother would feed and dress the baby, while Haidi and I packed up our now-cooled baking, scrunched our permed hair, and rounded up a cash float in a cookie tin.
We only fully woke up on the long drive into town. Haidi and I would pass any 'rejects'  – misshapen bagels or broken butter tarts – around the truck to eager hands, and we would chat excitedly about the upcoming day during the drive into Whitehorse, the territory's capital city.
Rain or shine, our stall opened up shop at 8 am sharp with the presentation of our hand painted sign boasting 'The Daisy Bakery'. Immediately we began doing brisk business, as the market keeners, dressed in lumberjack shirts and sporting the local Northern 'sourdough' beard, showed up early, coffee in hand, ready for a fresh bagel and a stack of gingersnaps to go.
Often we would sell out by early afternoon, and with my pocket money from the baking, I would take in a matinee with my siblings or indulge in my favorite treat, an ice cream float at the No Pop Sandwich Shop.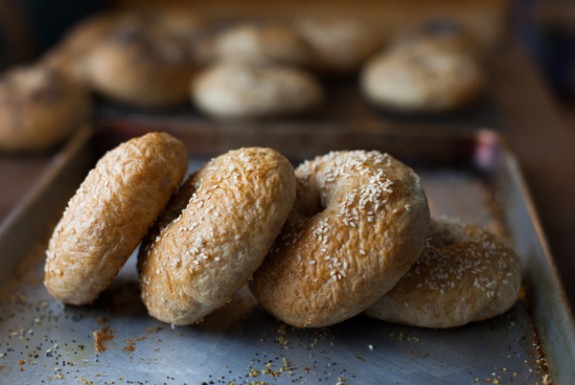 Many of the recipes that painted my childhood landscape now continue to splash color throughout my everyday baking repertoire, like these honey whole-wheat bagels.
Of course, now, over twenty years later, I no longer bake to make a quick buck at a local market, instead I channel my passion for yeast and butter into sweet and savory treats for my family and friends, as well as you, my readers. My children scrub their hands, don little aprons and join me in the kitchen, where I am passing onto them a similar love of dough.
I can only hope this space occasionally inspires you to tie back your hair, wrap on an apron and get baking. Shall we?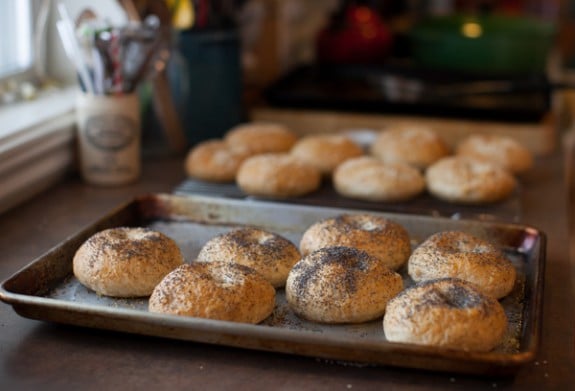 Honey Whole-Wheat Bagels
I've adapted our bagel recipe since those early baking days. Gone is the white sugar in the dough, and they are made with half whole wheat flour. While they don't puff as prettily as they did with all-white flour, they now offer more flavor, and provide a substantial bite that I far prefer.
These beloved bagels are so much fun to make with children, from shaping the dough to slathering with butter and eating warm from the oven. They also freeze extremely well, and taste fresh-baked when reheated in the oven.
Top your bagels with sesame seeds, poppy seeds, or minced raw onion before baking, or leave plain to be toasted and enjoyed with jam.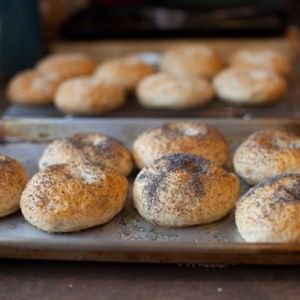 Honey Whole-Wheat Bagels
Chewy and robust, yet tender and full of flavour, these bagels are sure to become a family favourite, as they are in our home.
Print
Pin
Rate
Ingredients
2 1/4

cups

warm water

110F

2

Tablespoons

yeast

2

teaspoons

salt

3

Tablespoons

honey

3

cups

whole wheat flour

3 1/2

cups

bread flour

1

Tablespoon

organic cane sugar

or maple syrup (for the boiling water)

1

beaten egg white

for the glaze

2

Tablespoons

cornmeal

for the pans
Toppings
sea salt

sesame seeds

poppy seeds
Instructions
In the bowl of a stand mixer, combine warm water and yeast. Stir with a fork and leave to sit for about 10 minutes until the yeast begins to blossom.

Add salt, honey and whole wheat flour, Using the dough hook attachment, beat mixture for one minute on low to combine flour, then 3 minutes on high.

Turn off mixer and allow batter to rest for 5 minutes for the whole wheat flour to absorb the water.

Add the bread flour, one cup at a time, mixing dough on low. The dough will be quite soft. Knead on low for 8 minutes, stopping the mixer and scraping down the sides of the bowl or the dough hook as needed.

Cover the mixer bowl with plastic wrap and allow the dough to rise for 1 hour.

During the rising period, prepare water in a large 4-1/2 litre pot. Bring to a boil, and add cane sugar or maple syrup (the sweetener will give the bagels a nice sheen when they come out of the water). Cover the pot and leave simmer on low. Grease 2 baking sheets with oil and sprinkle generously with cornmeal. Whisk egg white together with 1 teaspoon of water for the glaze and set aside.

Prepare toppings of choice - poppy seeds, sesame seeds - and reserve. Preheat oven to 450F.

Turn dough onto a lightly floured work surface and punch down. With a sharp knife, divide the dough into 16 equal pieces. Shape each piece into a ball. Allow to rest for 3-4 minutes.

With your thumb, press deep into the centre of the ball, and open up a hole. Twirl the bagel around your thumb, gently stretching the dough apart.

Place formed bagels together on the floured work surface, cover with a towel and leave until dough is slightly raised - about 10 minutes. Meanwhile, bring your water to a low boil.

Gently lift bagels, one at a time, and lower into the simmering water. Do not do more than 2 or 3 at a time. Cook for 60 seconds, give or take, then flip them over in the water using a slotted spoon, and cook for another 60 seconds.

Lift bagels out with the slotted spoon, and place on your baking sheet. Repeat until all the bagels are boiled.

Brush with the egg glaze and dress them up with the topping of your choice and a sprinkling of coarse salt before popping them in the oven.

Bake bagels for about 20-25 minutes, rotating the pans halfway through. Keep an eye on them so that the bottoms don't burn. Remove from oven and cool on a rack.
Nutrition
Calories:
197
kcal
|
Carbohydrates:
41
g
|
Protein:
6
g
|
Fat:
1
g
|
Sodium:
295
mg
|
Potassium:
120
mg
|
Fiber:
3
g
|
Sugar:
4
g
|
Calcium:
12
mg
|
Iron:
1.1
mg
Did you bake when you were a child? What is your earliest baking memory?