This winter was the first time I've had to change up our breakfast routine since the children were babies.
Up until last fall, we'd always start our weekdays together as a family, as school and work were both close enough to afford a somewhat relaxed morning. Then everything changed.
My eldest is in junior high school, so he's the first kid up and out the door in the morning. Danny started a new job in the new year and eats breakfast bright and early. My two youngest are just waking up as their dad is leaving – one of them is famished and the other needs to wake up slowly before eating. They wander into the kitchen on their own time.
Since I'm usually busy prepping bagged lunches and checking on homework, I tend to only sit down to eat after everyone has left. Five people, five breakfast slots. At the beginning, when we were adjusting to the new schedules, I found myself preparing multiple breakfasts to accommodate everyone. Until I got smarter, that is.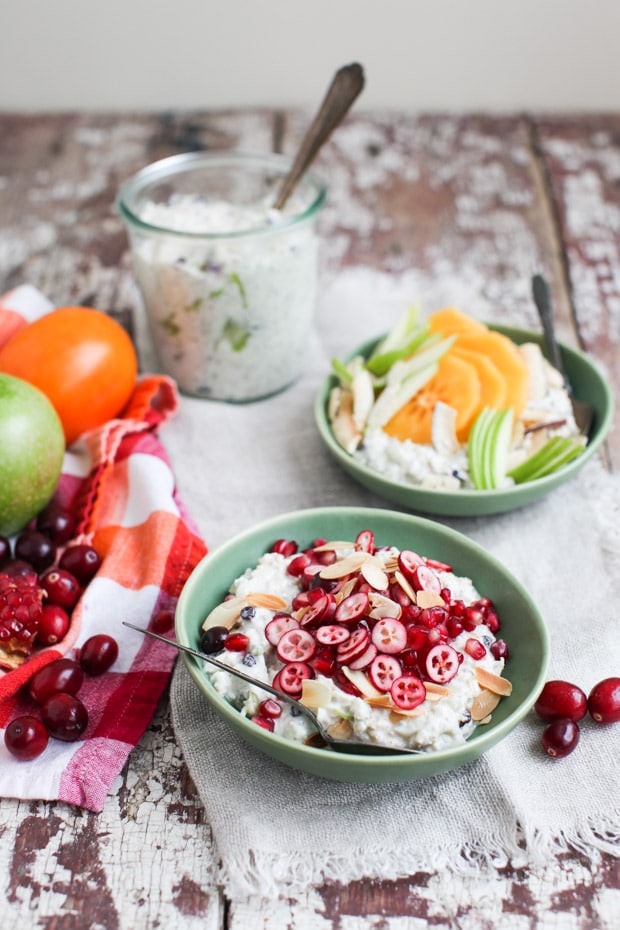 The best serve-yourself weekday breakfast ideas
I realized I needed a better system than frying eggs five times or turning the stove on and off each morning. I sat down and brainstormed a list of weekday breakfast ideas that are simple to prepare and can stand to sit around for an hour or so.
Scrambled eggs? Not so much. Baked oatmeal? A lot better. Scones? Too finicky and not filling enough. A hearty muffin, packed with vegetables? Yes, please.
Now I have a loose 'menu plan' for weekday breakfasts, food prepped in advance, and my little family helps themselves each morning. It's working for us.
Today's serve-yourself weekday breakfast ideas have been born out of necessity, and tested on many a busy morning in our home. They are balanced, nutritious, and most of them can be prepped in advance. What more could you want?
While weekends are for pancakes, crepes and over-easy eggs, the recipes below fuel us for the Monday to Friday grind.
Baked Oatmeal
This beloved family favourite keeps warm in the oven without getting dry. The kids scoop their own bowls and find the milk and maple syrup in the fridge. The oatmeal can be baked the night before or the morning of. It also freezes really well, in case you're into batch cooking breakfasts like me.
In summer, change up the apples for blueberries. In fall, add a few scoops of pumpkin puree or a large grated carrot.
RECIPE: Apple Pie Baked Oatmeal
Homemade Muffins
I take issue with calorie-ridden, café-style muffins, but when muffins are low sugar, made with whole grains, and include a vegetable or two, they become a nutritious breakfast.
When I first launched this blog, I posted our favourite muffin recipe along with 10 tips to making the best muffins ever – and to this day, nothing has changed. I nearly always make a variation on that same recipe, often with carrots, parsnips, pumpkin or zucchini.
We round out our muffin breakfast with warm hard-boiled eggs, ice cold milk and plenty of coffee for the adults.
RECIPES:
One Bowl Oatmeal Spice Muffins
Dark Chocolate Zucchini Muffins
Breakfast Frittata
Frittatas offer a great opportunity to get creative in the kitchen and the chance to use up leftovers in the fridge. It holds well on the back of the stove or in a low oven and can even be made the night before for a quick morning reheat.
I find that a breakfast of eggs plus vegetables keeps me going longer in the day. Add bacon and I'm all set!
RECIPES:
Leek and Ham Frittata with Goat Cheese
Spring Green Asparagus Frittata
ABC Frittata – with apple, bacon and cheddar
My Spring Green Campfire Frittata can be made in the home kitchen as well, and actually makes a fabulous reheat.  If you know your kids won't eat either of these (leeks! asparagus!) then try my basic ABC Frittata with apple, bacon and cheddar.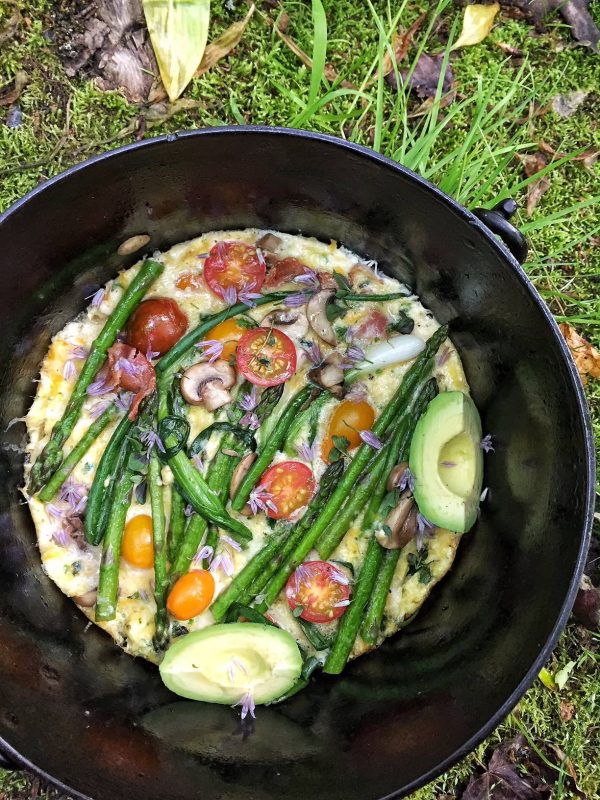 Steel-Cut Oats
I perfected a method for make-ahead steel-cut oatmeal a few years ago, and it's been a life-saver for my troop of oatmeal-crazy kids. Thanks to the overnight method, I can literally roll out of bed and have hot cereal on the table before the coffee is even ready.
I keep an assortment of toppings are on the table – coconut, chia seeds, nuts and seeds, hemp hearts, dried fruit and granola. The kids help themselves from the pot of oats keeping warm on the stove, and everyone is a happy camper.
RECIPES:
Make-Ahead Steel-Cut Oatmeal with Maple-Stewed Berries
Savoury Steel-Cut Oats with Ramps, Parmesan and Tamari
Slow-Cooker Apple Pie Steel-Cut Oats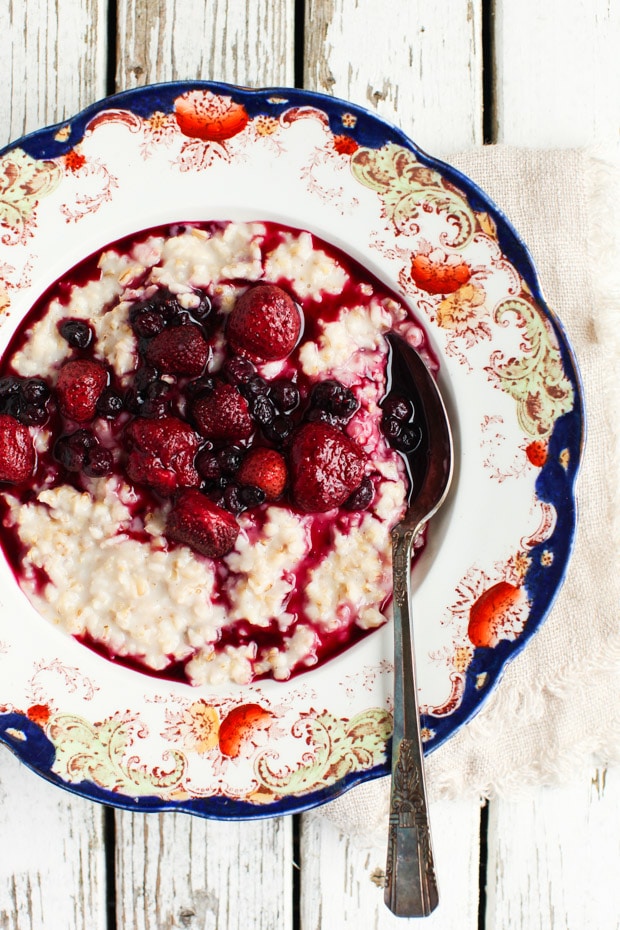 Granola/Yogourt/Chia Pudding Parfaits/Bowls
Breakfast bowls are all the rage these days, and I love doctoring up a bowl of chia pudding or yogourt as much as the next person. We love our homemade granola around here and always have plain yogourt on hand for super quick breakfasts (those probiotics are so necessary for good digestion).
Chia pudding is another standby, usually made with almond milk. It keeps for a few days in the fridge and makes a great base for a power breakfast.
We pile fresh fruit on everything and go crazy with the toppings. Jars of coconut, chia seeds, ground flax, hemp hearts, nuts, seeds and dried fruits are all on hand for a creative breakfast power bowl.
RECIPES:
Cottage Cheese and Yogourt Parfait
Chai-Spiced Granola with Dried Apples & Almonds
Bircher Muesli
This Swiss breakfast bowl is prepped the night before, which allows the raw oats to soften and all the flavours to mingle. I love mine with grated apple and a hit of cinnamon, finished with maple syrup, of course.
Bircher muesli makes for an absolutely simple morning and will keep for a few days in the fridge. The recipe below is a favourite of Danny's and mine, though the kids still prefer their oatmeal hot.
RECIPE:
Apple Almond Bircher Muesli with Winter Fruits – swap out fresh berries in the summer months. Heavenly!
The Toast/Bagel Bar + Hard Boiled Eggs
This hardly needs to be said, but I'll throw it in anyway. Set up a toasting station with bread or bagels, softened butter, and a tray of jams and nut butters. Set out a basket of hard-boiled eggs and let everyone fix their own breakfast.  Add sliced tomatoes and avocado to round things out.
Perfect hard-boiled eggs: Place eggs in a shallow pot and cover with at least 2 inches of water. Bring to a boil and boil hard for 1 minute. Cover, remove from heat and let stand for 10 minutes. Transfer the eggs to ice-water bath (this part makes them easy to peel.)
For warm eggs, remove after about a minute and hold at room temperature for no longer than an hour. For cold eggs, allow to cool completely in the ice bath. Refrigerate for up to 4 days.
Ham  & Egg Breakfast Sandwich
If you're eating breakfast on the run or on the bus, this is THE best to-go option of this list. A homemade breakfast sandwich really puts all the fast food versions to shame – and my ham, cheese and egg variation is super delicious. It's simple to pull together and hearty enough to keep you going well into the afternoon.
While these sandwiches are delicious made fresh, the real idea is that they are made a dozen or so at a time, then well-wrapped and frozen for weekday mornings. They reheat beautifully, either in the oven (a good 15 minutes) or the microwave (1-2 minutes).
RECIPE:
The Best Ham and Egg Breakfast Sandwich
I'd love to hear how weekday breakfasts happen in your home! Are they on the go? Enjoyed together? Or is it mass pandemonium?