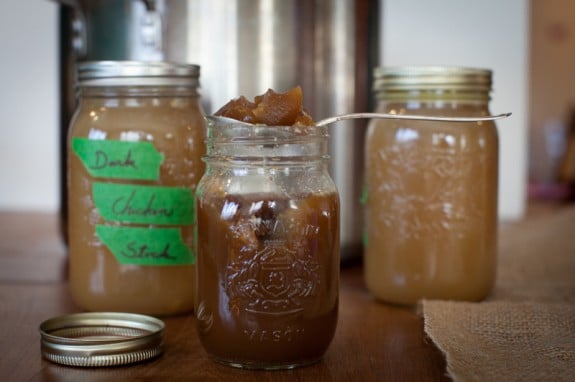 The first summer we were married, our situation wasn't exactly ideal for two starry-eyed newlyweds doing life together. I finished late at night at a popular fine dining establishment where I worked the line and Danny rose early to meander through the Plateau to morning class at McGill. One of us was always tired when we greeted each other at the end of a day, and one of us frequently smelled of soup, but I'm not telling who.
Fed up of only seeing my husband from midnight to 6 AM, I petitioned my boss for day position as a prep cook. I may have stammered, blushing, through my reasoning, but he only twinkled his eyes at me and agreed, that just for the summer, I could work days, and he would find someone to cook the fish and the foie in my place at night.
Stepping down the ladder rung of the competitive kitchen hierarchy was not a move that gained me respect among my co-workers, but I always have (and continue to do so) put family first over ambition. There were stares and a few snickers when the new work schedule came out, but I was elated. A 'normal' 9-5 job in fine dining is almost unheard of and these new hours suited me to a T.
Eight blocks north of the kitchen, in our tiny apartment on St. Denis street, I went to sleep and woke up in Danny's arms. We went out for coffee and fresh croissants in the mornings before parting ways, with lingering kisses, at the corner of Duluth and St. Denis.
Making stock was always the first order of the day, for it required long hours of simmering at an unhurried pace. I cranked the ovens to 400 degrees down the entire line and set to roasting bones for duck stock, veal stock, venison stock, and roasted guinea fowl stock, the essence of which I'm sharing today. I attacked a tray of carrots, onions and celery for my mirepoix, those flavoring vegetables essential for every stock, and gathered fresh parsley, bay leaves and peppercorns. By 10 AM, the massive sturdy pots would be set over burners with bones, mirepoix and cold water, and I would assess my prep list, left for me by the cooks the night before, and organize my day.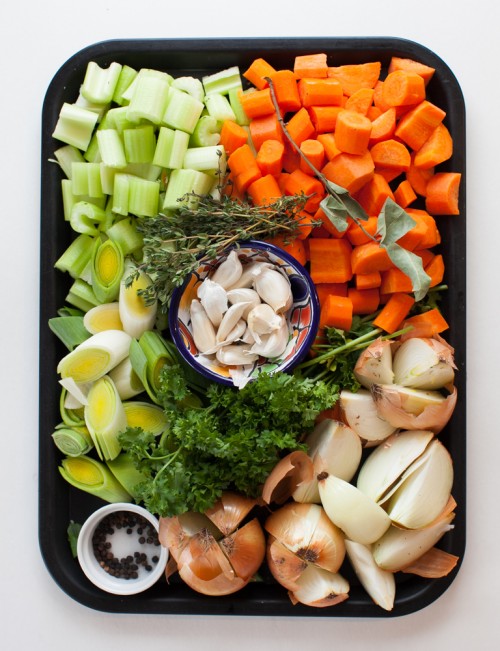 I've always preferred to work alone – with space to move and work, and peace and quiet to think. However my solace only lasted until 1 PM, when the sous-chef and the chefs du parti arrived and descended on the kitchen, refreshed and excited for a new shift. Closer to 2 PM, the line cooks slipped slowly through the door, squashing their cigarettes on the stoop, reluctant to bid au revoir to the warm summer day. The afternoon light slanted in each time the door opened, as if beckoning me to come out and play. Soon. Soon.
Every day, as the minute hand ticked toward five-o-clock, the pressure mounted in the kitchen. I would wash and dry my knives, and averting my eyes from my panicking line cooks who were struggling to get their mise en place in order. Just as the first tickets came in, I would slip off my clogs, toss my dirty apron, bid everyone a "Bon Service!" and flee out the back door. Freedom.
Danny was always waiting for my escape, his laden-down backpack hanging between his shoulder blades, and his eyes shining brighter than the glinting August sun. Hand in hand, giggling, we would flee the alleyway, and turn onto the cobblestones of Duluth. The whole evening stretched out long before us and it was a delicious feeling. Sometimes we would pick up cheese, salami and a baguette and make a picnic of it in Parc Lafontaine, where one could catch a free concert or a ballet at 8 at the open-air Théâtre de Verdure. We were virtually penniless, but other days the draw of a poutine and a pint of cold house cider at Au Pied du Cochon was too strong to resist.
My favorite dinners, though, were the ones we cooked together, in our warm kitchen -our honeymoon kitchen- with its high ceilings and next-to-no counter space. Always a planner, I would bring home a small container of stock from the restaurant (carefully recorded in the ledger under 'Staff purchases', of course) and turn it into a sauce that never failed to elevate our simple bowls of pasta. Eventually, our dreamy season of new love would be over and I'd work late into the evening while Danny pored over textbooks. But much like how bones are simmered long and low to infuse a good stock, we lived the summer to its fullest, recognizing the magic those early days held, and extracting the essence of each moment.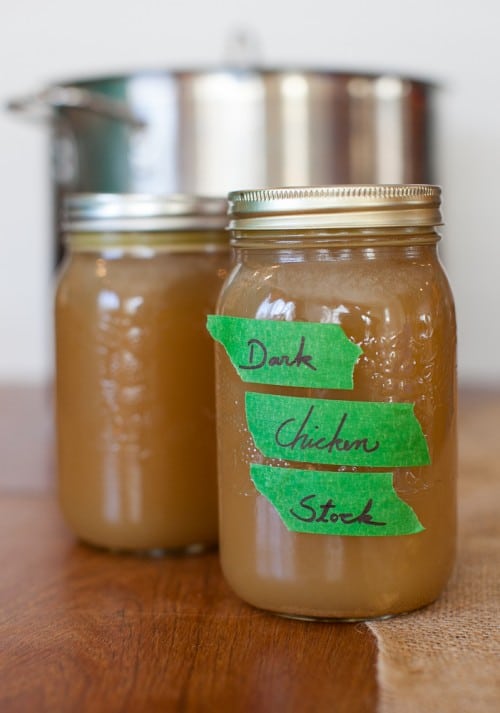 7 Principles of Making Stock
As often as I make stock, which is about every two months in great big batches, I think back to my restaurant days and the methods we used to achieve the best results. A great dish is only as good as its sauce, and the base for most sauces is a perfect stock.
Here are seven guidelines to help you achieve it:
Start the stock in cold water.
Simmer the stock gently
Skim the stock frequently
Strain the stock carefully
Cool the stock quickly
Store the stock properly
Degrease the stock.
Now that's about as technical as we're going to get for this post. I don't want you to get scared off by a list of rules, when really, making stock is perfectly simple.
Roasted Chicken Stock 101
We're going to learn how to make a brown, roasted chicken stock today. I use this stock in soups, sauces, gravy and pasta and anything that needs a real boost of flavor. Sure you can make a nearly-clear, light chicken stock with raw carcass or legs, but roasting the bones intensifies the flavor and gives a beautiful rich color.
You can make it with chicken, veal, beef, duck or wild game bones. In this recipe, I use chicken carcasses that I asked my butcher to reserve for me. It looks like a lot of steps, but once you make your first batch, you'll have learned a new life skill.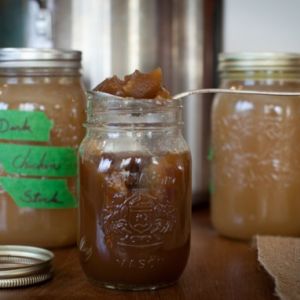 Ingredients
10

chicken carcasses

3

gallons

cold water

approximately

2

large onions

peeled

1

large leek

washed

4

sticks

celery

washed

2

medium carrots

peeled

2

bay leaves

6-8

cloves

garlic

1/2

teaspoon

whole black peppercorn

1

handful

fresh parsley

2

sprigs

fresh thyme

2

Tablespoons

tomato paste

optional
Instructions
Preheat oven to 350° F.

Do not rinse the bones, but place them directly in a large oiled roasting pan. If desired, brush them quickly with tomato paste (this adds more colour and flavour to the stock).

Roast the bones, turning once with a sturdy pair of tongs, until the bones caramelize, approximately 1 1/2 hours. Do not let them burn, or your stock will be bitter.

Meanwhile, prepare your mirepoix: roughly chop the onion, leek, celery and carrots and toss them with a little oil.

Place them in another oiled roasting pan or sheet, and roast alongside the bones until lightly caramelized, approximately 25 minutes.

Remove bones from oven and transfer to a large stock pot. There will be a pool of fat at the bottom of the pan which you can drain off before deglazing the pan, or you can add it to your stock. It will only add more flavour to the final product.

Add a few cups of cold water to the roasting pan to deglaze it, and use a solid spatula to lift off the remaining food particles on the bottom of the pan and all the flavour they bring. Add mixture to the pot with the bones.

Add roasted mirepoix, herbs, garlic, peppercorns and bay leaves to the pot of bones. Fill pot up with cold water until the ingredients are just barely submerged and place on stove burner.

Bring stock to a boil -- and reduce heat immediately. Simmer slowly for 6-8 hours, occasionally skimming excess oil or scum off the top. You don't need to babysit it much, just make sure it is at a temperature where it will will simmer, but not boil.

Using a sturdy spider skimmer, dip into the large pot and fish out the bones. Allow them to drain a bit and then toss them in the garbage. (I usually haul my garbage bin right over to the stove, to make things easier.) When you have fished out all the large ingredients, strain the broth through a fine sieve into a sturdy bucket or another pot.

If you have the time and patience, strain the stock a second time through a cheesecloth to further remove impurities.

When it is at room temperature, divide among sanitized covered containers for storage. Mason jars work well for freezing, but be sure to leave at least 1 inch of head space to allow for expansion.

Don't worry if a thin layer of fat forms at the top of your containers. This helps preserve the stock and can easily be removed with a spoon before using.

Stock can be stored for up to one week in the refrigerator or frozen for 3-4 months.
Nutrition
Calories:
40
kcal
|
Carbohydrates:
9
g
|
Protein:
1
g
|
Sodium:
71
mg
|
Potassium:
240
mg
|
Fiber:
1
g
|
Sugar:
3
g
|
Vitamin A:
3360
IU
|
Vitamin C:
8.6
mg
|
Calcium:
36
mg
|
Iron:
0.7
mg
Note: excerpts from this post have been republished from a September 2010 post on making stock.

We're kicking of a new year of our Eat Well, Spend Less series by getting back to basics in the kitchen. Simmering a homemade stock is an excellent start to eating better and cutting down on grocery costs.
Tip: Try making your own vegetable stock sometime. It serves two main purposes: it uses kitchen scraps that might otherwise go into the garbage (or hopefully the compost) and it yields a fragrant broth that is suitable for a myriad of dishes.
Look for a full round-up of Eat Well, Spend Less back to basics from participating bloggers later this week.
How will you use your roasted chicken stock?