I can't tell you how much I enjoyed receiving your questions. As each one popped into my inbox, I smiled, and couldn't wait to answer them. A few made me scratch my head and others had me thinking back ten years to the days of professional kitchens and cooking school.
I closed the questions after 48 hours, or else this would have been an ongoing series (pipe up in the comments if you'd like to see that happen), as it is, this post is wordy!
We've got a lot of questions, so let's just jump right it, shall we?
Kitchen
You cook a lot from scratch. Do you ever get tired of it? I love to cook, but I keep a few boxes of organic mac and cheese in the pantry for nights when I'm over it and don't have time to defrost a freezer meal. (Sarah G)
I honestly never get tired of cooking from scratch; that's the only way I know how to cook. I do, however, occasionally run out of time (or groceries…or electricity).
Do you have a go-to cookbook? Favorite website? (Sarah G)
I love my cookbooks equally, for their uniqueness. =) My own personal recipe collection from over the last 17 years or so of cooking is probably the 'cookbook' I reach for the most.
Favorite website? The Kitchn ranks pretty high up there.
What is your best tip for keeping the grocery budget? (Megan)
Two words: Menu Plan.
What is ''the'' thing you can't live without in your kitchen? (Barbara)
My first thought is my espresso machine, but really, I can always crunch chocolate covered coffee beans for a jolt. It would have to be my MAC Japanese Vegetable Knife
. I use it multiple times, every day.
Have you ever been a junk food junkie? And do you 'cheat'? (Elena)
No. And 'cheat'? I'll eat Doritos at the Super Bowl party or sip an occasional Rum & Coke by the pool, but not much more than that. And I never eat at fast food chains.
What's your favorite "junk" food? (Alissa)
Probably poutine, a Quebec specialty (sensation!) of fries, cheese curd, and gravy.
I wonder what your favorite packaged/processed "treat" item might be. I think mine has to be Fluff! (Emily)
(People! What is this obsession with junk food??? *wink*)
Hmm, Trader Joe's Cookie Butter? Does that count? My friend Amber recently introduced me to the spread. As far as junk-in-a-jar, it's pretty up there.
I would like to begin investing in better tools for my kitchen. A big place I want to start is my knives. Is there a particular brand that you would recommend?  And when shopping for knives, what are some qualities to look for? (Stephanie F)
A good knife is the best place to start, Stephanie, in my opinion. MAC, Victorinox, and Henckel are all good household brands that I could get behind. Be sure to handle the knife in-store as it should feel comfortable and not too heavy.
Bonus: Here are my favorite knives and their functions.
Even though you are an accomplished chef, you're a busy mom and writer too-what do you keep stocked in your freezer/pantry for those nights that making dinner just seems impossible? (Jessica)
Yeah it happens. A lot. Especially now that I have a newborn. While I have my favorite do-ahead meals for winter, it's warm weather batch cooking that I now rely heavily on.  Homemade hamburger patties & buns are a staple, as are several jars of crisp topping for quick fresh fruit crisps and crumbles.
What recipe do you use for bannocks when you are camping? (Gayle)
You know, I'm looking for a good one. As a kid we wrapped bread dough around a stick and cooked it over the fire. That's a good starting point.
Montreal
What is the best way to spend about ten hours in Montreal? This fall my husband and I will be in Montreal exactly one day beginning with a noon arrival at the airport.  We will spend the night and board a cruise ship the following morning. (Sandy)
What fun! Montreal's Quartier des Spectacles is a good place to start. From there you can head up St. Denis for great restaurants & shopping, or down to the Old Port. Here's a post of a few of my favorite eats around the city. I really should write more about it.
Do the Montreal summers make up for the winters? (Katelyn)
I sometimes prefer the bright crisp winter days to the stiflingly humid summer months. But then again, I picnic in the snow, so I'm odd like that.
Blogging
What is the best/easiest thing about blogging and what is the hardest/most difficult? (Terrie)
Would you believe that those are one and the same? On one side of the coin, I am trying to focus on recipe development or writing a cohesive blog post while hopelessly submerged in the chaos of Family 3.o.
On the flip side, I am lucky to stay hope with my little ones, to watch them grow and transition through the many stages of childhood. I wouldn't have it any other way.
What advice would you give me as a newbie blogger? (Elena)
Blog because you love it, not for any other reason.
I would love to hear more about how you went from blogging for Under the High Chair to a network.  What was most exciting and what were some challenges to making the change? (Emily)
This article in Best Health magazine summarized the transition pretty well, I thought. And although it's been a blast so far, I think the most exciting part is just around the corner!
What inspired you to blog? (Elena)
I've always been a big journal keeper, so it wasn't a big step to take my writing online. I posted recipes because I was frequently having requests for them from family and friends. Then, of course, once I got started, I was spurred on my the positive feedback from readers who were appreciating my recipes!
History
Are you American and did you immigrate to Montreal? (Zoe)
I am Canadian born and raised! When I was 20 I moved to Montreal from Canada's West Coast for a boy. (Here's more on how that all worked out.)
Where did you grow up and how would you describe your experience? (Elena)
Most people don't believe my goat-milking, wood-hauling, home-schooling tales from my childhood, but they are one hundred percent true. Perhaps I'll work them into a memoir of sorts one day. It was a wonderful way to grow up, and strongly influenced how I currently live and raise my own family.

Professional Life
What kind of experiences did you have as a professional? (Marie)
Hah! That's another book right there. Here's one story. Here's another, a beginning of sorts. If I had time, I could tell you about everything from cooking for celebrities and royalty, to spending a lonely Christmas Eve frosting dozens of Bouche de Noel's for a deli.
Do you watch cooking shows on TV, and who is your favorite celebrity chef? And why? (Cathie)
Top Chef! Top Chef Masters, Top Chef Canada, anything Top Chef. And that's it. Favorite chef is currently Hugh Acheson. We met briefly when I ate at his restaurant in Atlanta. He is a gentleman, and he's Canadian!
Is there any advice you could give to someone who is thinking about joining the culinary field? (Marie D)
Go for it! But remember, while culinary school can be great for the fundamentals, the real learning begins when you hit the restaurant kitchens.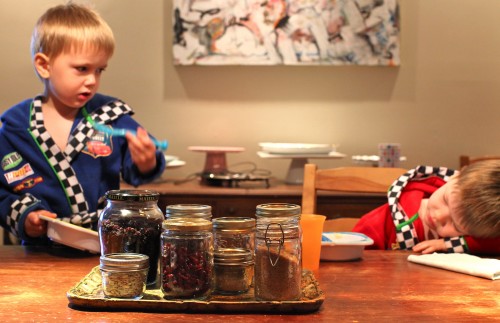 Kids & Family
What is your go-to breakfast for your kids? (Megan)
Oatmeal! With honey and a tray of assorted toppings such as dried cranberries, sunflower seeds, currants, and ground golden flax.
What is your best lunch for the kids, quick and simple? (Barbara)
A whole-wheat wrap with ham, mustard and baby spinach.
I'm a first time mom and my daughter is now 9 1/2 months old.  I doing my best to feed her nutritional real food.  I just was wondering when you introduced grains and dairy? (Ashley)
With my first two, I waited the full year for dairy, and started grains (in cereal form) around 7 months. With Clara, who is now 3 months, I'm going to wait longer before introducing grains. They are tough to digest for wee tummies.
How do you deal with picky eaters (kids)? (Deja)
With patience, and this survival guide.
What does sleep look like with your children? (Deja)
Little Clara has been sleeping her nights for a few weeks now (something my boys never did until much, much later) and I am thrilled. The boys sleep like two logs in bunk-beds. They play hard, and then crash hard.
Are your kids growing up speaking two languages? (Alissa)
We only speak English at home, although Danny is bilingual and I can get by. However, Noah attends an all-French school (just wrapping up his second year) and is now fluent in French.
What kind of maternity time and care does Canada offer? (Zoe)
We get just about a year of paid maternity leave, and here in Quebec, there is also 5 weeks of paternity leave. It's a pretty sweet deal.
How did you get such an adorable family? (Stephanie)
Ha! I always ate my vegetables as a kid? Dunno.
Bonus Question:
You mentioned your honeymoon (spent in Hungary) about a week ago. I'm still curious why you spent your honeymoon here?! 🙂 How long did you stay in Hungary and did you travel around or you just visited Budapest? (Zita)
Well, before I was married I had backpacked through a lot of Mediterranean Europe and France. I wanted a to honeymoon in Europe – but visiting countries that were new to me and we could discover together.
The UK was too expensive for us at the time, and Scandinavia too cold in May! We decided on Austria & Hungary, with a day trip to Croatia & Slovenia. Also, My SIL was studying music in Hungry, so was able to recommend some highlights for us.
In Hungary we divided our time between city and country, enjoying the baths, and tearooms with Kremesh (sp?) of Budapest, followed by the vineyards and castles of the Lake Balaton region. It was magical!
This has been fun! Thanks for all your great questions. We'll do this again soon.