A little blogging conference called Blissdom is happening in a few weeks in Nashville and I'm skipping the country to attend. I'll also be skipping out on four days of laundry, lunch-packing and cooking. Woo-hoo!
Hmm, the last time I traveled internationally on my own? It was over a decade ago and included sights such as the alluring Tuscan countryside, Thailand's best beaches, and the most memorable spice market in Istanbul, Turkey. This trip isn't going to be quite as exotic, and I'll be inside a sprawling hotel most of the time, but it provides the opportunity to meet some very dear food blogging friends, not to mention, the whole Simple Living Media team. I'm so excited!
Freezer Cooking
To make up for this mom-bloggers' absence, I've been slowly stocking the freezer with meals for Danny to heat and serve to the kids for the five dinners I'll be gone. Sure he knows his way about the kitchen, but we've agreed it is best for him to focus on our little ones as much as possible. I'm also stashing a few extra meals, because I know I'm going to need a couple days when I get back to connect with Blissdom alumni on Twitter get back on my feet.
We've talked about warm weather batch cooking, practical do-ahead ideas to help jump start dinner, but I haven't shared some of our cold weather favorites. Like most families, we enjoy classics such as lasagna, stew, and –my boys current favorite– spaghetti & meatballs, but they do tend to get rather old though, wouldn't you agree?
Today I'm giving suggestions for recipes that are suitable for freezing, adapt well to big batches, and provide a fresh take on family favorites. Macaroni & Cheese with vitamin-A rich butternut squash? Slow-cooker chili with a handful of chocolate chips? Homemade chicken fingers kept moist with buttermilk? It all sounds so good, I almost wish I was staying home to dine with the family. Almost.
Seven Do-Ahead Dinners for Winter

Photo by Guilty Kitchen
Chicken strips are a fast, healthy meal if done correctly, and this family-friendly version is a snap to bake up. If there are any left, freeze them for another meal or for topping a Caesar salad.
To reheat, simply preheat oven to 400°F, place frozen chicken strips on a baking rack set on a baking tray, and bake until heated through and crispy on the outside. Don't forget the Honey Mustard Dip and a platter of chopped vegetables for the best finger food around.
This Mexican-inspired casserole contains all ingredients that my children currently love: beans, tortillas, cheese, and taco beef. The recipe is simple to expand so you can make one for dinner and one for the freezer. It bakes from frozen.
Serve the Layered Taco Bake with shredded lettuce, a few diced avocados or tomatoes, and sour cream, of course.
Although it's our Christmas Eve fare, this traditional Québec pork pie is enjoyed all winter long. With its lightly spiced ground pork layered between flaky pastry, tourtière is total comfort food, and needs nothing save a tossed salad or bowl of roasted vegetables to make a complete meal.
It can be frozen either before or after baking, and is reheated in the oven.
Not every meal needs to feature meat. During the winter, our weeknight suppers often consist of soup and bread. A favorite of ours is this vibrant roasted carrot soup, which also freezes quite well in small batches and can last up to three months in a deep freeze.
Warm buttermilk rolls (baked any old way) and a wedge of firm cheese round out the meal.
It's hard to remember that this is a frugal meal, especially when your piling the tender, shredded pork on a bun and topping it with a dark, homemade barbecue sauce.
To freeze: toss pulled pork with a light coasting of BBQ sauce to help keep it moist and then freeze.
To serve: thaw meat overnight in the refrigerator, then warm gently in a saucepan, adding more BBQ sauce if it seems dry. Do not boil.
Serve Cider Braised Pork Shoulder on a bun with a tart Roasted Beet and Pickled Golden Raisin Salad on the side to help balance out the rich pork.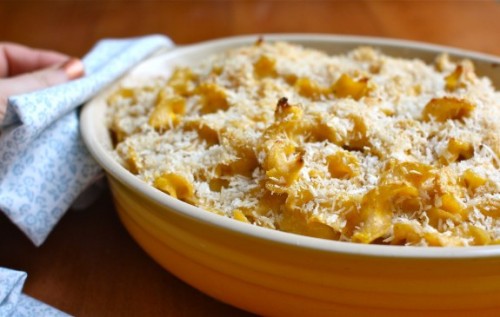 This recipe is surprisingly healthy for mac & cheese, as it incorporates nearly an entire squash and uses whole-wheat egg-white pasta for a substantial yet low-cholesterol meal. I love this dish because it feels like a hearty main dish even though it is meatless, plus the kids get a serving of vegetables in their favorite meal!
To Freeze:
Prepare the butternut squash mac & cheese recipe in full, but stopping just before baking.
Wrap entire pans tightly in plastic wrap, mark with the date, and flash freeze.
To reheat, remove wrapping and place in a 350°F oven. Bake until heated through and bubbly around the edges.
This hearty one-pot wonder comes together looking like a bit of a mess, but after 4-5 hours in a low oven or 6-7 hours in a slowcooker, the final result is remarkably presentable! If you are a fan of batch cooking, this chili freezes beautifully and I might even go as far as to say it improves with age.
This recipe offers everything we love about chili, but is a welcoming change from the usual Super Bowl sludge. It has plenty of textures, thanks to the sausage as well as ground beef, and is completely satisfying in the most substantial way.
And for the chocolate-chips? They added another dimension of flavor and complement the chilies superbly. Plus, they make a great sell to the kiddos, who often request 'Chocolate Chip Chili'.
Note: Sometime I like to add frozen sweet corn to the chili, for an extra bite of sweetness. The chili in the photos contains corn.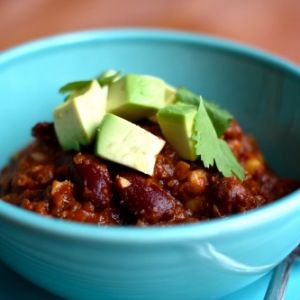 Ingredients
1

lb

sweet Italian sausages

2

lbskg

lean ground beef

2

medium

onions

peeled and chopped

4

cloves

garlic

peeled and minced

2

Tablespoons

olive oil

2

teaspoons

ground cumin

1/2

teaspoon

ground coriander

1

teaspoon

ground cinnamon

1

teaspoon

dried crushed chillies

or less, if your children are very young

1

medium can

tomato purée

3

cans

red kidney beans

(400g cans) drained

3

cans

chopped tomatoes

(400g cans)

1/2

cup

dark chocolate chips

2

cups

water

salt & pepper

to taste
Instructions
Preheat the oven to 150°C/300°F or prepare a crock pot.

Heat the olive oil in a large ovenproof pan (with lid) and add ground beef. Remove sausages from their casings and add to the pot also. Brown both meats on medium heat, using a sturdy wooden spoon to break them up.

Add onion and garlic, cook for a few minutes until soft, then add the cumin, coriander, cinnamon and dried chillies. Stir well to combine.

Stir in the tomato purée and chopped tomatoes. Add the water and bring the chili to a boil.

Once it's started bubbling, sprinkle the chocolate chips and the kidney beans over the chili, and give it a good stir.

At this point you can transfer it to a crock pot or slow cooker for up to 7 hours or put on a lid and transfer to the oven for 3 hours, stirring occasionally.

Season with salt & pepper before serving.
Notes
Serve with your favourite toppings which may include any combination of the following: green onion, cheddar cheese, avocado, sour cream, or tortilla chips.
Nutrition
Calories:
625
kcal
|
Carbohydrates:
56
g
|
Protein:
31
g
|
Fat:
33
g
|
Saturated Fat:
15
g
|
Cholesterol:
81
mg
|
Sodium:
2055
mg
|
Potassium:
1687
mg
|
Fiber:
10
g
|
Sugar:
31
g
|
Vitamin A:
1440
IU
|
Vitamin C:
97.4
mg
|
Calcium:
308
mg
|
Iron:
21.1
mg
 What is simmering on the back of your stove during this chilly month?