Getting children to eat their vegetables can be a frustrating task. One that can make us worry about the health and nutrition of our kids. We can, however, use a few simple tricks to try and sneak them into their diet.
The secret is to either make the vegetables tasty or go completely unnoticed.
Even I don't particularly enjoy eating veggies on their own. Place a carrot beside a carrot cake and I will always choose the latter. But as soon as you throw a good dressing into the mix or pile them into a tasty casserole, I happily devour them. Children behave in much the same way (which I suppose isn't saying much for me).
Below are eight ways to help sneak some veggies into your family's diet, along with a recipe for a Layered Taco Bake that helps put some of these strategies to good use.

1. Put Like Textures Together
If your child has trouble with the taste of a certain food pair it with foods that have similar textures. The avocados in the recipe go virtually unnoticed because the rest of the ingredients are soft in texture. Throw them into a crunchy salad and they will stick out like a sore thumb.
2. Make them Invisible
Kids tend to have mindsets about certain foods which don't necessarily hold true when put to the test. A child who detests carrots will likely put up a fuss as soon as they see one on their plate. Remember: "Out of sight – out of mind", and chances are that if they don't spot it in the dish, they will most likely eat it without complaint. This test will at least separate a true dislike from a mere aversion.
With the taco recipe, the black beans are incorporated with the meat so as to go unnoticed. Alternately, you could hide them by mashing. With other veggies you may consider grating them or chopping them very finely.
3. Pick an Unlikely Candidate
Kids know that things like salads will have lots of veggies. Putting them on pizza, or other favorite foods, will make for easier persuasion. If they find them and pick them out, at least you tried, and maybe a few will slip through.
4. Don't Mention It
This one may seem a little obvious and tags along with the previous two points. If you don't mention what's in the food they are about to eat, and it's not obvious, they probably won't notice.

5. Keep it Simple
It's not necessary to cram as many veggies into one meal as you possibly can. As long as they are getting a good variety at different meals they will be getting the nutrition they need. So many different varieties at once may be overwhelming.
6. Make them Fun
Chopping veggies into fun shapes ups their appeal. Also, getting your kids to help with the chopping makes it more likely they'll give them a try.
7. Don't Count Out the Good Guys
If there are only a couple of veggies that your kids love then don't get discouraged. Feed them plenty of those they do like. Even eating a few is better than none at all, and most are packed with nutrition.
8. If All Else Fails Make Soup
You can hide a world of good in soup. Make some chicken soup and throw in some small diced veggies. Or make a broccoli soup and purée it. Either way there will be no obvious bad guys and one particular flavor will go unnoticed as all the flavors meld into one.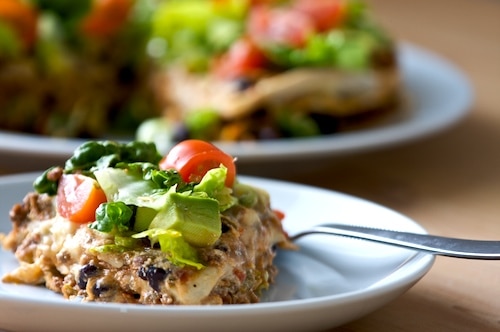 Layered Taco Bake
The veggies on top of this bake definitely stand out. If you think this will be a problem save some of their favorites for the top and sneak the forbidden ones into the bake itself.
One of these bakes (half the recipe) will feed a family of four (with two small children). For larger families or bigger appetites see the notes after the recipe.
1 lb ground beef
1 onion, chopped
salt & pepper
2 cups salsa
1 can black beans
1 tablespoon chili powder
1 teaspoon oregano
1 teaspoon cumin
1 teaspoon garlic powder
6 medium sized flour tortillas
1 cup sour cream
1 (4oz) can green chilies
2 1/2 cups shredded cheese
fresh veggies to top: avocado, lettuce, tomatoes and green onions
Brown beef and onions in a large frying pan set over medium heat, adding salt and pepper to taste.
Stir in salsa, beans and spices. Heat through.
Mix together sour cream and green chilies.
Coat 2- 8 inch cake pans with cooking spray. Place one tortilla in the bottom of each. Divide 1/3 of the beef mixture between the two pans and spread over tortilla. Top with 1/3 (divided) sour cream mixture and shredded cheese.
Repeat layers two more times.
Cover both with foil. Place one in the freezer and bake the other at 400ºF for 30 minutes. Remove foil and bake for an additional 10 min. Let cool 5 min. before serving.
* For a larger family you can prepare this in a 9×13 pan, making only 2 layers. 3 tortillas for each layer and the rest divided in half. Bake for the same amount of time.
* To bake from frozen: Preheat oven to 400ºF. Remove frozen Taco Bake from freezer and place straight into the oven. Bake covered for 1 hour. Remove foil and bake an additional 20-25 min. until heated through.
[print_link]
What are some tricks that you use to get your kids to eat their veggies?
Photos by Cheri Neufeld