The end of summer marks the time that we start scrambling to use up all the fresh produce bursting from our gardens. It can be hard to find ways to use up so many vegetables at one time. That's why the Italians created Pasta Primavera.
If you've got a plentiful array of vegetables that need to be used up then a fresh batch of Pasta Primavera may be just what you need to help clean out your garden.
You can use any vegetables you like in this dish, you will just need to be aware of their individual cooking times and whether they are best boiled or thrown into the skillet to sauté.
Vegetables that are Best Boiled and their Cooking Times:
broccoli florets – 4-5 minutes
asparagus – 5-12 minutes (depending on size)
cut green beans – 10 minutes
sliced carrots – 5-10 minutes
fresh peas – 8-12 minutes
sliced zucchini – 5-10 minutes
brussel sprouts – 4-5 minutes
cauliflower – 5-8 minutes
corn kernels – 3-4 minutes
Vegetables that are best sautéed:
mushrooms
bell peppers
celery
leek
onions
green onions
It's best to cut the vegetables into similar sizes so that the cooking times will be similar. Nobody wants pasta full of soggy peas and hard carrots.
That's why I julienne the carrots in my recipe, use only the asparagus tips and cut the green beans into smaller pieces. Because, it evens out the cooking time. If you're unsure if two vegetables will be done cooking at the same time, you can cook them each individually or start the ones with longer cooking times first and add the others later.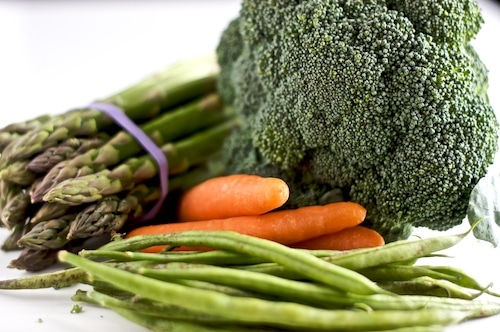 Winter Pasta Primavera
Primavera may mean "spring" in Italian but that doesn't mean that this veggie-packed pasta can't be enjoyed all year long. It's simple enough to get a large batch of vegetables ready for freezing so that you when dinnertime hits in the winter, and you need a hint of springtime, it's just an arm's-reach away.
To Store the Vegetables for Winter:
The examples used here are from the vegetables I use in my pasta.
blanch the broccoli, asparagus, carrots and green beans as Aimée instructs in this post. The peas can be done in the same way but will only need one minute of blanching time.
Place all the vegetables in the same bag in batches large enough for one recipe of Primavera. Label and store in the freezer for those blustery winter days that need a hint of sunshine.
Or, spread the vegetables out onto a parchment paper-lined baking tray and freeze each piece individually. This may take a little more work but this way you can package each type of vegetable in a separate bag and only take out what you need, as you need it.
To use: simply steam or boil the vegetables, from frozen, until just tender.
Whether you freeze the vegetables to make this during winter months or simply whip up a batch for dinner tonight, Pasta Primavera is a great way to get a good variety of vegetables out of your garden and into your family's tummies.
Recipe: Pasta Primavera
Vegetables:
2 cups broccoli florets
1/2 cup asparagus tips
1/2 cup green beans, cut into 2-inch pieces
1/2 cup julienned carrots
1/4 cup peas
Place all vegetables in a pot of salted boiling water (or steamer). Cook until just tender. Pour into a strainer and run under cold water (or place in ice bath) until cool. Drain any excess water.
Sauce:
2 tablespoons butter
1/2 cup green onions, chopped
1 garlic clove, minced
1 tablespoon white wine or chicken broth
1 cup cherry tomatoes, cut in half (optional)
1/4 teaspoon red pepper flakes
1/2 cup heavy cream
1/3 cup grated Parmesan
salt and pepper, to taste
2 tablespoon chopped fresh basil
Melt butter over medium heat in a skillet. Add green onions and garlic. Cook for 2 minutes or until softened, being careful not to brown garlic.
Add wine and cook until reduced slightly.
Add tomatoes, red pepper flakes, cream and Parmesan. Simmer for a couple of minutes.
Season with salt and pepper. Mix in fresh basil.
Pasta:
Cook according to package directions and drain. Toss with vegetables and sauce.
Serves:4
* Feel free to add bacon, chicken or sausage to round out the dish.
What are your favorite ways to use up a good array of vegetables from the garden?
Photos by Cheri Neufeld