Written by Shaina of Food for My Family.
Spice blends can be great timesavers in the kitchen. Ingredient lists for a single dish can shrink by eight-plus items just be replacing it with "____ spice blend." Aimee demonstrated how the possibilities on creating your own spice blends are endless. Still, you may be thinking, "How often am I really going to use that spice blend?"
If you're anything like our family, you might not eat the same meal more than a few times a year, so you may be wondering if you'd ever use the store of spice blends in the freezer. The answer is that it is entirely possible, even without eating the same meal on a weekly or even monthly basis. Variety is the spice of life, and it's not always the spices that need to have variety.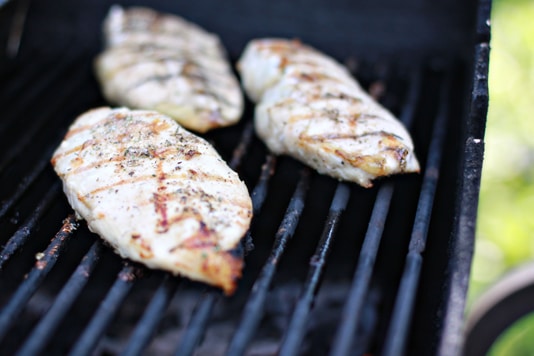 Photo by Shaina | Food for My Family
I decided to choose one of the spice blends that I have in my own freezer and think of some different possibilities for meals and sides that I could utilize them in. I landed on Greek seasoning. When we originally used this it was to make chicken "gyros" (a rather nontraditional sort), but it has many more uses that extend far beyond gyro night.
Oh the Thinks You Can Think Up with Greek Seasoning
Chicken Gyros and Grilled Meats: Use the Greek spice blend to season meat before grilling.Whether you make a souvlaki, a gyro, or opt to just season your steak, this takes the guesswork out of it and gives you a place to start planning sides to match.
Salad Dressing: Add spice blend to your vinegar before drizzling and whisking in the oil. This is a great alternative to creamy, milk-based dressings.
Vegetable Dip: Add a bit of Greek seasoning to sour cream or Greek yogurt along with a squeeze of lemon for an easy dip for carrots, cucumbers, and anything else on the vegetable tray.
Burgers: Greek seasoning, kalamata olives, and feta mixed into the meat makes for a delicious twist on the grilled classic indeed.
Hummus: Spice up a traditional hummus with a bit of Greek spice blend mixed in, and then sprinkle some on top along with olive oil to serve.
Oven-Fried Potatoes: Who doesn't love a spiced potato wedge? Use your spice blend to add a bit of kick, tossed in with the oil. Baked up until golden brown, these are an instant hit.
Stuffed Peppers: Using the Greek spice blend to season the rice gives simple baked peppers a kick in the pants and sends them into a Mediterranean paradise.
Ingredients
1

cup

uncooked fragrant rice

brown or white

1 1/2

teaspoons

Greek Seasoning Spice Blend

4

sweet bell peppers

1/4

cup

sun-dried tomatoes

packed in oil, drained

2

cloves

garlic

minced

1/2

cup

cooked white beans

1/3

cup

feta cheese

4

green onions

diced

2

Tablespoons

olive oil

3

Tablespoons

toasted pine nuts
Instructions
Rinse the rice thoroughly until the water runs clear. Add in appropriate amount of water for the type of rice you are using, stir in the Greek spice blend, and cook until tender on the stove or in a rice cooker.

When the rice is finished, preheat oven to 350º F. Cut around the top of the bell peppers and pull out the seeds. Remove any additional seed and membrane with a spoon or knife. In a food processor, blend together sun-dried tomatoes and garlic until a paste forms.

In a large bowl, mix together the cooked and seasoned rice, sun-dried tomato paste, white beans, half the feta cheese, green onions, and the olive oil. Spoon the rice into the center of the bell peppers and top with remaining cheese.

Stand the bell peppers up in an 8x8" baking dish. Bake for 25 minutes or until the skins start to shrivel and the feta cheese on top is starting to turn a golden brown. Remove from oven, cool slightly, and sprinkle with pine nuts. Serve warm.
Nutrition
Calories:
411
kcal
|
Carbohydrates:
58
g
|
Protein:
11
g
|
Fat:
16
g
|
Saturated Fat:
3
g
|
Cholesterol:
11
mg
|
Sodium:
168
mg
|
Potassium:
767
mg
|
Fiber:
7
g
|
Sugar:
9
g
|
Vitamin A:
3990
IU
|
Vitamin C:
157.4
mg
|
Calcium:
152
mg
|
Iron:
3.7
mg
How do you use different spice blends in different ways?