As selective eaters as my sons are, there is one mighty green giant that they gobble up without hesitation and then ask for more.
Broccoli.
I know, it's usually the one vegetable that is scorned, shunned, or pureed into sauces to bypass careful inspection of little diners, but my kids both love it. And so, I don't question their fondness, I just serve it, and then serve it again.
Now that broccoli is in season, and those tight, firm heads are $0.99 each at the market, I'm buying them by the basketful and freezing them for winter. Simple steamed broccoli served with a pat of butter is the boys' preferred way to enjoy broccoli (no roasting for them, please) and the frozen florets reconstitute quite nicely in boiling water.
It's impossible to pass up this opportunity to stock up on one of our favorite mid-summer vegetables. Here's how I do it.
How to Freeze Broccoli
Of course freezing a crisp green vegetable like broccoli is going to have some effect on its texture; however I am happy with this method for keeping it around all year long. The frozen florets can be tossed directly into stir-fries, added to pastas or soups, or just steamed on their own. While the texture of the reconstituted version is missing the firm, toothsome quality of fresh steamed broccoli, it still retains its flavor and is by no means mushy.
Select the Best Heads
Choosing firm heads with small, tight florets will contribute immensely to the success of your final product. If the produce is at its prime when harvested and preserved, in this case, frozen, on the same day it is purchased, you are ensuring the best possible result for your efforts.
Don't let broccoli sit in the refrigerator to wilt and soften while you try to find time to squeeze a preserving session into your already packed week. Set aside a specific time to work, then purchase the vegetable within hours of when you plan to cook and freeze them.

Separate into Florets
Bring a large pot of water to a boil while you prepare the broccoli; you will need it later for blanching.
Remove to bottom stalk of broccoli and reserve for soup or stir fry. Using a sharp knife, divide the broccoli heads into 1 – 1 1/2  inch florets – or desired size. One-and-a-half inches works well for me and I can fit more into a bag than I can with 3-inch florets.
Wash Broccoli
Fill a basin or sink with cold water and tumble florets into the water to wash. Keep it quick! Avoid soaking broccoli in water for any length of time as this will result in loss of nutrients.
Remove from water and place on a tray.
Note: Some recommend soaking broccoli in salt water ( 1/4 cup salt/gallon of water) for 30 minutes to remove bugs. I don't do this, but nor am I worried about ingesting a bug or two. I've also never seen a bug in broccoli, but if they are a nuisance where you live, salt water soaking may be a step you want to include.

Blanch and Cool
Check to see if water is boiling and prepare an ice bath. A basin or large bowl of cold water with a tray of ice cubes works well.
Working with small batches at a time (about 2 cups), lower broccoli into boiling, salted water and blanch for two minutes. Remove with a Chinese spider -if available- or slotted spoon and immediately plunge into the ice bath. This stops the cooking process and helps retain color.

Drain and Dry
Don't let the blanched broccoli sit long in the ice bath. Once it feels significantly cooler (2-3 minutes), remove and drain in a colander. After most of the excess water has drained off of the greens, transfer them to a dish towel that has been spread out over the counter to dry even more. The less water on the broccoli when it freezes the better!
Repeat blanching, cooling and draining steps with all the remaining broccoli.
Package, Label and Freeze Broccoli
When broccoli is completely cooled and relatively dry, package into meal-sized portions in resealable bags. Portions will vary with families. I freeze roughly 2 cups per bag.
Shuffle and gently manipulate broccoli so it lies in more or less one layer in the bag.
As best you can without squishing the greens, squeeze the air out of the bag and seal. Using a Sharpie, label with the date, and freeze as quickly as possible. If you have the option, freeze in a deep freeze over a refrigerator-top freezer. The faster the broccoli freezes, the smaller the ice crystals will be and the more appealing the broccoli's texture will be when reconstituted.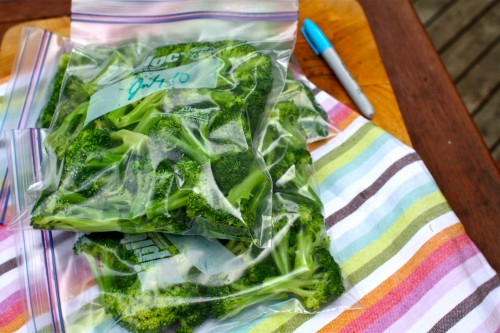 To Serve:
Bring a large pot of water to a boil. A large pot is key, as you will be adding a large frozen mass to the water, and you don't want to lower the water temperature too much or you'll end up with mushy broccoli.
Salt the water if you like and when it is at a fast boil, add the broccoli all at once. Keep the heat on high but do not cover pot as the broccoli can turn brown.
Cook for one minute (or to taste), then remove with a slotted spoon. Drain and serve.
You can also steam the broccoli, if you like.
[print_link]
On a cold February day, a bowl of broccoli with a squeeze of lemon can really hit the spot and nothing brightens up a simple shrimp stir-fry like a handful of the healthy green vegetable. It's worth putting in the time to preserve it on these busy summer days, so make plans to freeze some broccoli this month!
How do you like to serve this green giant of vegetables?